Hey, Friends! We're on Week 5 of the One Room Challenge and are almost done with transforming Little Man's room from a nursery to a Star Wars big boy bedroom! I have one more project for Little Man's room to share with you on Monday, then it'll be reveal time! Wahoo!
If you need to catch up, here's Week 1, Week 2, Week 3, & Week 4!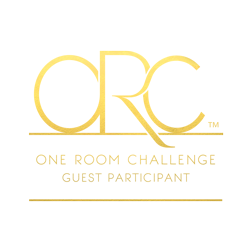 I'm super excited about today's post, because we're talking all about paint! The paint was a huge turning point for the room and has made the biggest impact so far!
Here's the thing, though. I am not gutsy when it comes to paint colors. I like soft, calming neutrals like gray, white, gray, light blue, and did I mention gray? But, for this room, I decided to go all in, trust my gut, and be brave. Go big or go home, right?
Remember my inspiration board? Yep, those are the paint colors! And that drop ceiling painted deep, navy blue? Yep, that's my plan! Not only did I pick a dark color, I'm painting it on the ceiling! I really wanted the room to have an outer space feel to it and thought the a dark ceiling would do the trick!  The room is small, though, so I went with a light gray on the bottom to keep the room light and airy.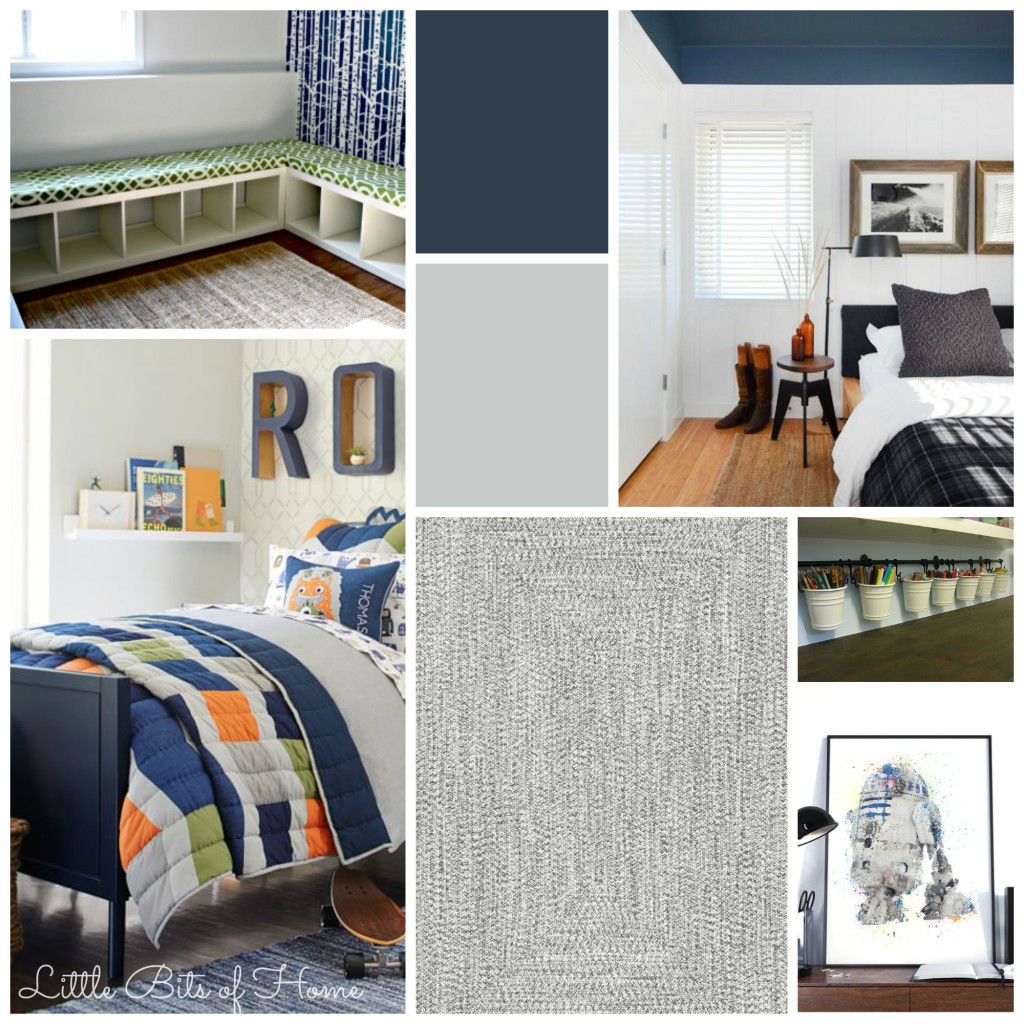 If you've been following my blog for long, you know that we use Sherwin-Williams paints whenever possible. We painted our entire first house, including the ceilings with low grade paint. Then, when we were preparing Little Man's nursery, we looked into a low-VOC paint for his room to minimize the fumes in our home while I was pregnant. We ended up going with Sherwin-Williams Harmony paint and it was love at first roll. The coverage was amazing and we loved that it was zero-VOC! The difference between the low grade paint we had been using and the Sherwin-Williams paint was night and day!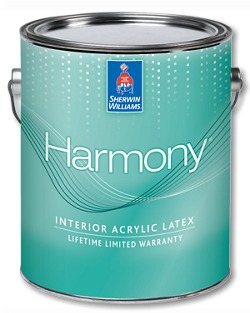 Since then, we've painted Little Man's room in our new home, the playroom, our bedroom, our living room, and Little Girlie's room all with Sherwin-Williams Harmony paint!
For Little Man's Star Wars room, it was a no brainer to use Sherwin-Williams paint, especially considering we needed a high quality paint to get to that rich, navy color we were after. I reached out to Sherwin-Williams and imagine my excitement when they agreed to sponsor this post for the One Room Challenge! Happy dance! Because we wanted to go with such a dark color, they recommended I use the Emerald paint line as the Harmony paints are better suited for lighter colors. The Emerald line is very low-VOC and GREENGUARD Gold certified, ensuring it's safe around kids and can be mixed in dark colors. Win!
Once I had my paint picked, it was time to figure out the exact colors I wanted. I have been known to try nearly a dozen different paint colors for one room, which is borderline crazy. However, I have figured out a trick for picking paint colors! If you are like me and get overwhelmed easily by all of the choices, head over to the counter at your store and check out the paint color collections. HGTV, Pottery Barn, West Elm, etc all have collections of their favorite colors at Sherwin-Williams and it makes it so much easier to narrow down your choices! I first discovered this trick back when I painted the stripes on the playroom wall! I simply picked two shades from an HGTV collection and called it a day! Woot!
This time, I picked from the Pottery Barn collection. Little Man's quilt is from Pottery Barn, so I knew the colors would go well together. I ended up going with Gray Screen for the lower walls and Naval for the upper walls and ceiling.
Before I could paint, though, I had to prep my walls. Oh my word, that was labor intensive! We removed the existing crown moulding and moved it down about 18″ to provide a divider between the gray and navy. Removing the moulding damaged the walls a bit and it was quite the chore to get them back into shape! I had to spackle around the perimeter of the walls and ceiling, then hold the power sander above my head while hanging off a ladder to try to get the walls sanded as smooth as possible. Good times… Fun fact– when we removed the crown moulding, we discovered that at some point, the previous owners had the walls painted gray and the ceiling blue. What are the odds?! Dear Previous Homeowners, I like your style! 🙂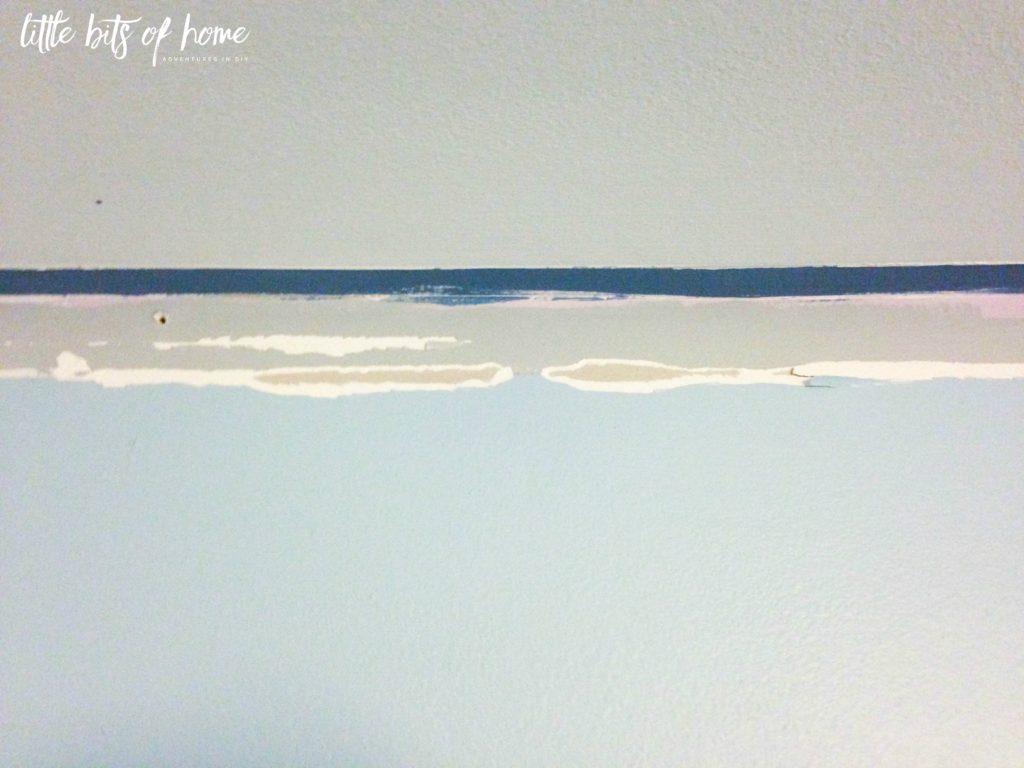 Once the walls were nice and smooth, I primed the parts that were going to be navy. Sherwin-Williams recommended that I prime the walls with a gray tinted primer. I used the Multi-Purpose Primer and was seriously giddy over how well even the primer went on! Here's how the walls were looking after one coat of primer to the top and edging in on the bottom.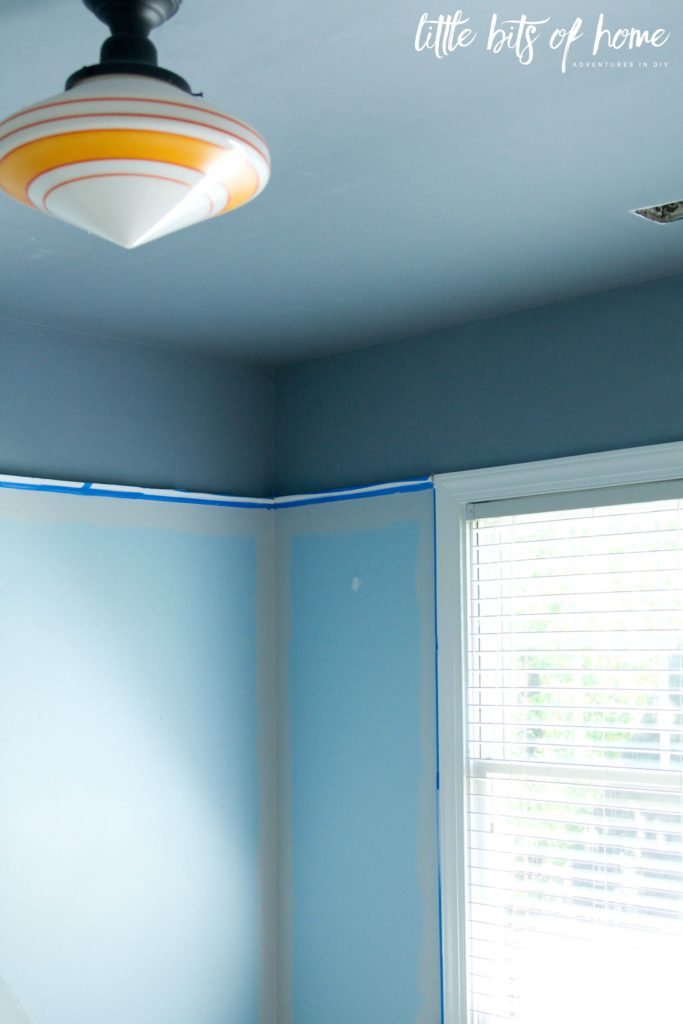 And here's what the walls looked like after one coat of gray and primer + two coats of navy!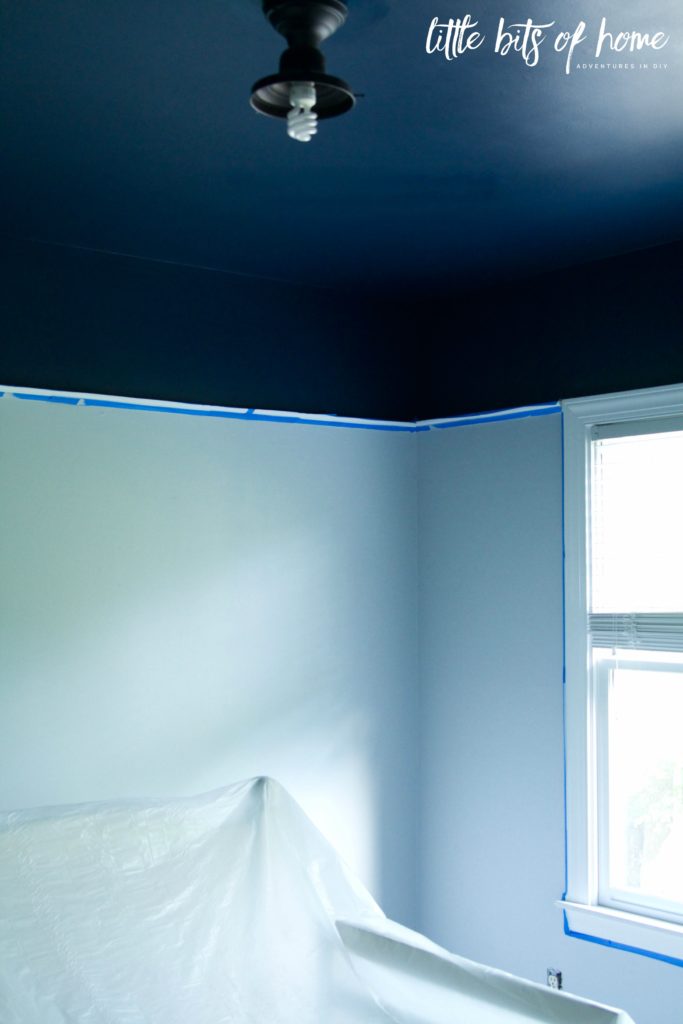 Can you believe the lower walls only needed one coat of gray?! The Emerald paint has a built in primer, glides on like a dream, and has such great coverage!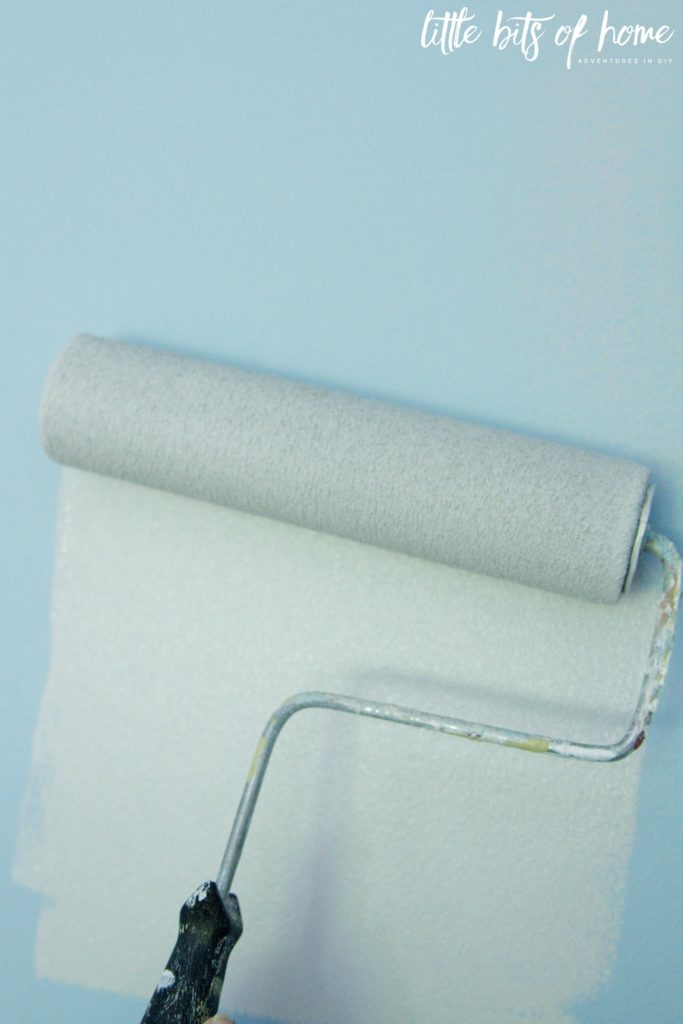 I love how the navy ceiling turned out! After I got done, I told Jeremy that it is my new mission to incorporate more navy around our house! 🙂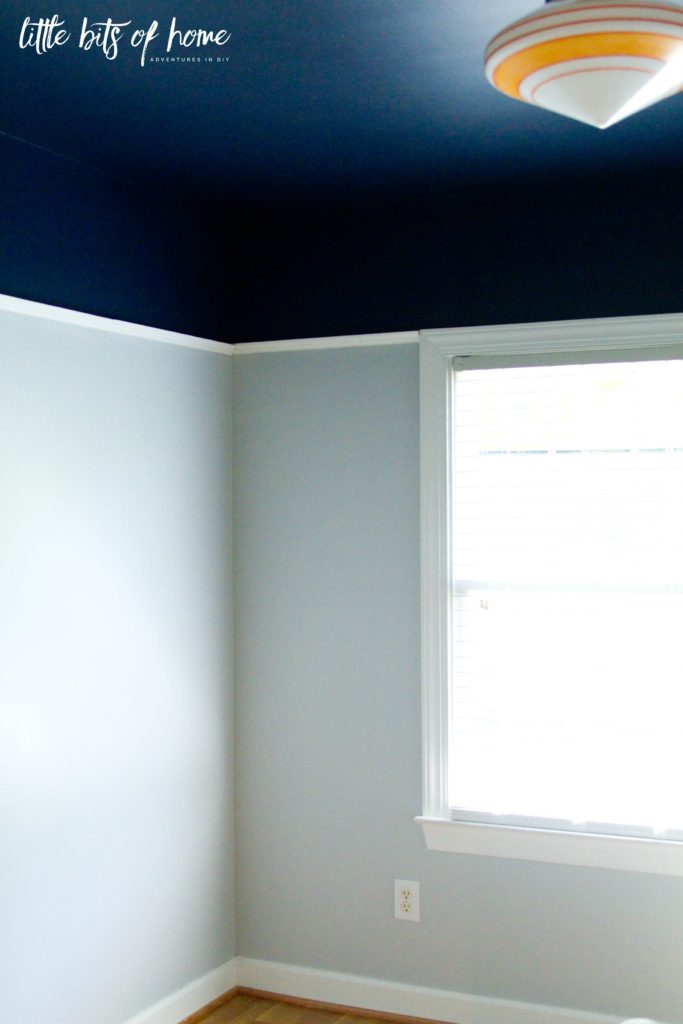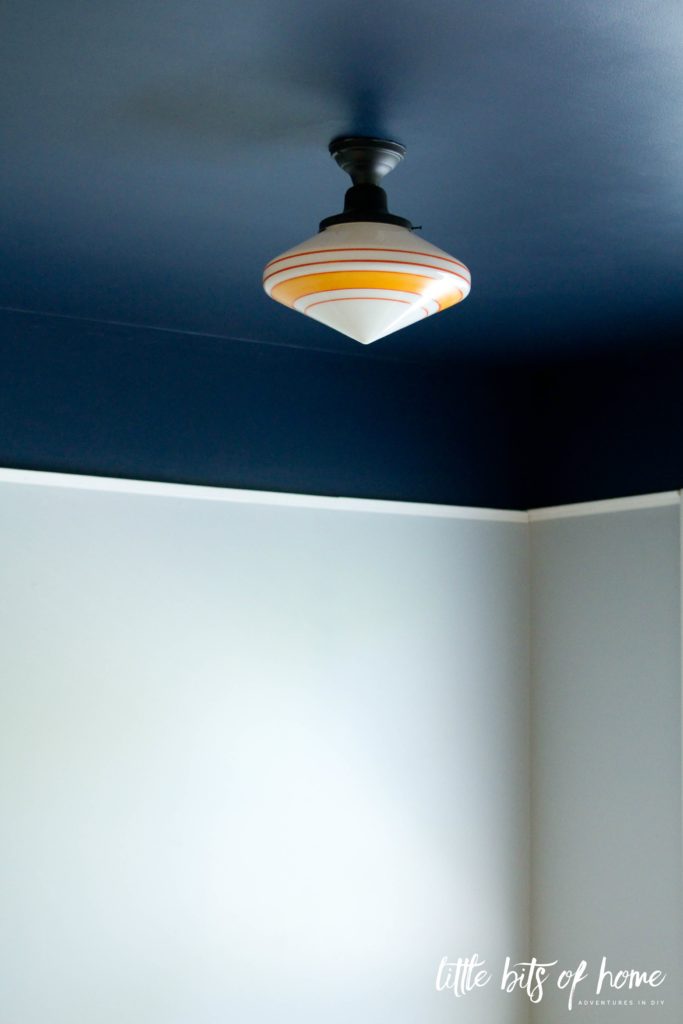 The colors were exactly what I was hoping for!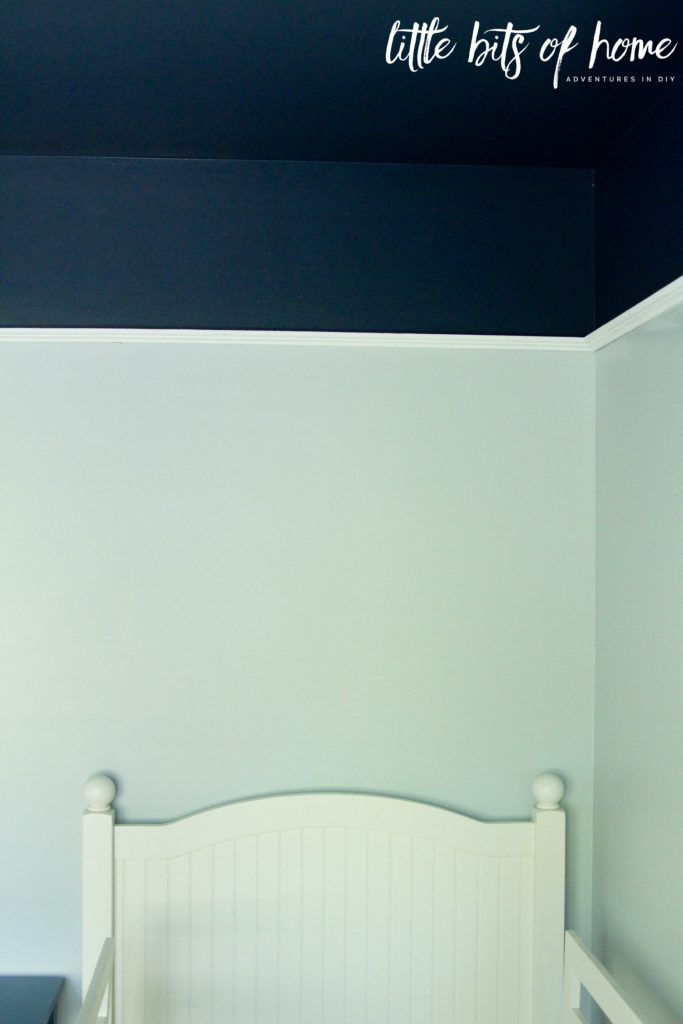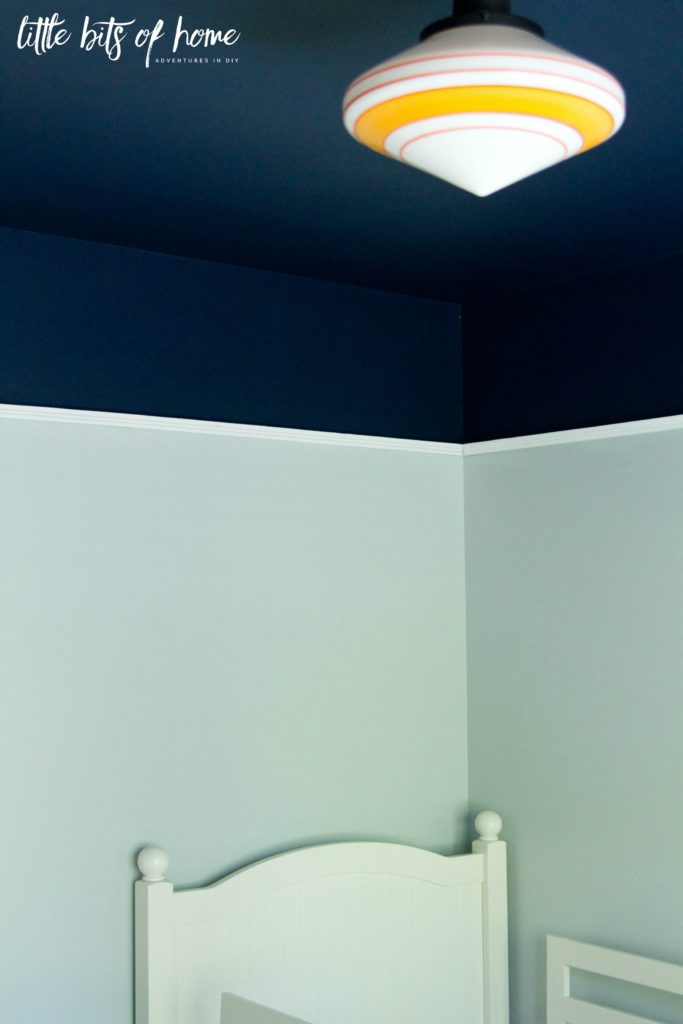 I love the way the orange light pops against the navy ceiling!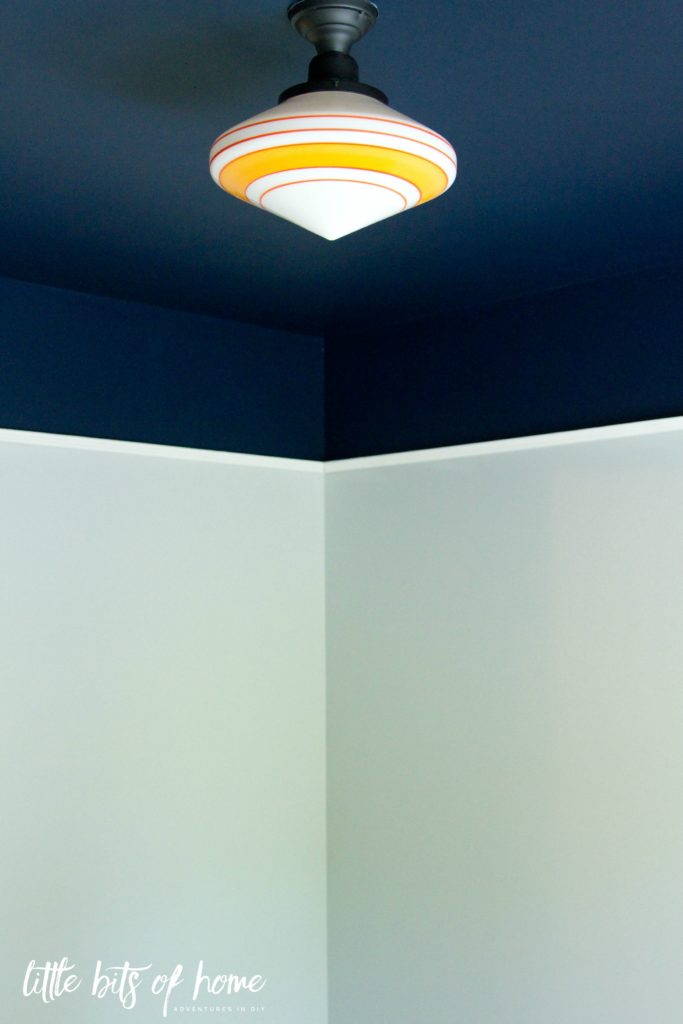 I couldn't be happier with how the paint turned out! I'm so glad I decided to step out of my comfort zone and go with a dark color! And just wait until I show you the rest! Let's just say, I take the wall coolness factor up another notch! Check back on Monday to see what I did!
What do you think? Would you go with a dark paint color, even on a ceiling? Be sure to check out all the other awesome One Room Challenge projects going on at Calling it Home!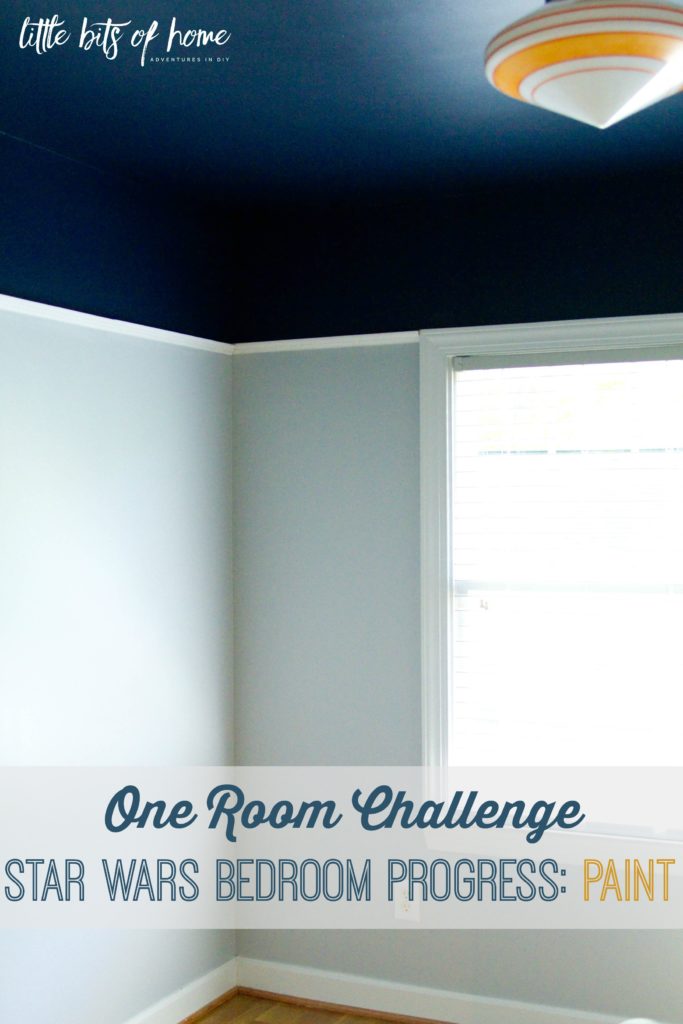 Disclosure: I received paint from Sherwin-Williams as compensation for this post. All views and opinions expressed are 100% my own. HUGE THANKS to Sherwin-Williams!!!