Affiliate links noted in italics are provided for your convenience. For more info, see my full disclosure here.
This is NOT a sponsored post!
Hey, Friends! Hope you had a great weekend! At the risk of sounding as boring as dirt, I just have to tell you about our new vacuum! I know, Earth shattering stuff here today. But, really, it's just that good!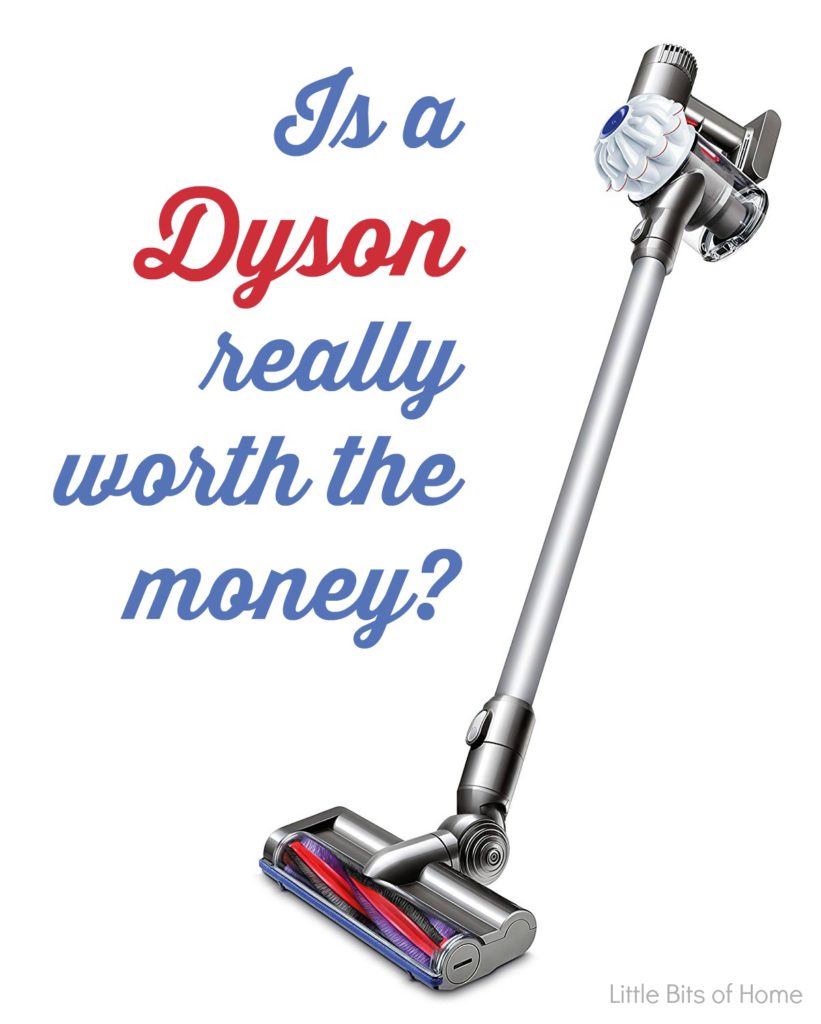 I'm usually a cheapskate and almost always go for budget friendly items. I usually research and see which budget item has the best reviews, ignoring anything falling outside the easy on the wallet price range. This has been especially true for us with vacuums. I have lost count of how many vacuums we've owned in our 10 years of marriage. Four maybe? They just keep dying!
Our house has all wood floors with just a few rugs. I typically sweep with my Bona mop and just pull out our vacuum for the rugs. I love my Bona, but have been wanting to switch to a cordless stick vacuum for quick clean ups. I mean, we have kids, so we have a constant crumb buffet going on, if you know what I mean… 😉 I knew it would be so nice to be able to vacuum the wood floors at any given moment without worrying if I had a clean Bona dust mop head available.
I started researching budget vacuum cleaners and found some OK ones that had good reviews as long as you didn't try them on a rug. Just as I settled on a budget friendly stick vacuum to buy, our upright vacuum bit the dust. Not wanting to buy both a stick vacuum for the wood floors and an upright vacuum for the rugs, we decided to expand our stick vacuum search to one that could handle rugs, too.
We kept running across the Dyson v6 because of its ability to handle both carpet and hard flooring. It was not in the budget friendly category, but it had consistently great reviews. We decided to go with Dyson in hopes that it would be better quality than our previous vacuums.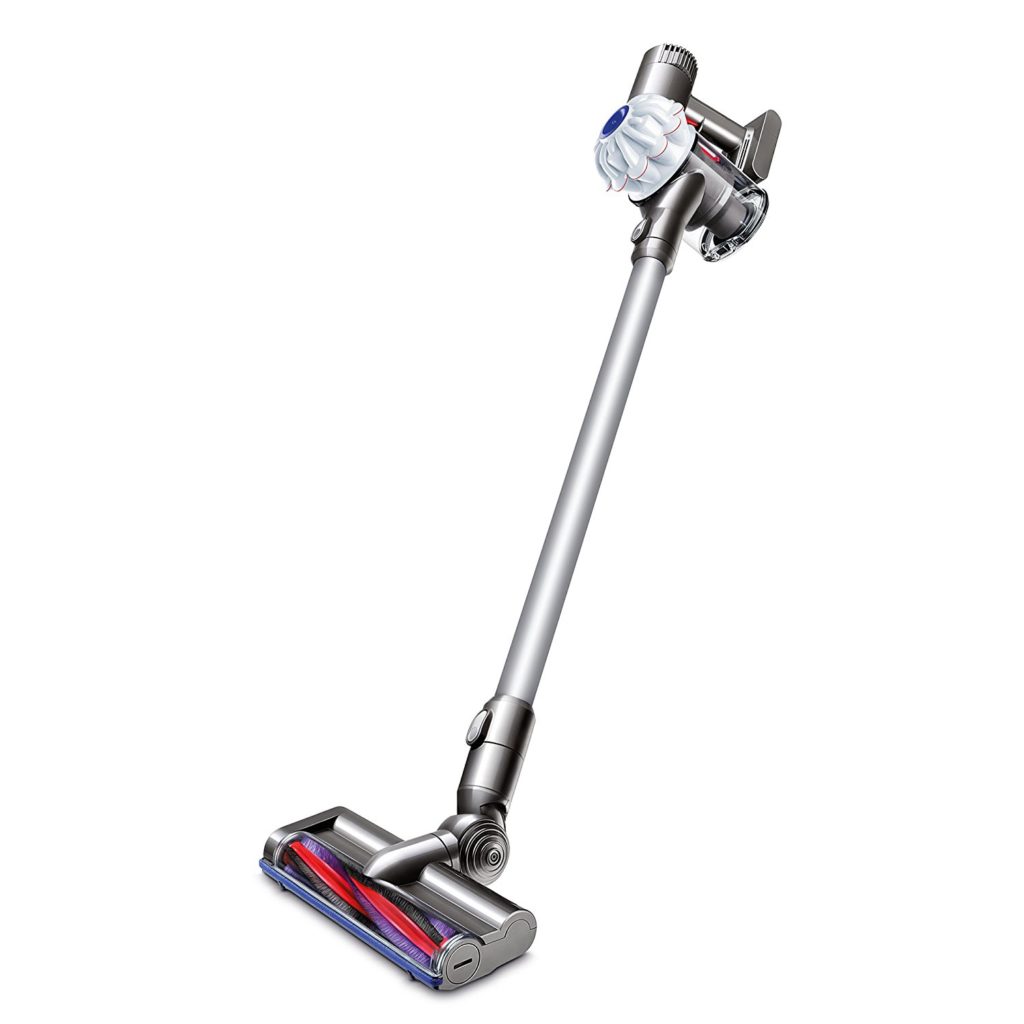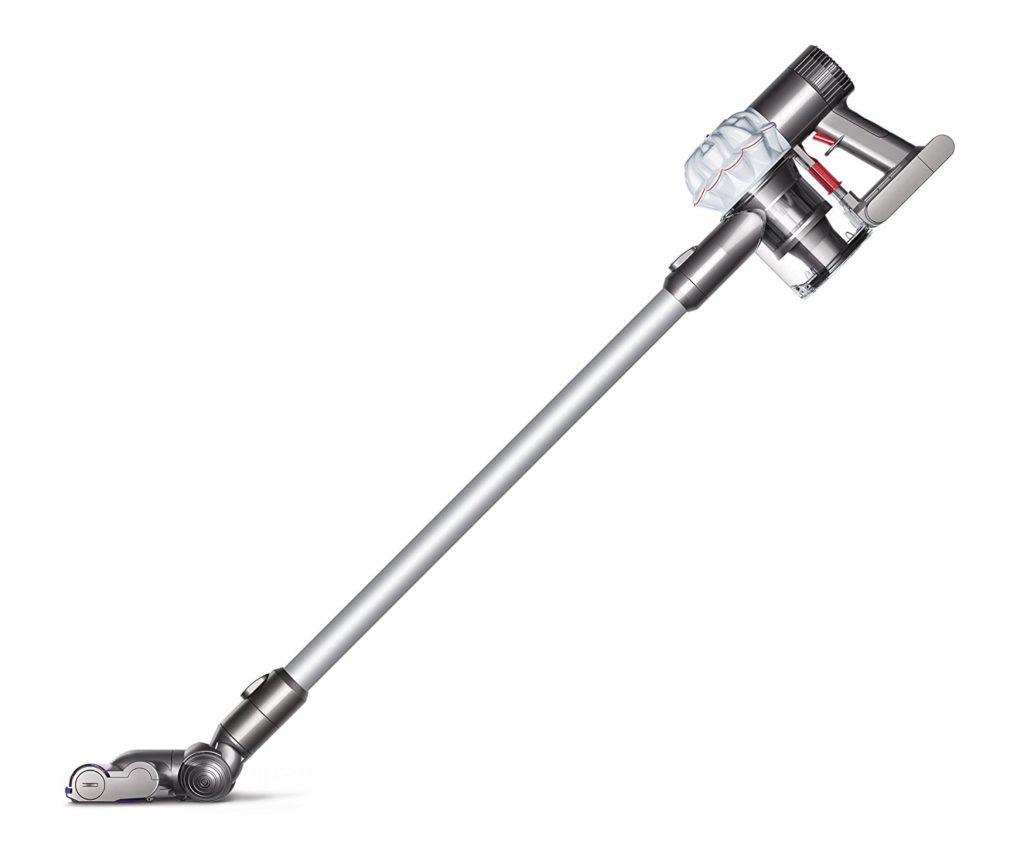 Images via Amazon.com
I waited for a couple months after purchasing the vacuum to write this post so that I would be able to give you all my thorough review. Overall, I love love love our new vacuum! It has great suction, is easy to use, and makes not only sweeping, but general cleaning so much easier. Totally splurge worthy!
I am amazed at how well it picks up dirt! I love that I can go straight from our wood floors to the rugs and it works awesome on either surface! We have everything from flat rugs to wool rugs and it works consistently across the different rug thicknesses.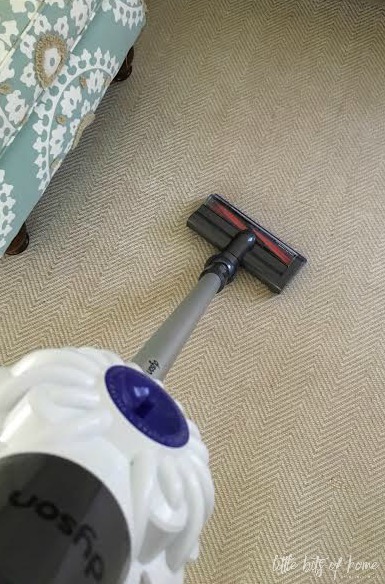 You know what else is awesome? You can detach the pole and use it as a handheld vacuum! I love using the brush attachment on the blinds. I can't believe how well this works and how quickly it dusts the blinds! I've also used the handheld option on the couch and stairs with great success. It's so convenient! The attachments can be used on the long pole, too, which would be great for dusting ceiling corners, lighting fixtures, etc.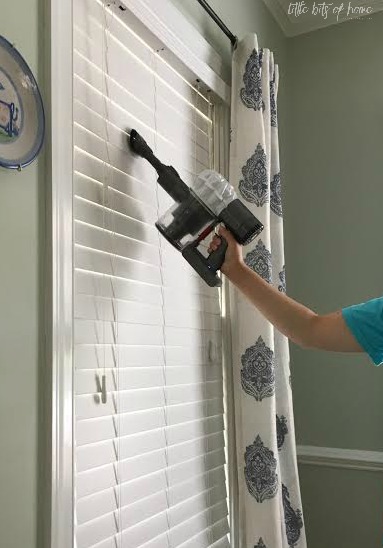 Excuse the phone quality of the picture. I enlisted my six year old to help me take photos. Pretty good for his first attempt as my assistant! 😉 
The canister has enough capacity to do a couple rooms without stopping to empty it. The only time I've had to empty it more frequently is when I vacuum our new wool rug. It's going through the shedding phase and fills up the canister quickly. Emptying the canister is really easy! Just a push of a button and the bottom flips down, emptying the canister straight down into the trash.
The only trouble I have had is that my long, thick hair that sheds worse than a retriever has clogged up the canister a couple times when vacuuming the bathroom. I've had to detach the filter to empty out the canister. It's not hard, but I figured I'd mention it. I've had to clean out the rotating bristle brush once because of all of my hair, too. The vacuum was still performing well, I just noticed the hair was accumulating, so I flipped it over and cleaned it out. Tell me I'm not the only one that sheds like crazy?!
We waited for a sale and were able to snag our vacuum at a good discount. We purchased the classic cordless Dyson v6, but there are two other versions available depending on your needs–a pet version and a motorhead version. You can see all the options here.
Hope you find this helpful the next time you need to purchase a vacuum! Have a great week, Friends!