Hey, Friends! Super excited to share that we finally figured out an organizational system in our coat closet!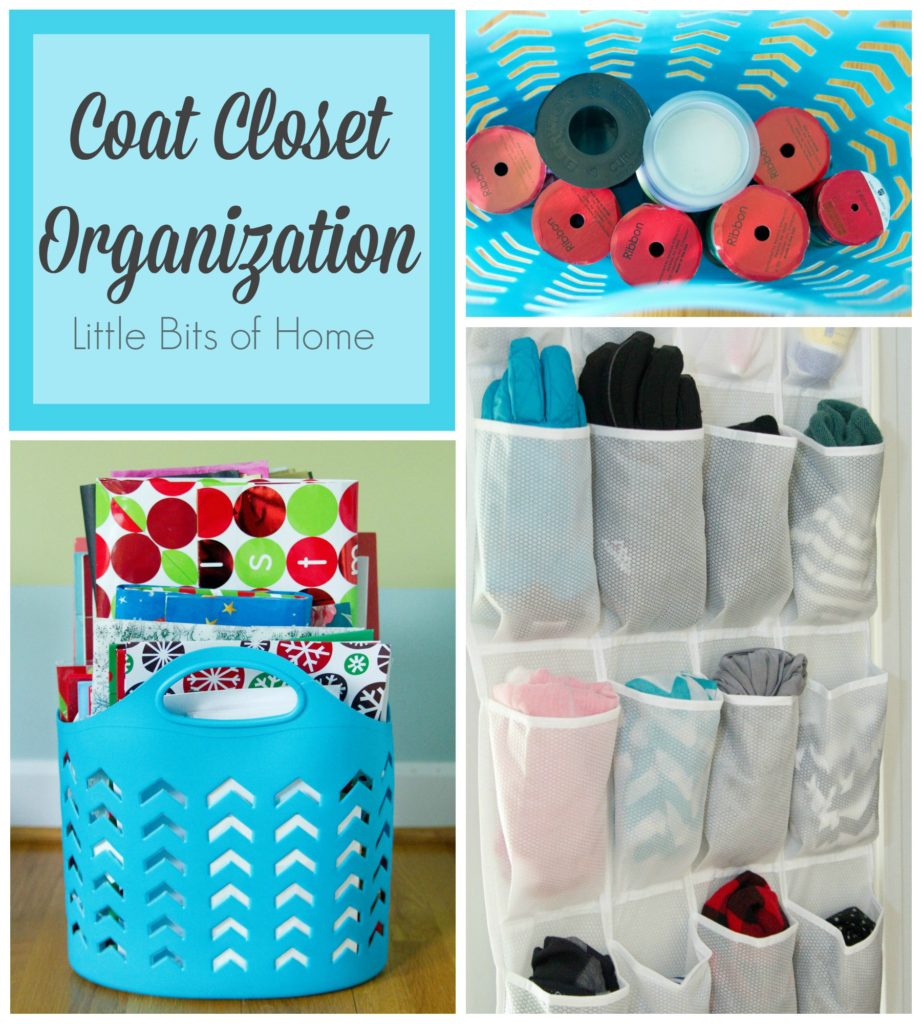 You may remember that we have been trying to figure out the best way to organize our teeny tiny coat closet for the almost four years we have lived in this house. All of my efforts so far have failed and this closet of clutter ended up on my top five organizational flops list! Remember these pictures? Shudder…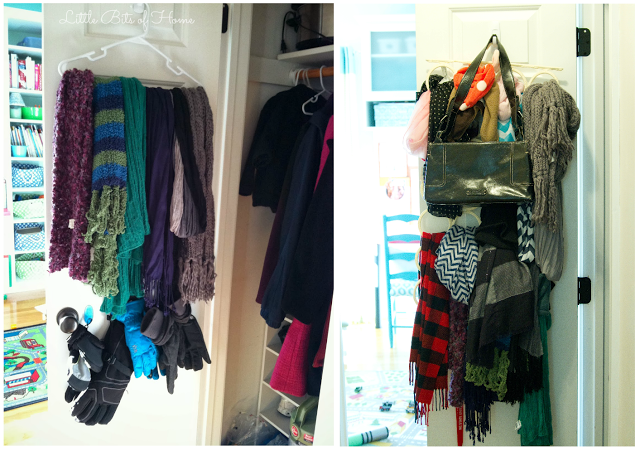 I'm happy to report, though, that I've finally found a system that works! Ready to check it out?
The biggest and best change we made was to get rid of the cheap shoe shelf inside the closet. Since we moved our shoes to the shoe cabinet in the breakfast nook, we no longer needed the shelf. I purged all of our worn out shoes and now all of our everyday shoes fit into the shoe cabinet. The only shoes not in the cabinet are Jeremy and I's dress shoes which are in our master closet.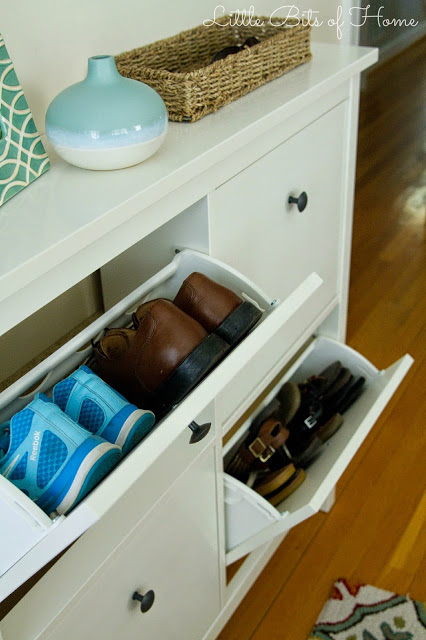 With the shoes out of the way and the closet floor empty, I was able to reassess the situation with fresh eyes. Our playroom closet also landed on the organizational flop list because I was trying to store too many different types on things all in one spot. I decided to move the gift wrapping supplies from the playroom closet into the coat closet. #multitasking However, I was in desperate need of storage bins for the wrapping supplies! I had been using a large gift bag and an old diaper box. Keeping it real.
I found some great organizers at the Target Dollar Spot! Surprise, surprise, right? 😉 I picked up two of these beach totes for $5 a piece. I feel like that price is a bit steep, but they were the perfect size and shape to fit into my closet, so I went with them. I put all of our gift bags and tissue paper into one.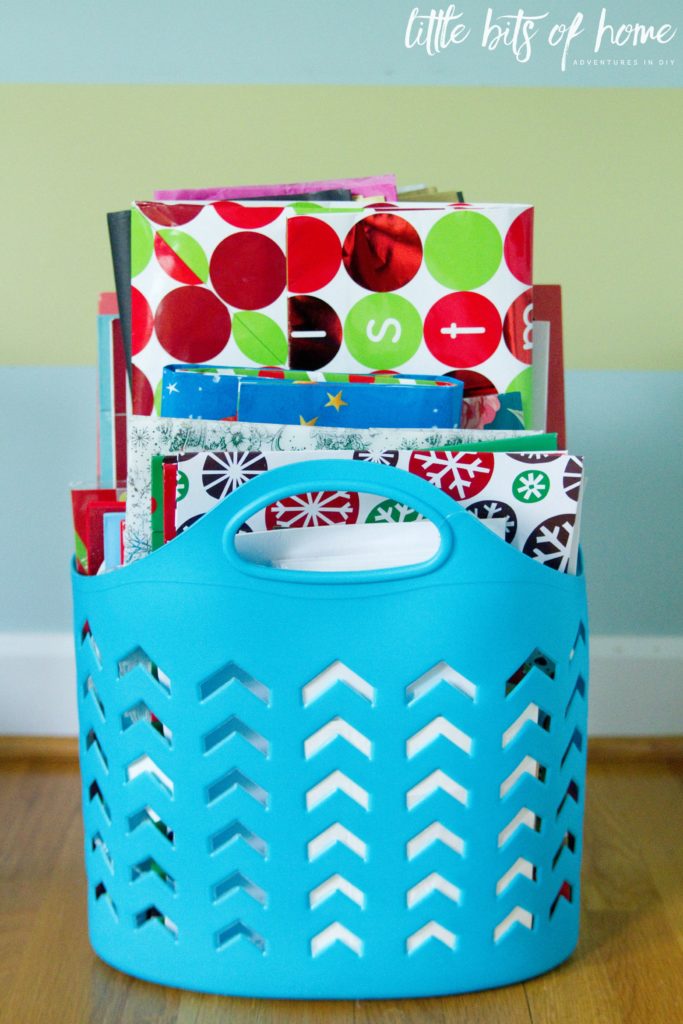 I stashed all of our ribbons in the bottom of the second tote and put the bag of bows on top. I love that I can grab a tote and take it to the table when I'm wrapping something instead of having to go through it, trying to find what I'm looking for while it's still in the closet.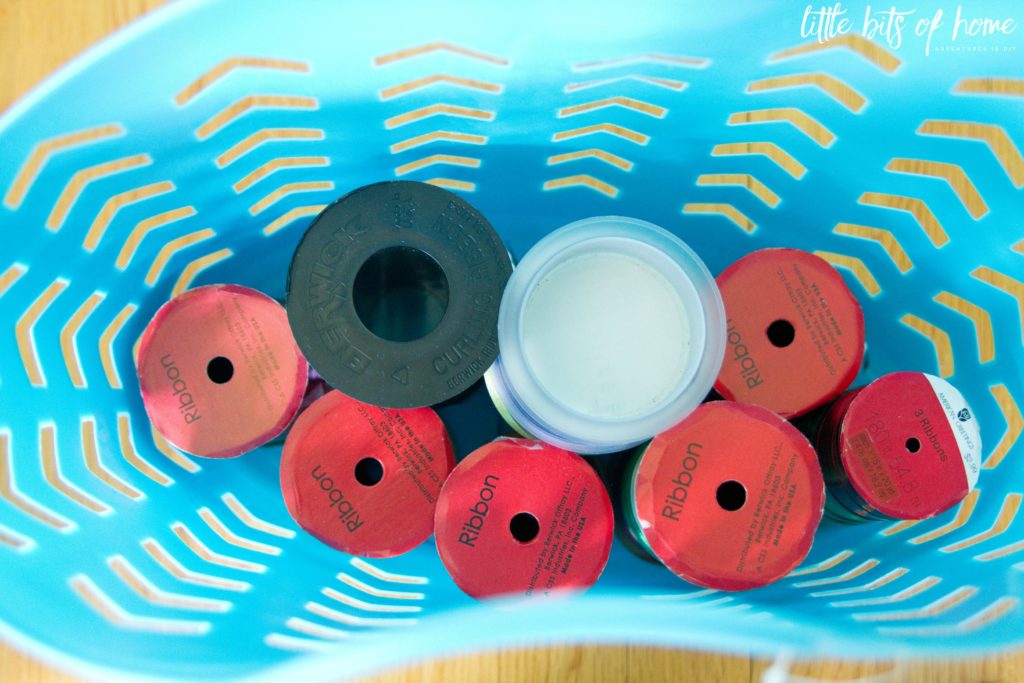 I also found this adorable trash can for $3 at the Dollar Spot. It's the perfect container for the rolls of wrapping paper!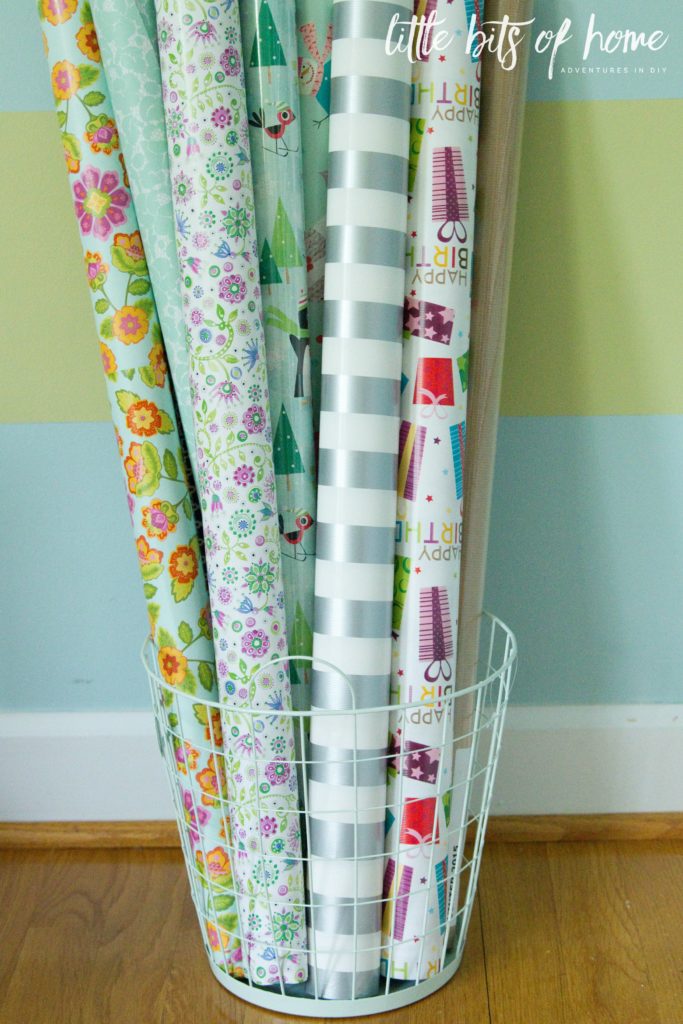 The next place I looked for organizers was Dollar Tree. They have a great selection of home organizers this year! I found some fabric cubes for the kids' closets and found this cute teal bucket to stash our lunchboxes. I was planning to use a wall mounted wire organizer for the lunchboxes, but this worked so well, I just left it!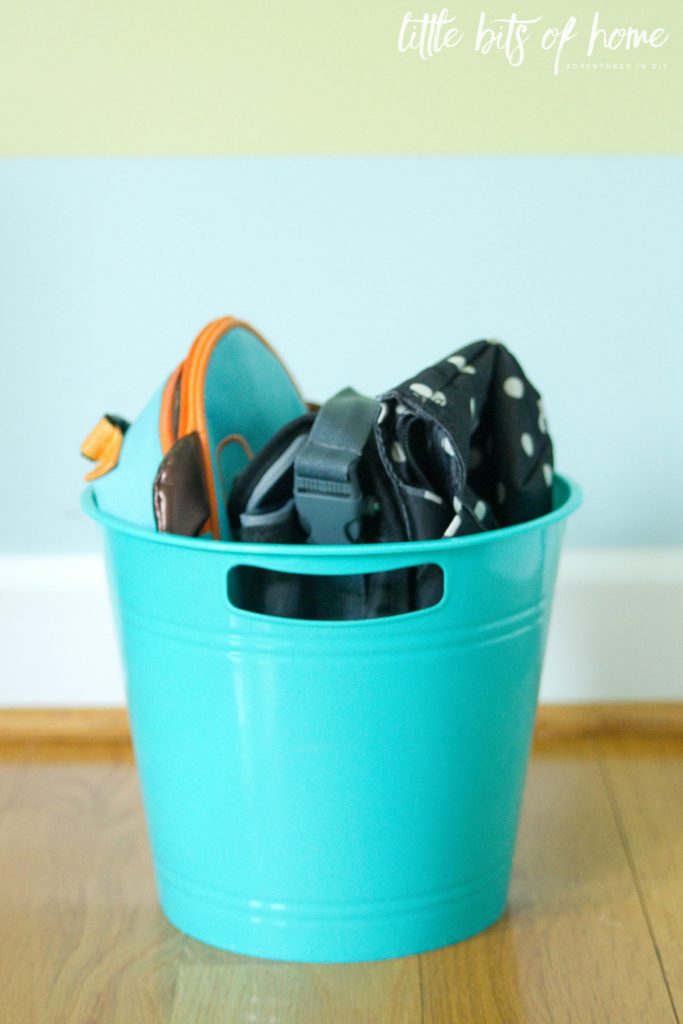 We had several reusable tote bags that were tossed into the top of the closet and would fall out when you opened the door. I took this freebie tote bag and stored all of the other tote bags inside of it. I hung it on the inside wall using a Command Strip hook. Now, they're out of the way, but still accessible!
The last major organizational disaster in this closet was all of our (ahem, my) scarves and accessories that were on the back of the door! I found an over the door shoe organizer on clearance for $5 at Target and it happened to be skinny enough to fit on the back of the door! Total game changer!!!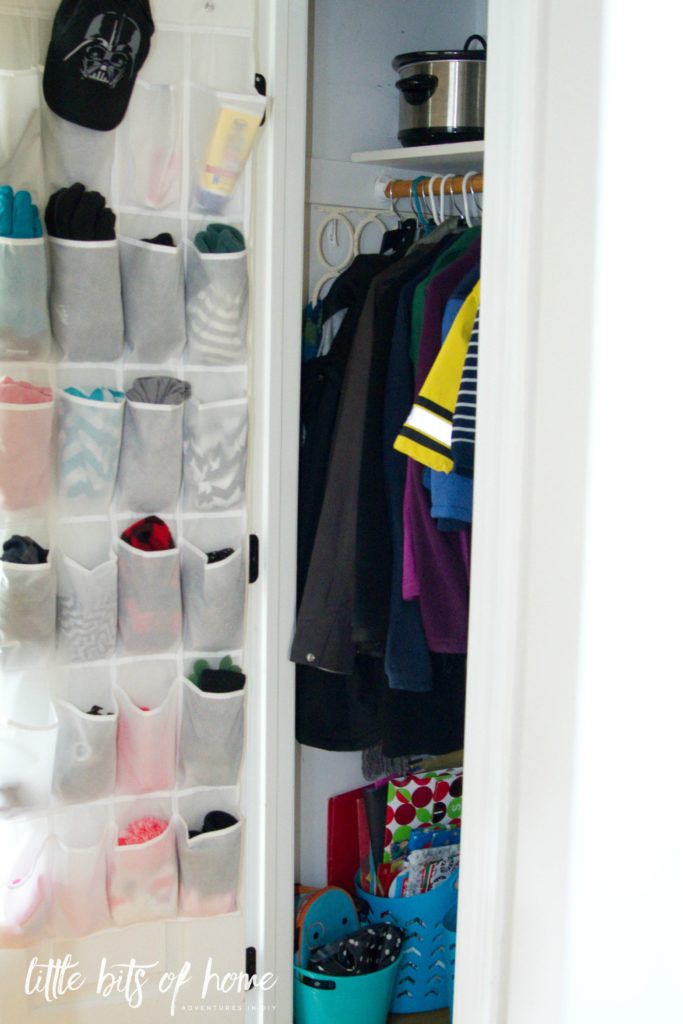 We can actually open and close the door without having to shove the scarves back into the closet as we shut the door! It hangs down low enough for the kids to reach, so now they can even put away their own hats and gloves. Um, yes please! Round of applause for this hard working organizer!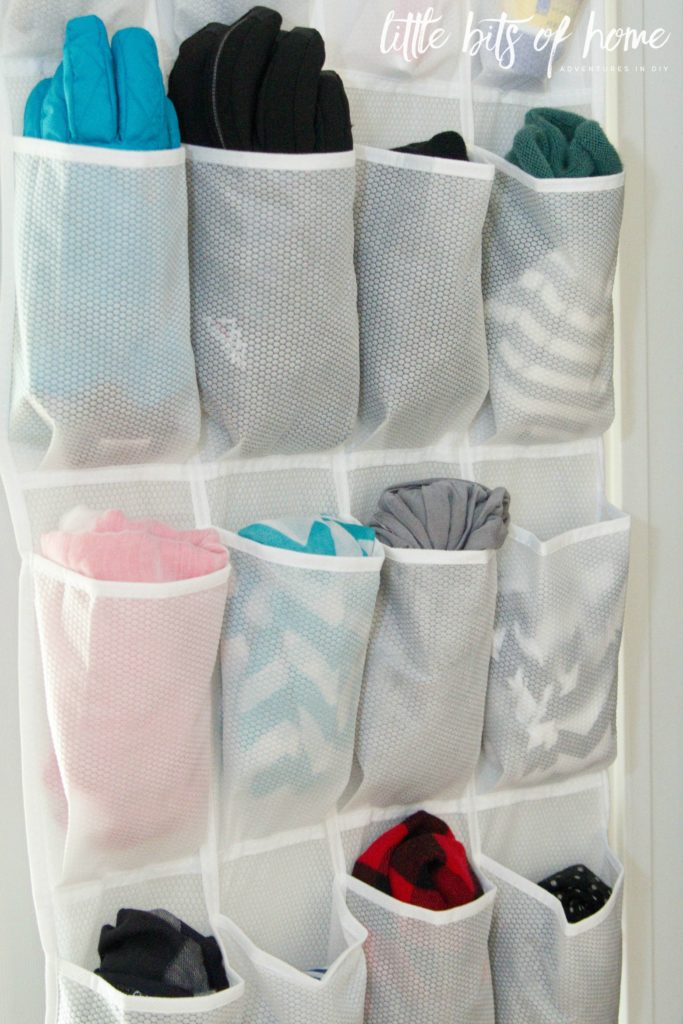 So.much.better! Excuse the awful picture–this closet is in a hallway, so it's impossible to get the whole thing in one shot. And, it's super dark! #bloggerproblems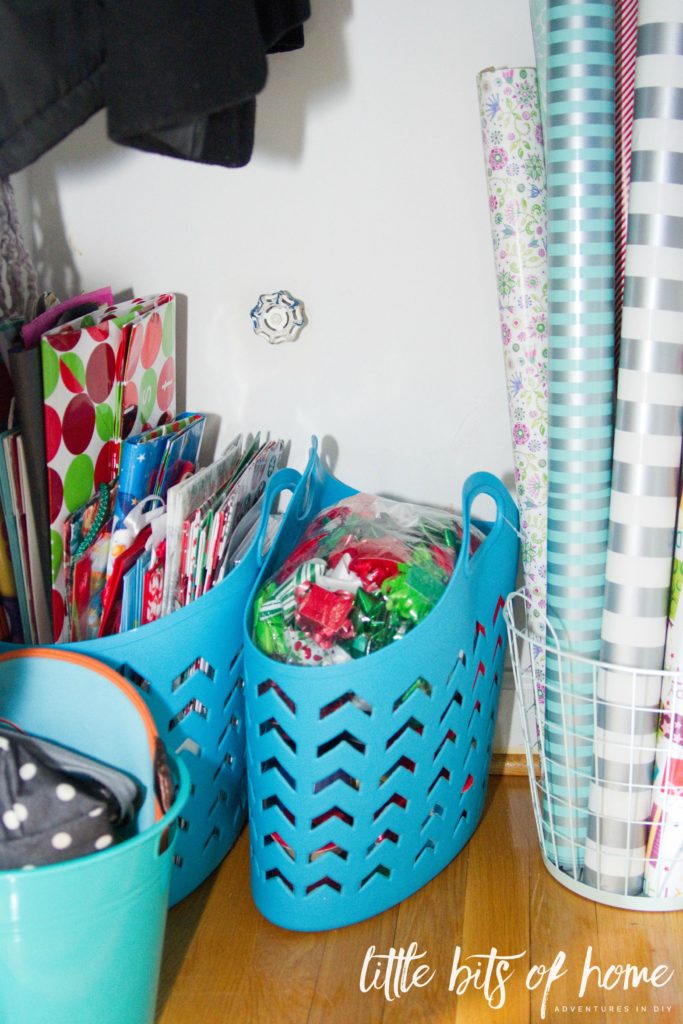 I organized this closet shortly after I wrote my organizational flops post back in January and am happy to report that it's still looking nice and tidy! There's even enough room to easily store the vacuum in here! It's finally an organizational win!