It's time for another round of our Create with Me Challenge! And, boy do I have a treat for you! Lindi and I have added 6 of our fabulous blogger friends as hosts! So, get ready for loads of extra inspiration each month!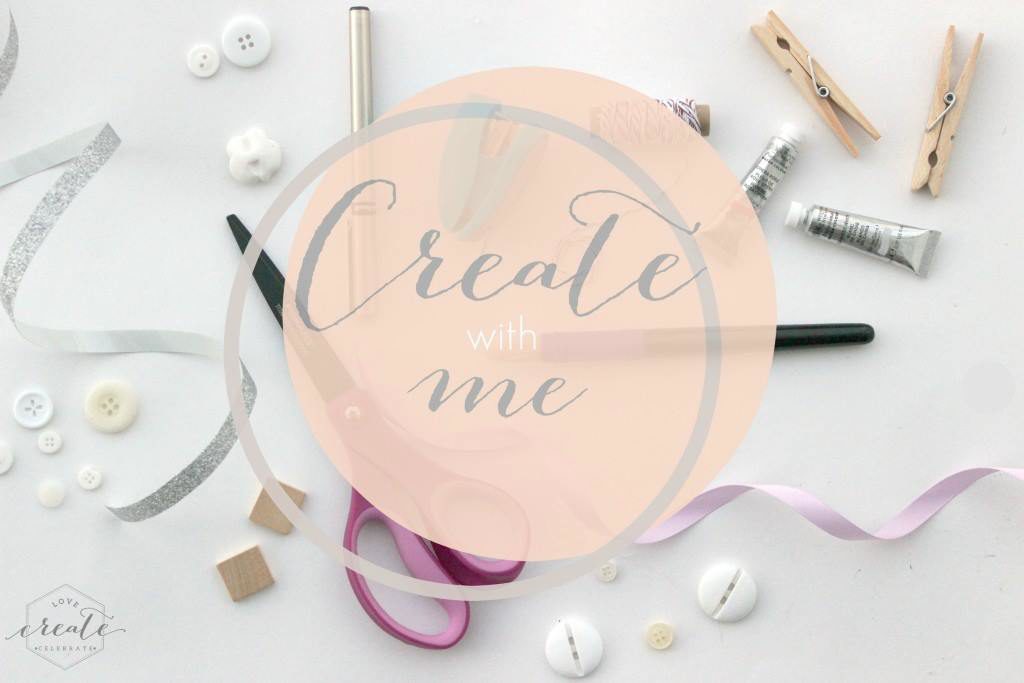 Little Girlie is quickly approaching the milestone of graduating from her crib to a big girl bed. I asked her what she wanted her big girl room to be like and within seconds she had her heart set on a "purple monkey room". Let me tell you, there is not a ton of inspiration out there for purple monkey rooms. Haha!
Last month, you all voted for us to use a canvas for this month's challenge. I had been coming up empty on my search for cute artwork for Little Girlie's big girl room, so I decided to seize the opportunity and create something myself using a canvas! Here's what I came up with!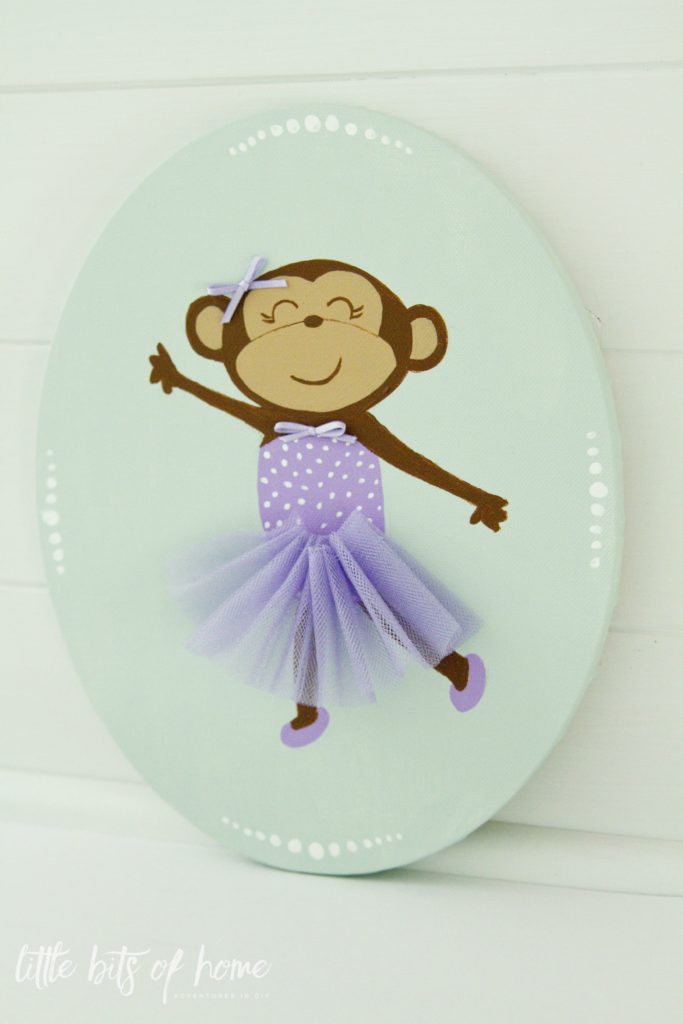 Little Girlie loves ballet, so naturally I had to make a purple ballerina monkey–all her favorite things in one painting!
My family stopped in at Hobby Lobby while we were out and about so I could get crafting supplies. In typical fashion, Jeremy made all manner of jokes throughout the store, eliciting many chuckles from nearby, unsuspecting shoppers. When we got to the canvas aisle, he saw the different oval shaped canvases and immediately put two together and loudly exclaimed, "Look! It's a toilet!" while pretending to lift the lid, which of course made my son bust out laughing. Because, potty humor, that's why.
I was keeping a safe distance from the circus animals, trying to find the perfect square canvas for this project, but after Little Girlie saw the cool toilet canvas, she decided oval was the way to go. I found a smaller, aka not toilet sized, oval canvas and actually had to agree. It was the perfect shape for this project! Who knew I'd find the perfect canvas because of a toilet joke?! Isn't my husband dreamy?! #lovehimsomuch 🙂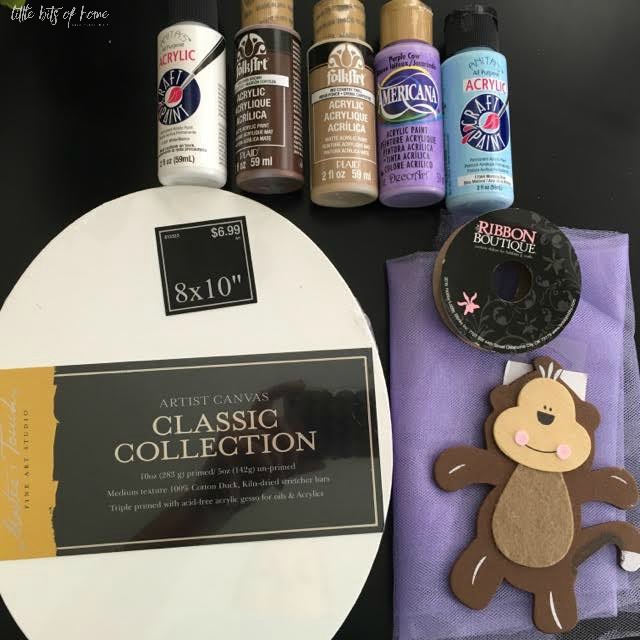 I painted the canvas a light greenish blue and let it dry. Then, I pulled up my favorite monkey clipart to look at and attempted to freehand a monkey onto the canvas with a pencil. I filled it in with paint, letting it dry between colors.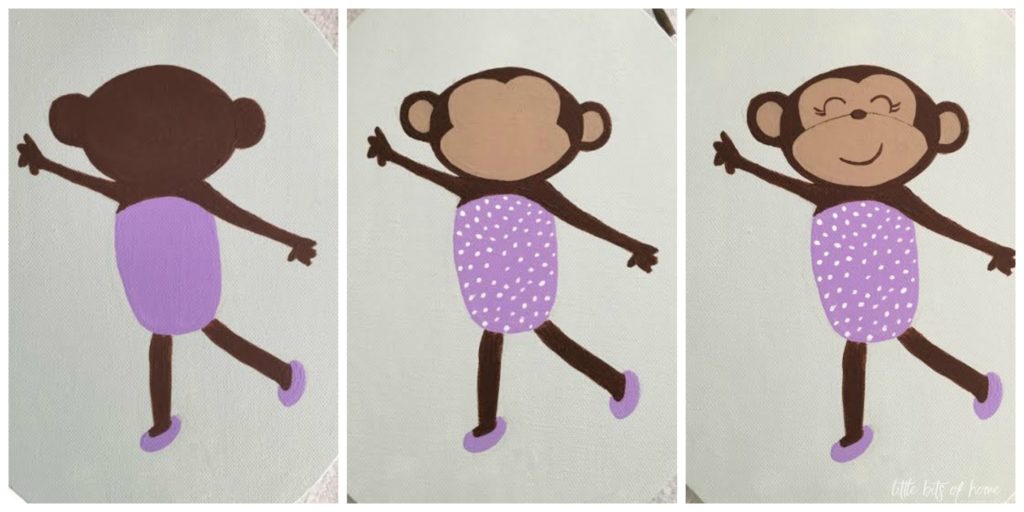 Now, before you freak out and tell me you can't draw, you have to go check out my sign tutorial! I went into great detail in that post on how to easily copy an image onto a surface. Seriously, if you can click print, you can get an image onto a canvas! I even shared how to get good outlines with a paintbrush and my favorite supplies! Read all about it here!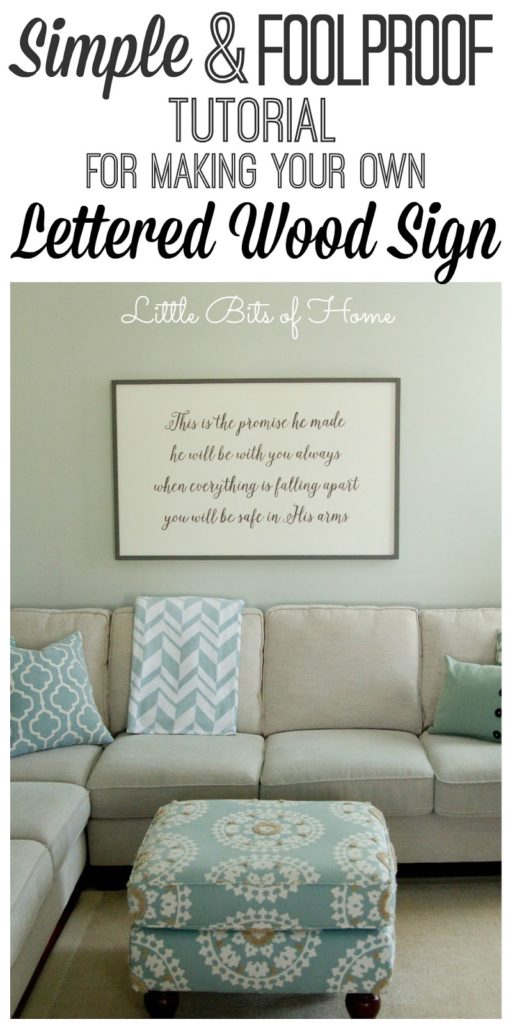 If even that is too much work for you, see my supply photo above. I found a cute little wooden monkey, already painted (!!!) for a mere .77 cents. You could just pop your wooden monkey onto the canvas with some hot glue! Sadly, the one I bought was too small, so I went the painting route.
To take my painting to the next level, I used ribbon and tulle to make the bows and tutu instead of just painting them. I love the texture and dimension it gives to the painting! Plus, it hides my inability to paint monkey legs. 😉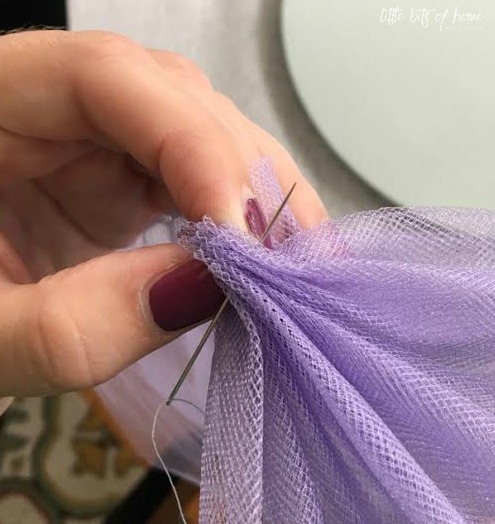 To make the skirt, I just folded a piece of tulle accordion style, then loosely ran some thread through the waist and fanned it out to the desired width and secured it. Then, I hot glued the skirt and bows into place on the (dry!) painting! Also, don't judge my nails. 😉
Little Girlie loves her monkey painting!!! I can't wait to show you more of my plans for her room soon!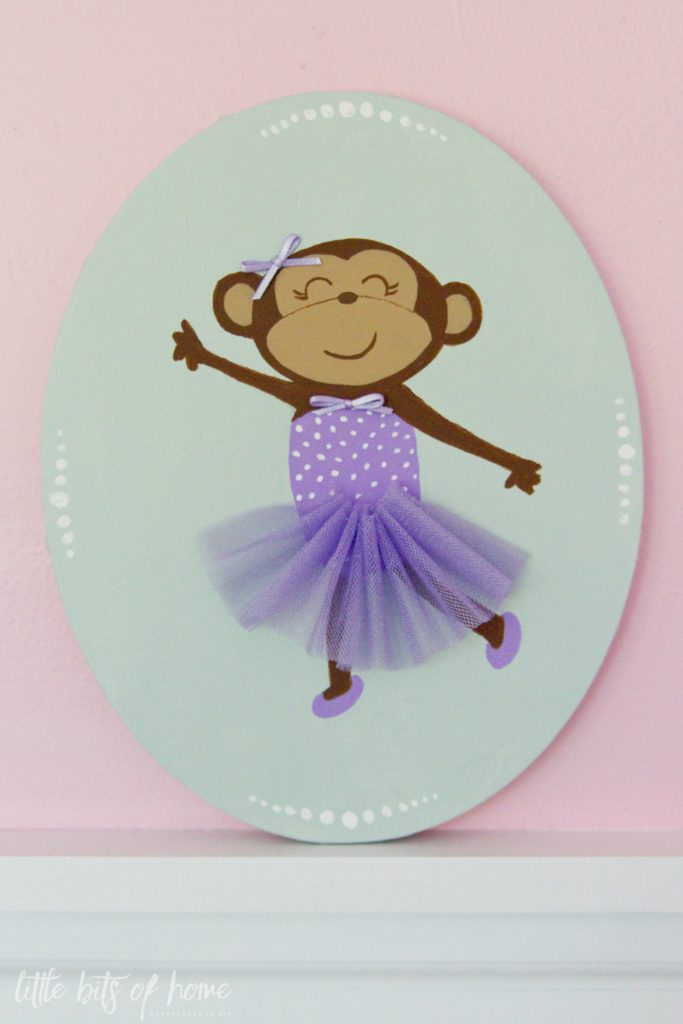 What canvas projects have you done lately? We'd love to see them! Share them with us on facebook or Instagram using the hashtag #createwithmeprojects!
Don't forget to vote for next month's supply! What should we use?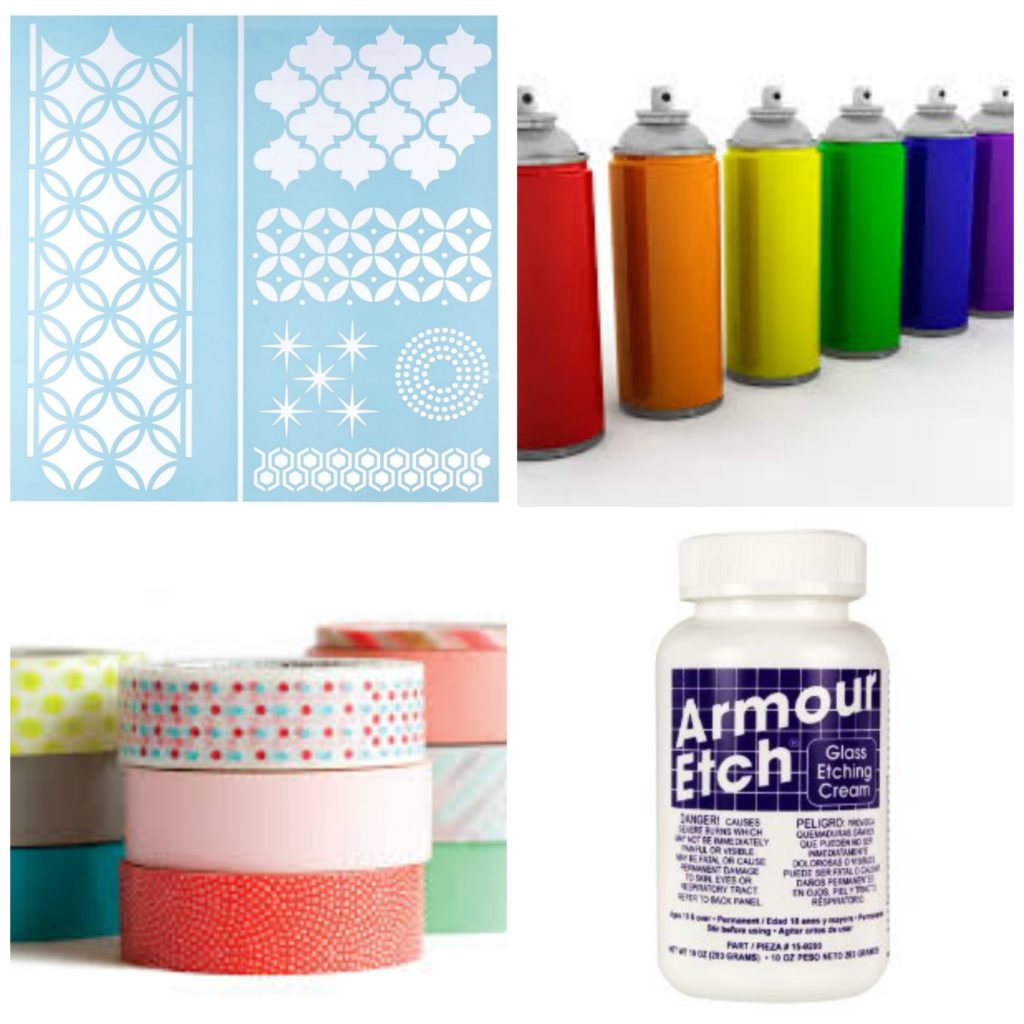 Create your own user feedback survey
If you can't see the survey in your browser, CLICK HERE TO VOTE!
Check out all the other awesome canvas ideas below! Be sure to leave some love for our new hosts and check out their amazing blogs!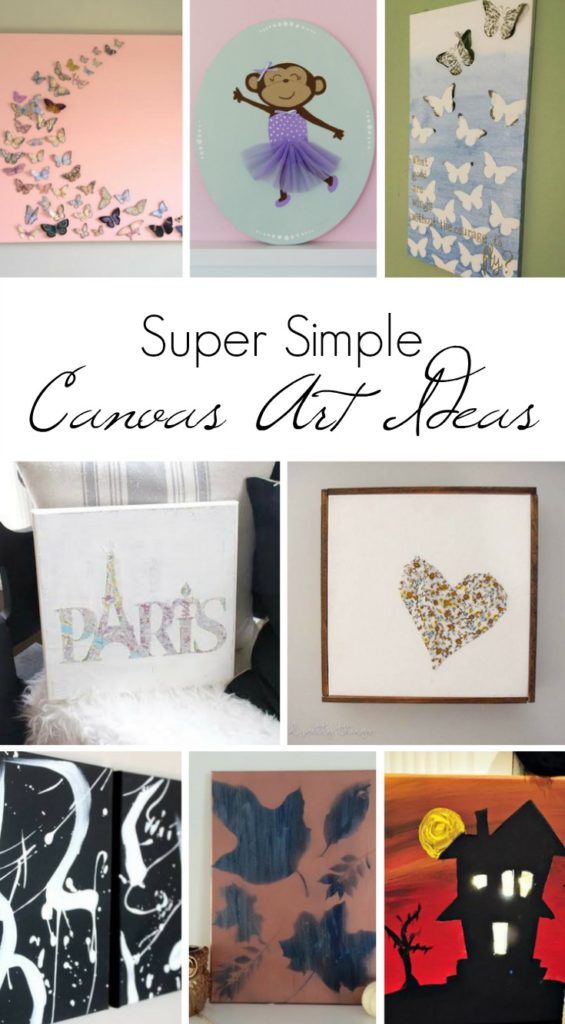 Butterfly Canvas- Our House Now a Home
Mixed Material Art- Little Bits of Home
Ombre Butterfly Art- Refresh Living
Map Canvas Wall Art- My Life from Home
How to Frame a Canvas- Making Joy and Pretty Things
Two Minute Canvas Art- Love Create Celebrate
Lighted Halloween Canvas- Knock it Off Kim
Linking up with Thrifty Decor Chick and many other awesome bloggers!