Hey, Friends! I hope you all have been enjoying your weekend so far! I'm supposed to be doing a million other things right now, but I just had to drop in a show you the progress on our bathroom! The tile is DONE! Picture me dancing around the house out of sheer happiness!
Because our bathroom was so gross, I have been literally designing our new bathroom in my head for years now. So, when it came time to pick out the tile, I knew exactly what I wanted. We walked into the tile shop, I spotted exactly what I had in mind for the shower within seconds, and we went with it. That NEVER ever ever happens to me! It was glorious! I usually have to debate, then go home and think about it, research it, you know the drill! 😉
Ready to see what I picked? As you know, my style is clean, bright, airy, and classic. I don't typically hop on trends to begin with, but with something like tile that is going to be there for a loooooong time, I gravitate away from trendy picks even more. Classic and timeless is the name of my game. And, what better way to be classic, bright, and timeless than white subway tile?! I love it!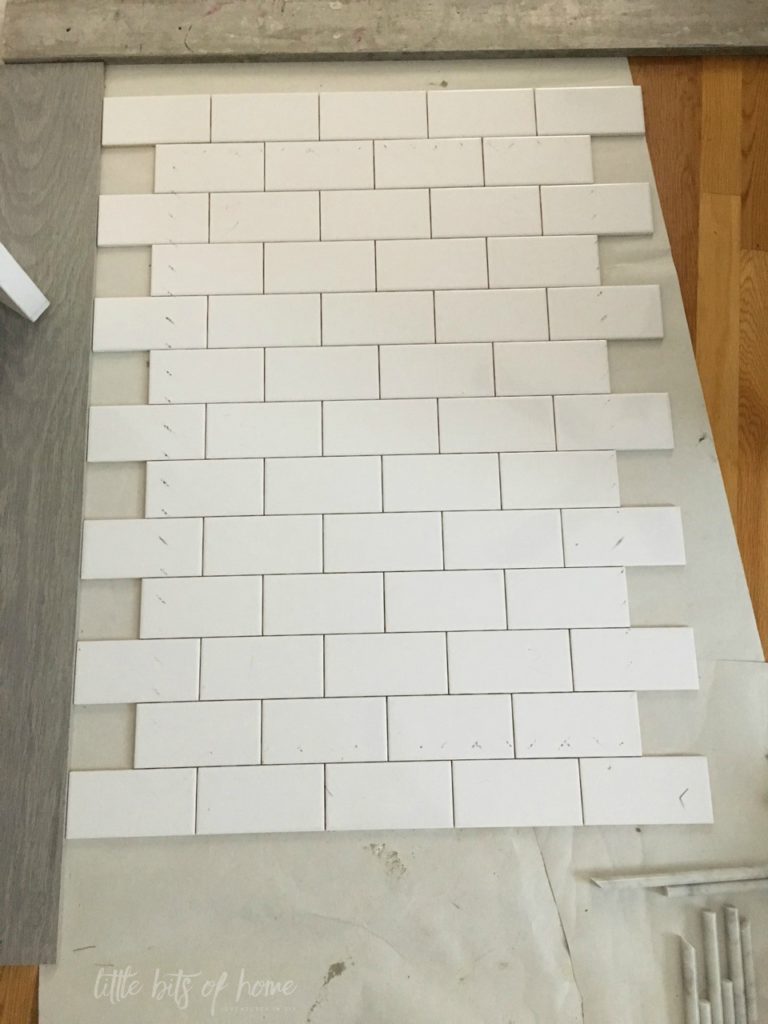 We chose to do the majority of the shower in subway tile, as it's relatively inexpensive and wouldn't bust the budget. We did, however, want an accent tile to glam it up a bit and bring some style to the space. I love marble, so went with a classic herringbone pattern for the accent tile. It's so shiny and pretty–I was giddy when we unloaded it from the car! Don't you just want to pet it? No? It's just me?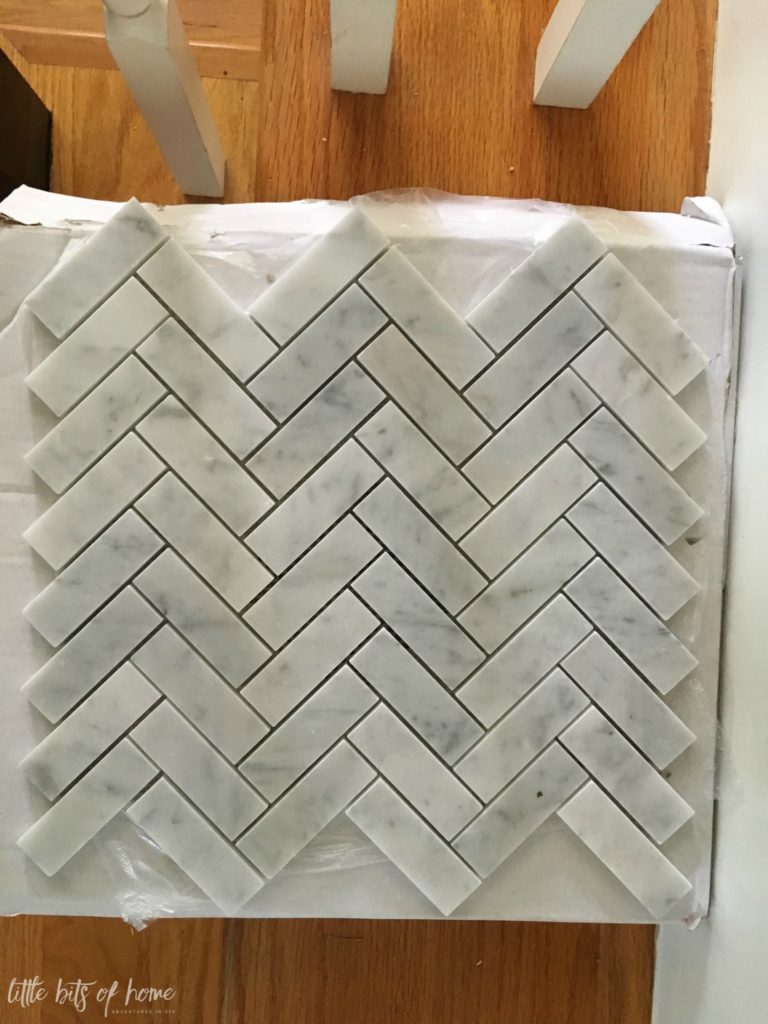 As I mentioned in my demo post, we chose to hire out the tile work. I can't say enough great things about our tile installer! He was meticulous, detail oriented, and is one of the hardest workers I've ever seen. He was very keen on symmetry, even more so than myself, and that's saying something. He thought of places to be symmetrical that I wouldn't have had the foresight to be symmetrical if we were installing the tile ourselves. It was money very well spent! Here's some of my quick snapshots of the progress!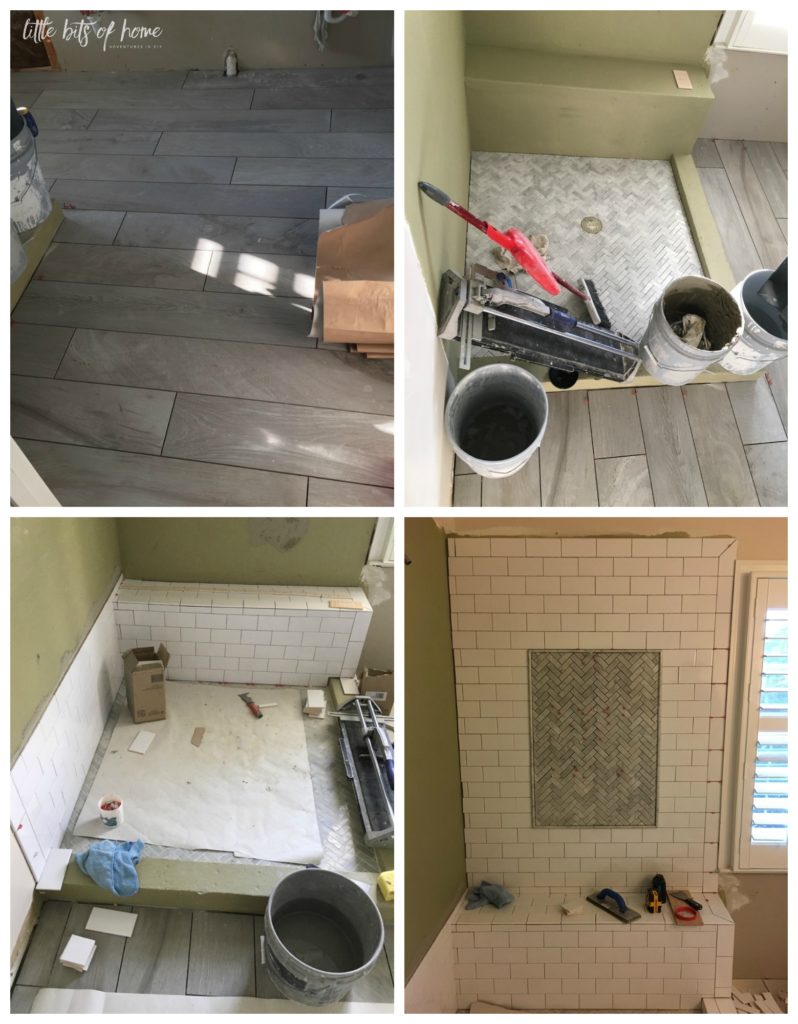 And here is our finished shower! We expanded it by about 6″ on one side and a foot on the other side. That gave us room to install a bench. I finally have somewhere to put my foot when I'm shaving! Men, listen up! If you are designing a shower, always always always put a place to rest a foot when shaving. The women in your life will thank you forever and ever amen.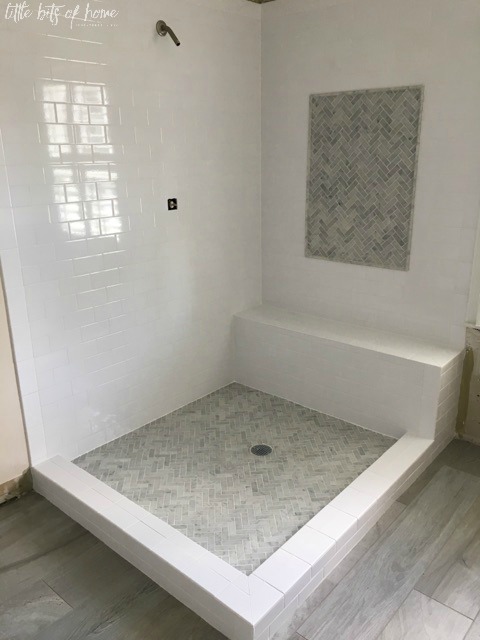 I was originally planning to have the subway tile go 2/3 up the wall, then have the marble go the final upper third of the shower walls. However, that was a very expensive plan. Thankfully, our tile installer had the idea to add a picture frame accent instead. It used much less accent tile which saved us money, but it still gave us that pretty focal point we were going for. He outlined it in marble pencil tiles–love it!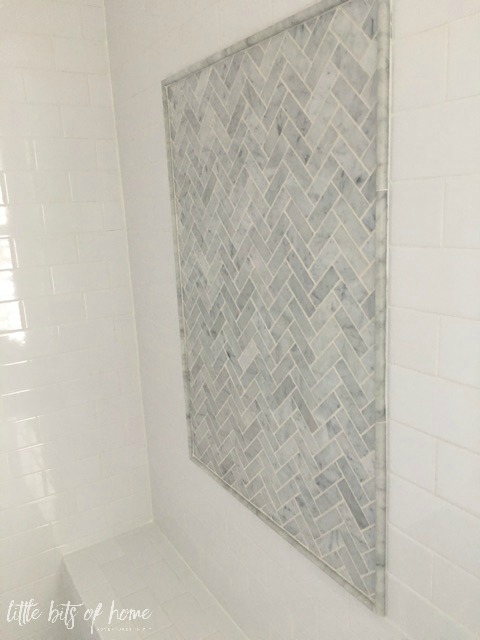 I know grout is about as boring as dirt, but I will mention that we upgraded to power grout. It is much more durable than regular grout. Aka–less scrubbing for me! #winning
The bathroom floors were the only place where we did some debating. When we were designing the bathroom, Jeremy and I had complete opposite ideas for how the bathroom should look. He liked my idea ok, but it seemed cold to him, so I had planned to use wood look tile floors in a medium tone to warm it up in here.
But, when we got to the tile shop, he saw this gray washed wood look tile and vouched hard for it. I was not so sure. This was not the plan, Man!!!! Thankfully, the tile shop had a display of the tile in their showroom so I could really tell what it would look like. I still wasn't sure about it, but I went with it because Jeremy let me go with my shower tile choices, so he should get the flooring he wanted, you know? And, guess what? I looooooove it! Good job, Babe! #hivefive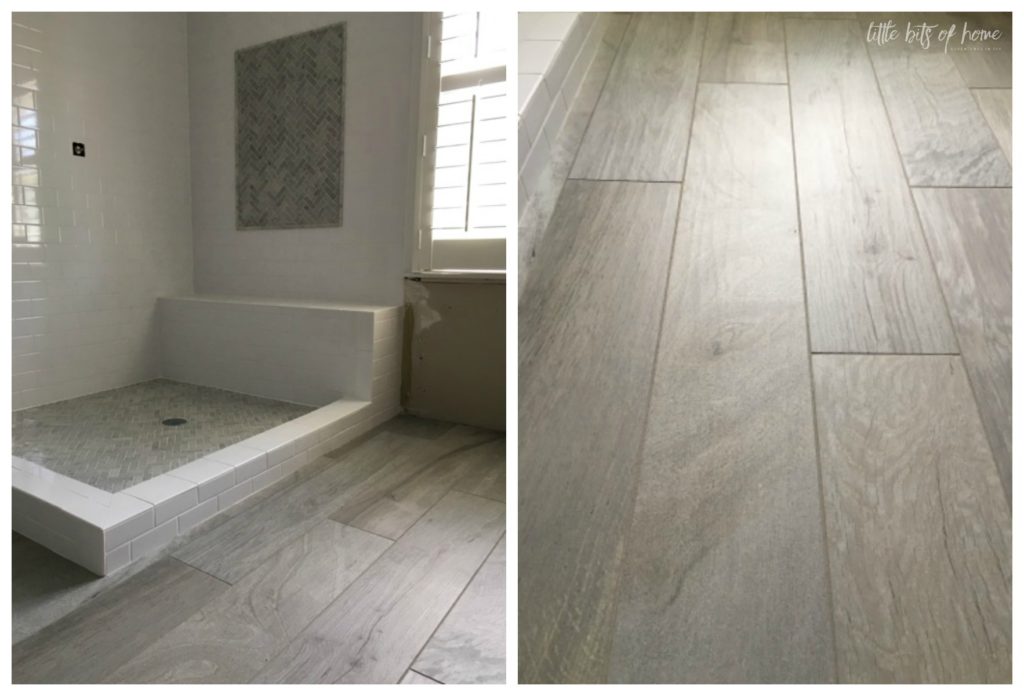 The day the floor was laid, we literally stood in the bathroom trying to find two tiles that looked alike. There's only one set in the entire bathroom! Isn't that crazy?! Our installer flipped the two identical tiles in opposite directions and put them far away from each other, so we had to search for several minutes to find the match. The lack of identical tiles really makes the wood look believable and authentic. So happy with it!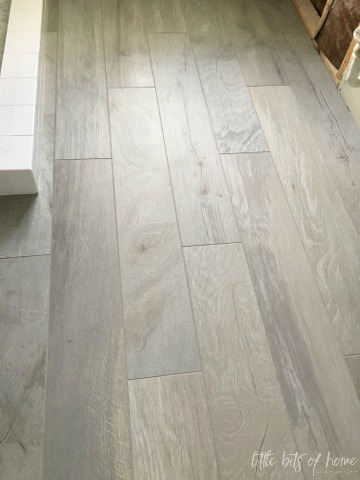 Ok, back to my to do list! I'll update you again soon! The shower glass has been ordered, cabinet design nailed down, toilet room painted. It's coming along!