*Affiliate links noted in italics and provided for your convenience. For more info, see my full disclosure here.
As you probably remember, we renovated our bathroom during 2017. (An update on that is coming soon, I promise!) After all the months of construction, our shower was finally looking gorgeous and ready to use. But, what did we do next? Promptly filled it full of our ugly shower bottles. UGH! I mean really! Nothing ruins the look of a new and clean shower quite like this mess, am I right?!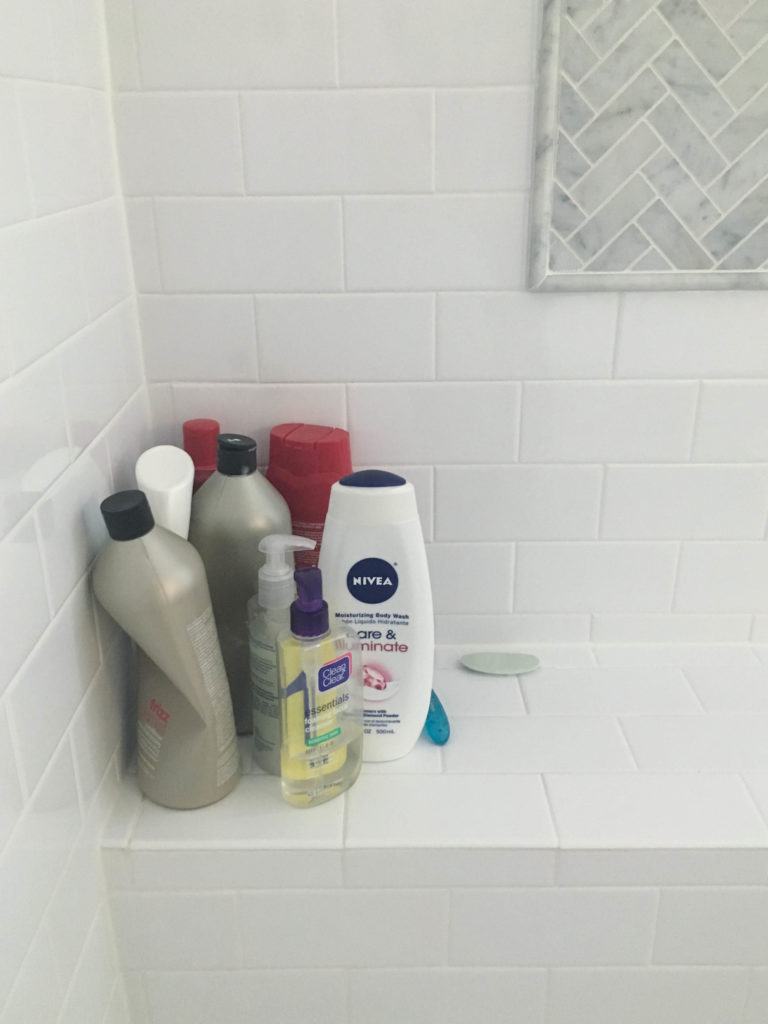 In a perfect world, we would have put in a niche in one of the shower walls for the bottles to go and be hidden from view. However, that plan only worked if the shower were to go in the other corner because we could have created a half wall for the niche to go on and be hidden from view. But, of course that plan was crazy expensive, so we kept our shower in the original location and just expanded it. The downside, though, was that we lost the niche.
After lots of brainstorming, I started shopping online for simple bottles with pumps to store all of our soaps in. The bottles needed to fit two criteria–be large enough to fit entire bottles of soap and have sturdy, plastic pumps. I am a low maintenance kind of girl and am not about to refill little soap dispensers every week. Ain't nobody got time for that! The bottles needed to be large enough to fit regular and economy size quantities. The pump needed to be plastic because I've found that if it's not plastic, it is going to rust in no time. I can't tell you how many hand soap dispensers with metal handles we have been through. It's crazy! Sturdy plastic was the name of my game.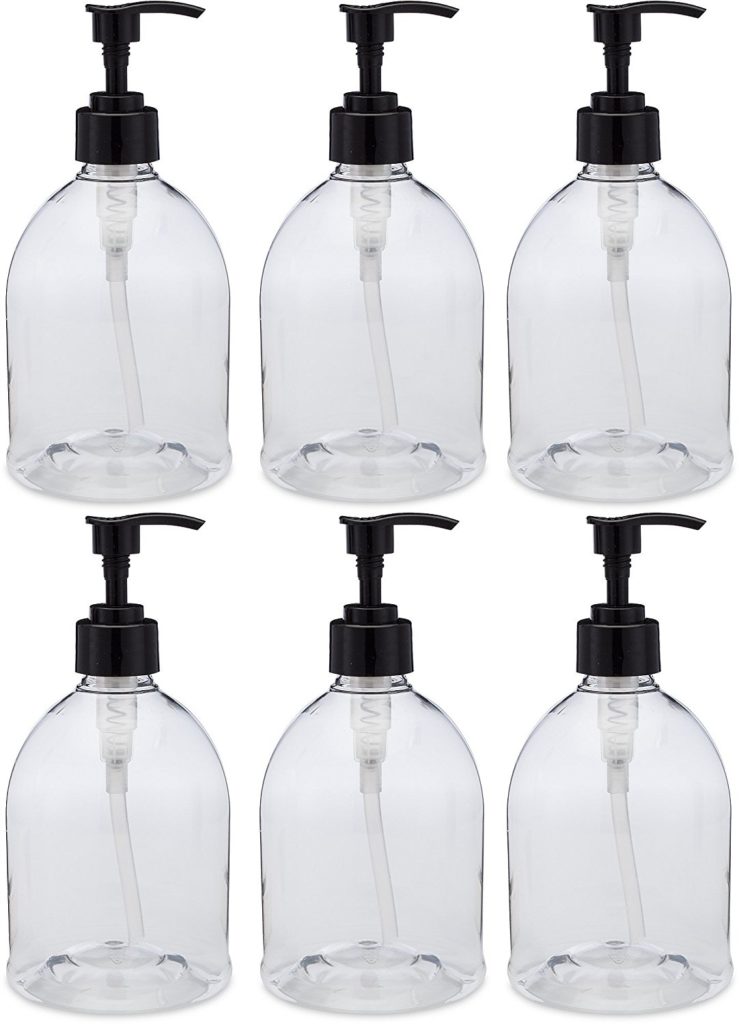 I found these bottles on Amazon and decided to give them a try. I love them! The large bottles fit our huge economy sized bottles of shampoo and conditioner and the smaller bottles fit entire regular sized bottles of soap or two smaller bottles (like face wash size). The pumps are plastic and I like that they are black. The black looks nicer and more expensive than the white ones, in my humble opinion. I also like that the bottles themselves are plastic so I don't have to worry about dropping and shattering them on the tile.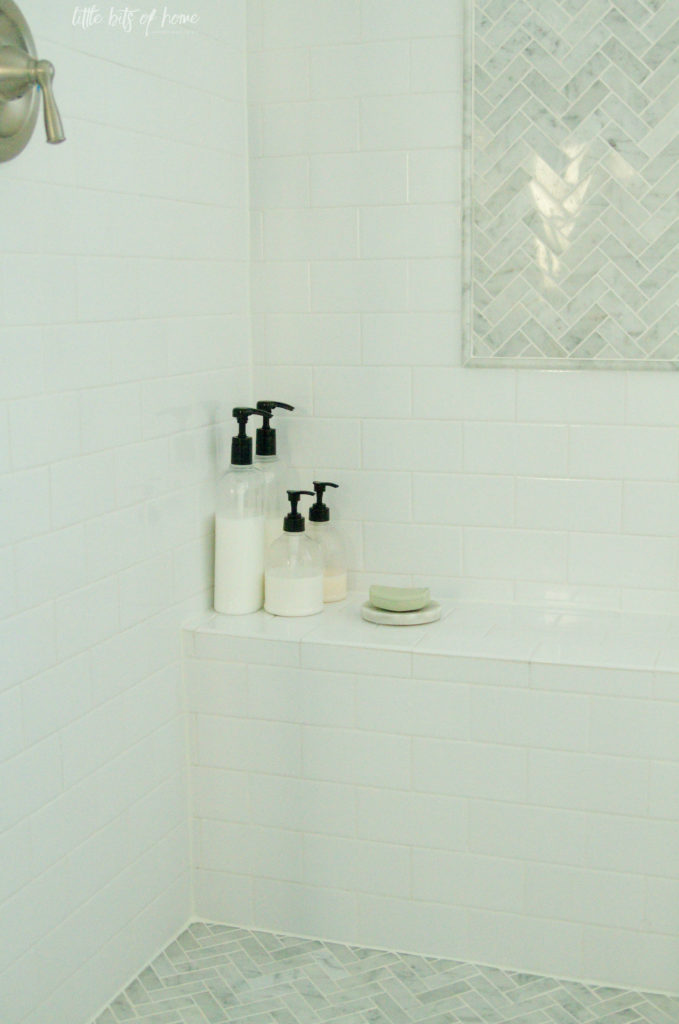 I picked clear bottles because I thought they looked nicer than plain white, but if your soaps are crazy colors, you may want to get white. I don't mind our various colored soaps because they're all pretty muted. To keep things minimal, I decided to put all the extra bottles that I only use once or twice a week like my favorite $3 deep conditioner in the cabinet and just take it out when I'm planning to use it.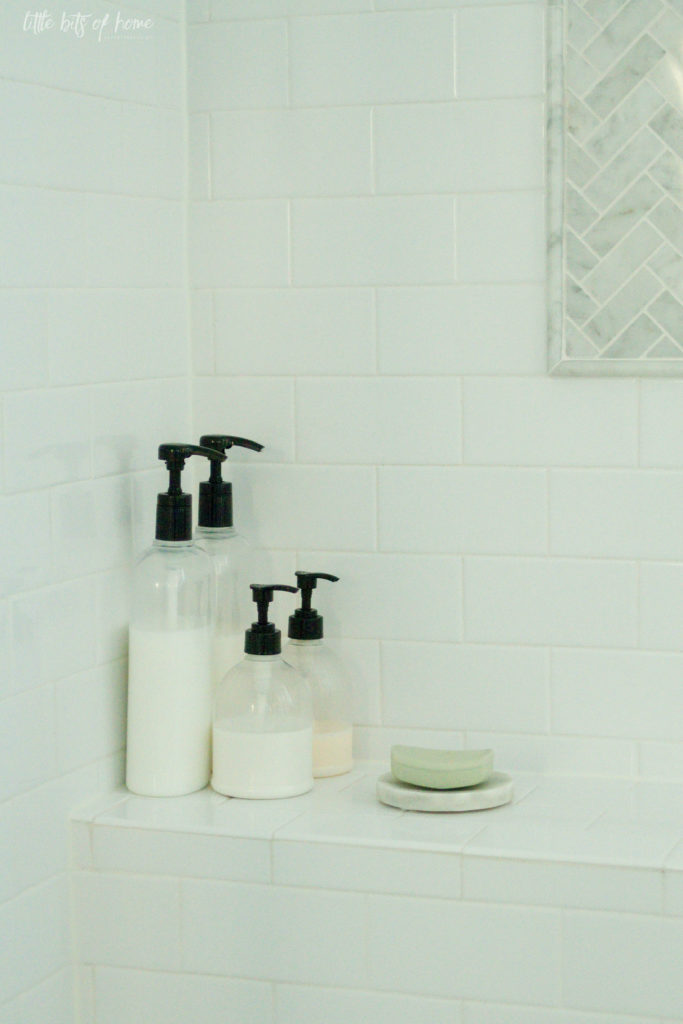 I also found this cute little marble soap dish at Target for Jeremy's beloved bar of soap. It goes so well with the marble accents! I tried to break Jeremy of his bar soap addiction when we remodeled so we would have less soap scum in our new shower, but failed. So, I looked up which "manly" bars of soap leave the least soap scum and Dove for Men was the winner. Just a little tidbit in case you're losing a soap battle at your house, too… 😉 Ha!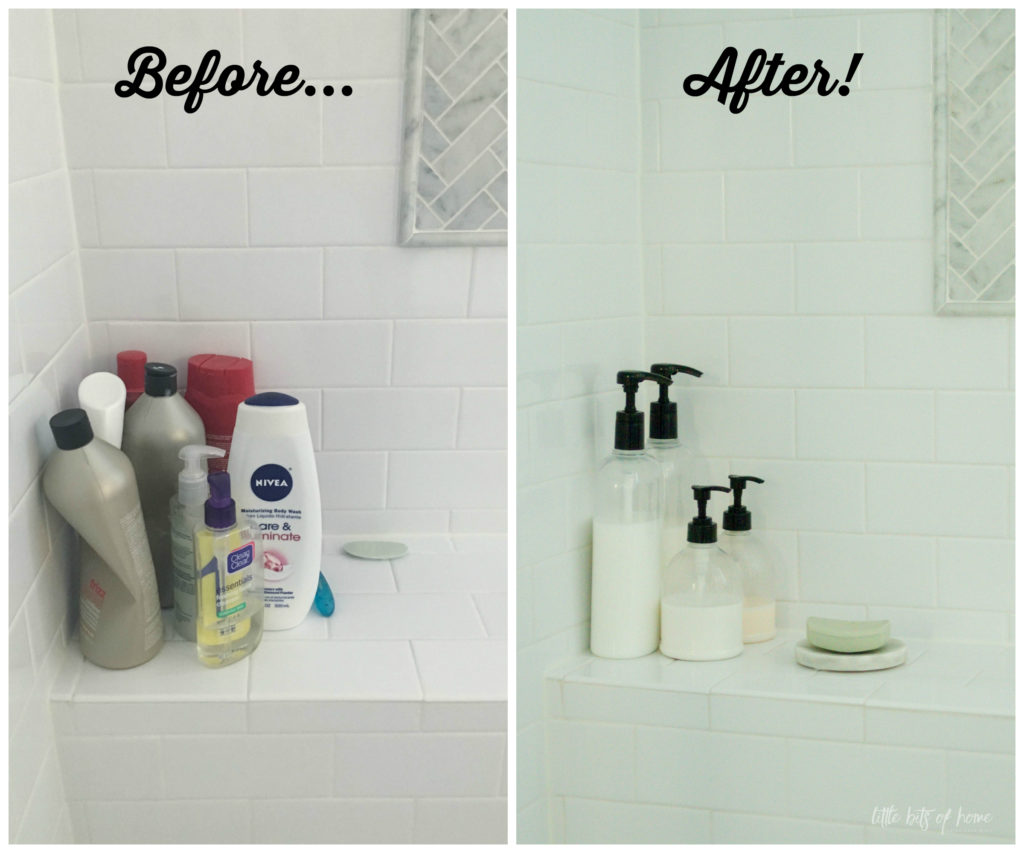 Big difference, right? Who knew I could ramble on for so long about shower bottles?
More Posts Like This