I've been so excited for today's post! A great group of blogger friends have joined together to show you a tour of our outdoor spaces and gardens! Get ready for some serious eye candy!
Our front porch is one of my favorite features of our home. Between the swing, rocking chairs, arts and crafts style, and fans, it's the epitome of southern style to me. The last time you saw a tour of our front porch on the blog was three years ago! Can you believe that? Time for an update! Here's how it's looking today! Oh, and don't judge the dirt… the pressure washers are coming next week!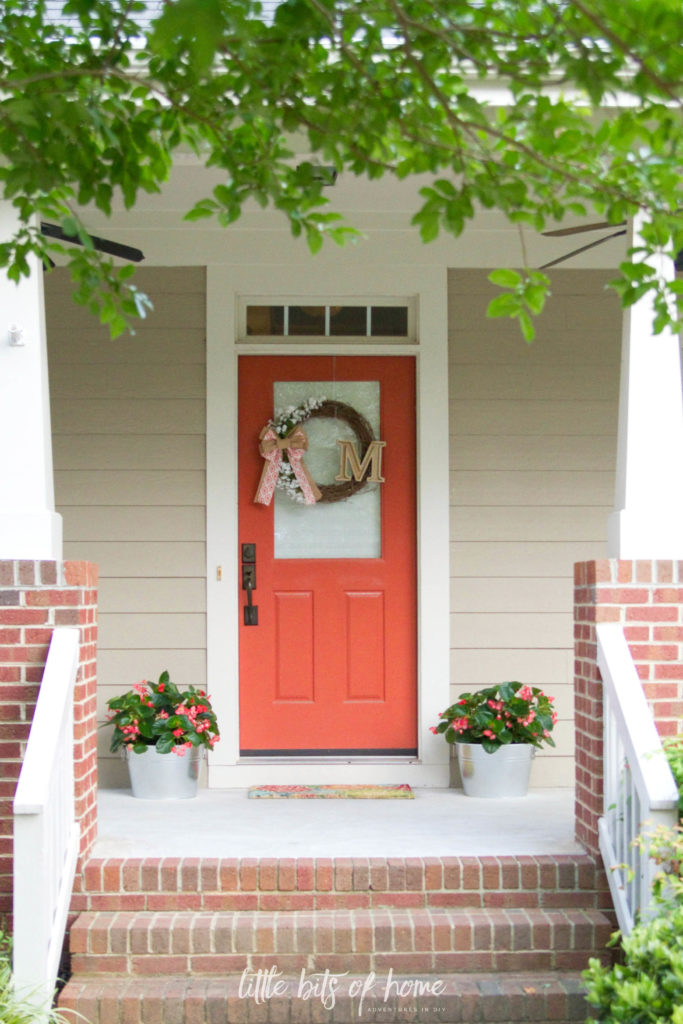 Jeremy and his dad hung this swing for me on an angle, which was no small feat. My grandparents had their porch swing angled like this and I always loved it. Now I get to sit on this swing with my little loves as they chat away about the birds and squirrels, play I Spy, and ask me loads of questions. 😉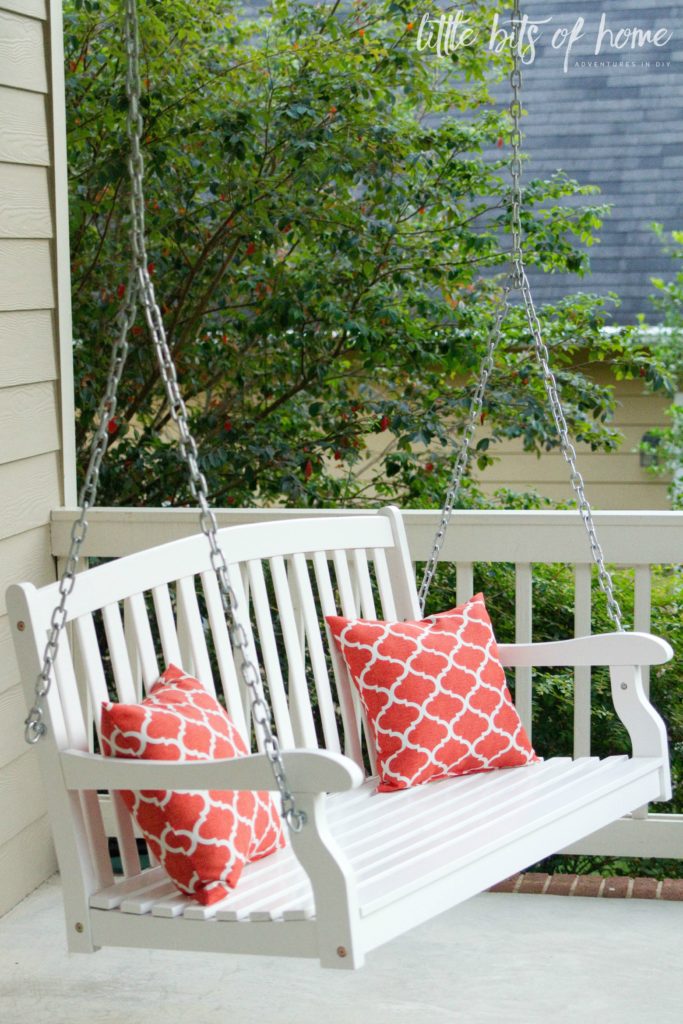 The other side of the porch is home to our rocking chairs. They were a housewarming gift from Jeremy's parents when we bought our first home and we love them! We painted them white when we moved into this home and they fit in perfectly here!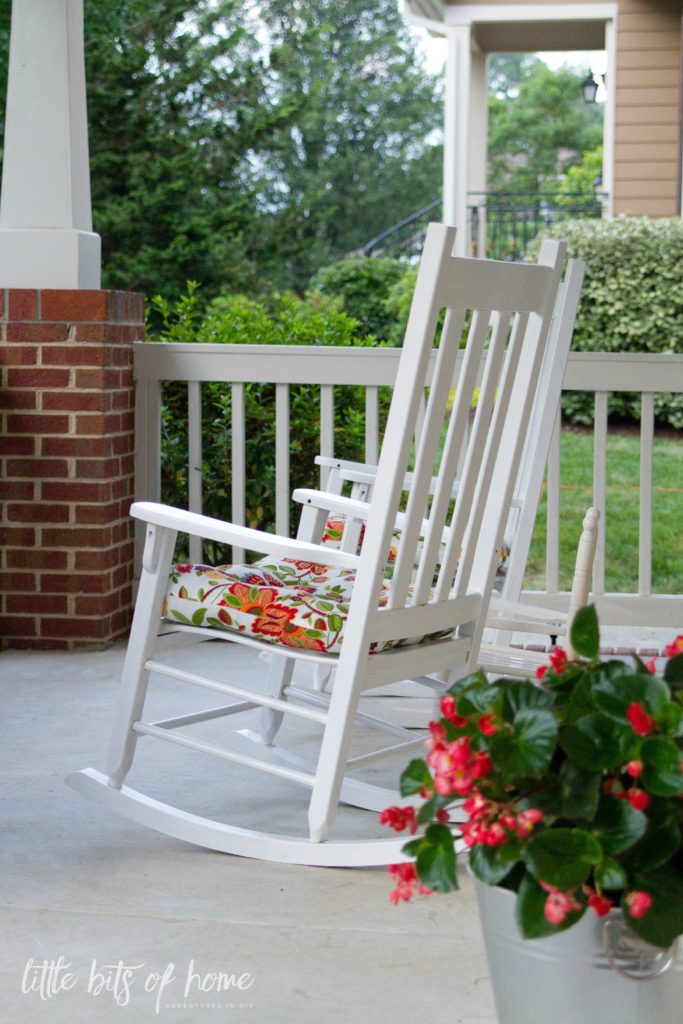 After several failed attempts at keeping flowers alive next to the front door, I finally found a flower that loves our shady porch–begonias! I happened to have a bunch of rewards dollars from our local nursery, so was able to get almost half off these huge, gorgeous begonias!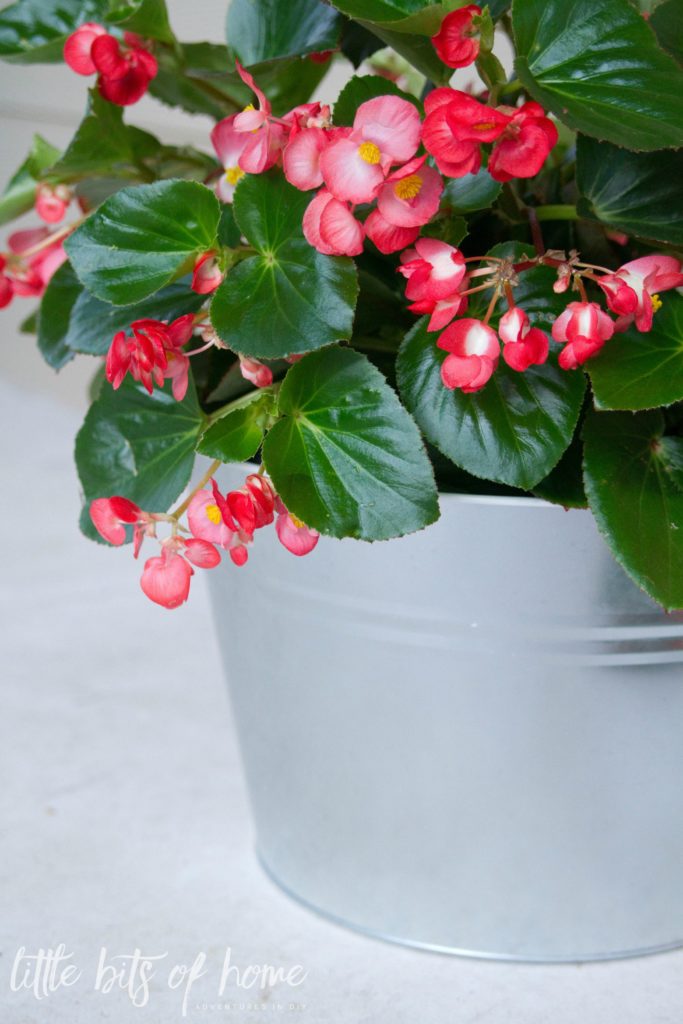 My old, plastic flower pots were all faded, so I replaced them this year with these beverage tins that I found on clearance at Target. I love the look and that they didn't break the bank! I also picked up a new doormat at Target to brighten things up.
My previous wreath had seen better days and was really faded. Sigh… I really loved that one! I gathered some wreath inspiration on Etsy and came up with this new wreath. I actually think I like it even better than my old one!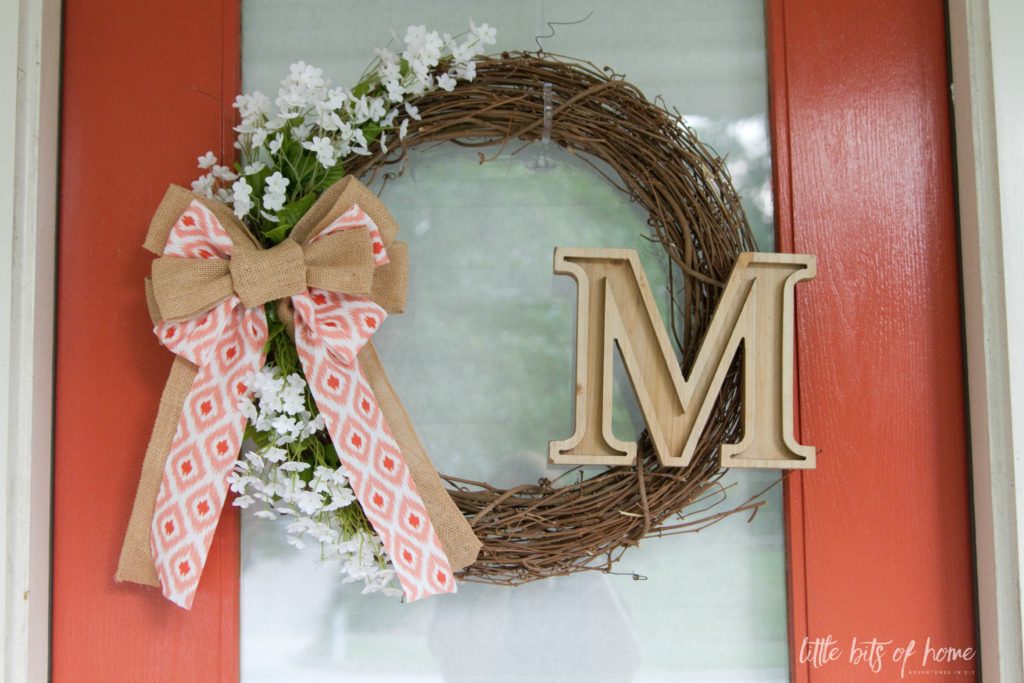 We are still loving the coral color of the door that was here when we moved in! For those of you that have asked about the door color, a friend recently color matched a picture of our door and found that it is almost an exact match to Behr's Fire Island. Thanks, Sarom!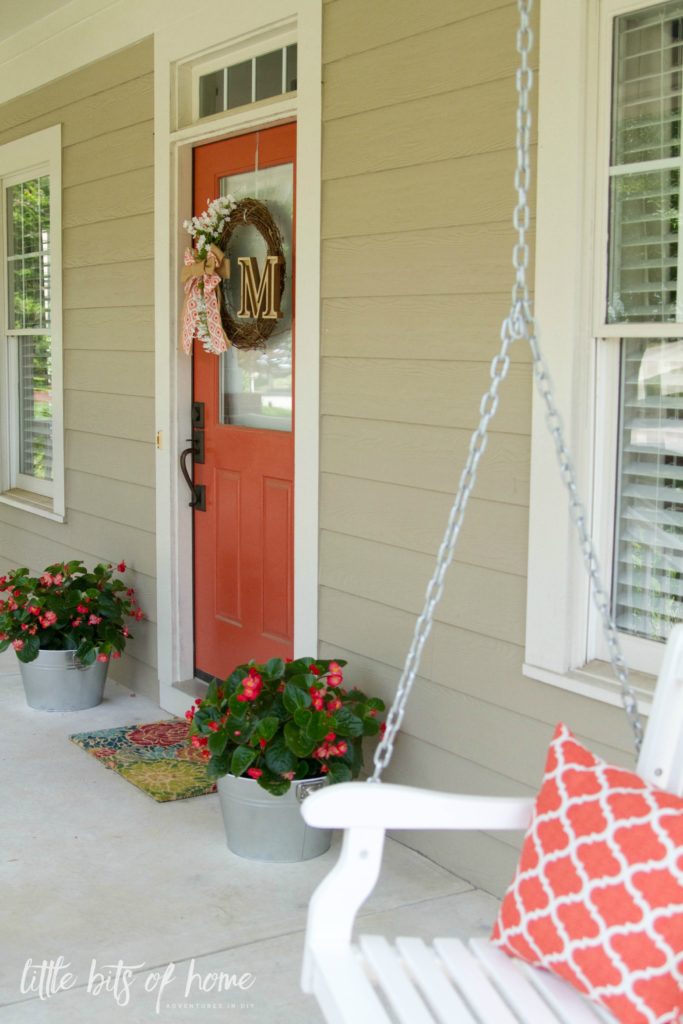 I also wanted to show you some of our favorite flowers from around our yard! These balloon flowers in our front flower bed are amazing! They're perennials, which is a huge plus in my mind, and have done great every year!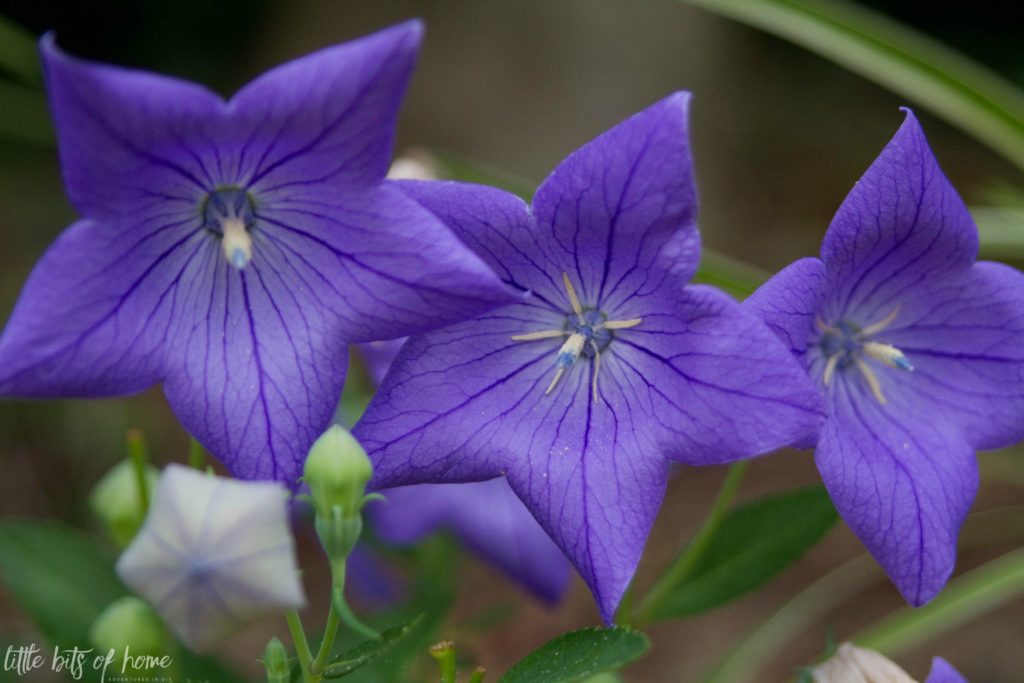 Of course, you know that my all time favorite thing in our yard is our hydrangeas! I just can't get enough of them! They did awesome this year after two bad years, so I was extra giddy over them!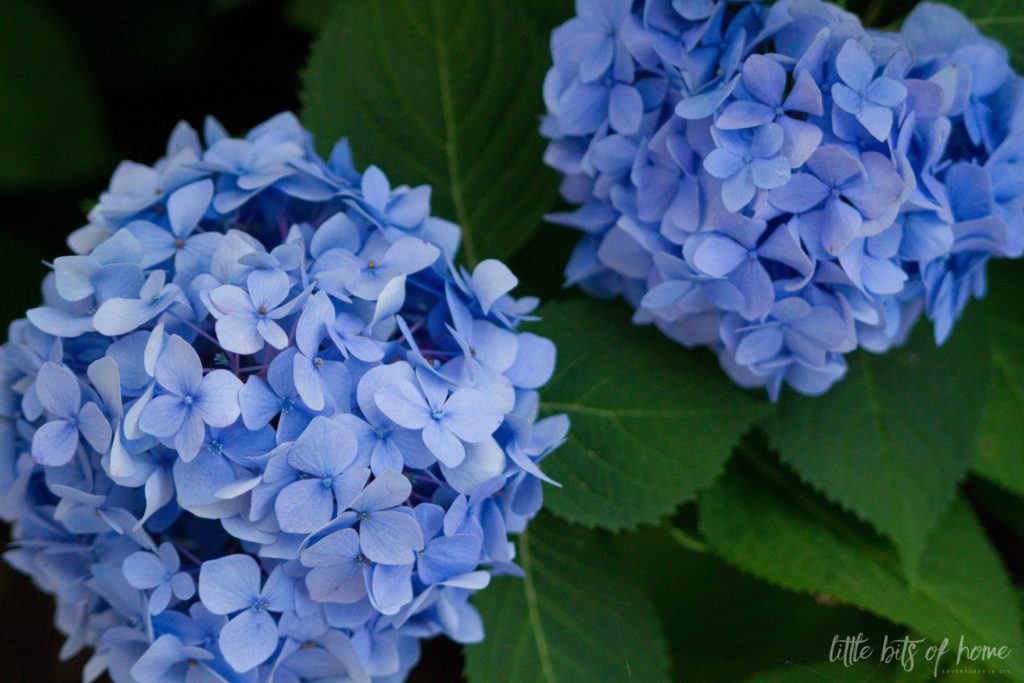 We  recently ripped out an entire line of dead and overgrown bushes on the side of the house and replaced them with a row of gardenias. My grandparents had a row of gardenias at our house when I was really little and I still remember my Grandma and I picking them and enjoying their fragrance together! When Jeremy and I were deciding what to put into our side flower bed, the nostalgia took over and I just had to get that amazing fragrance back in my life! 😉 They bloomed like crazy this year, which was an unexpected treat considering we just planted them a couple months ago!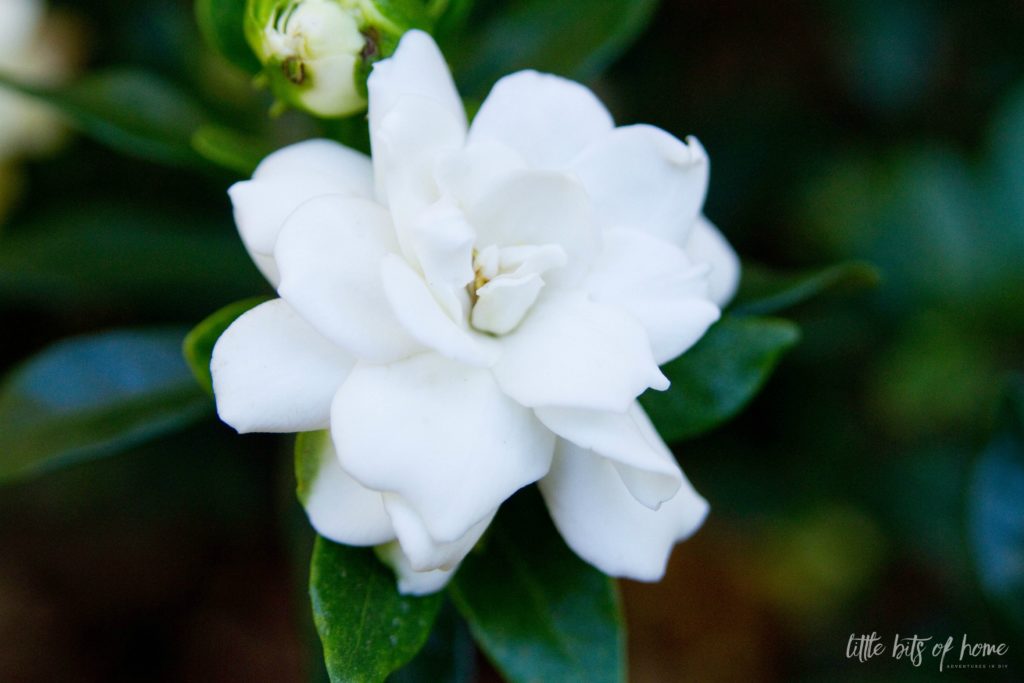 Last but not least, our knock out roses in the back yard have done better and better each year. When we first moved in, they were scraggly and we thought for sure they were goners, but they have proven us wrong! If you ever need a hearty plant, go get a knock out rose! We had an amazing one at our old house, too, that grew like crazy!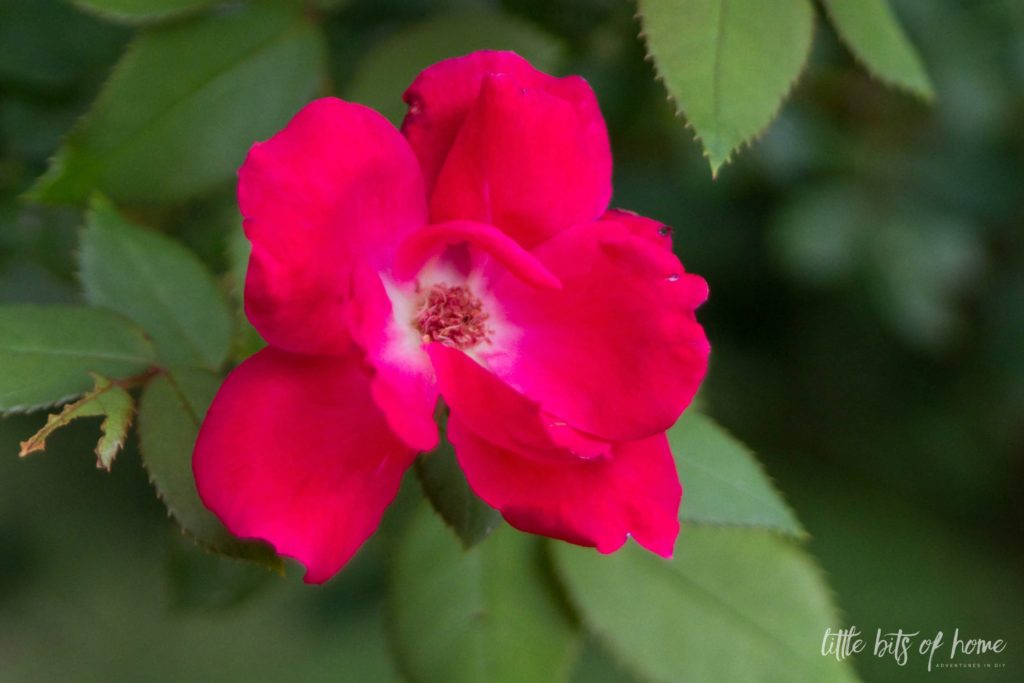 Hope you enjoyed this little tour of our porch and garden! Be sure to hop around to the other blogs and check out their amazing yards! I've been getting ideas from their posts all week!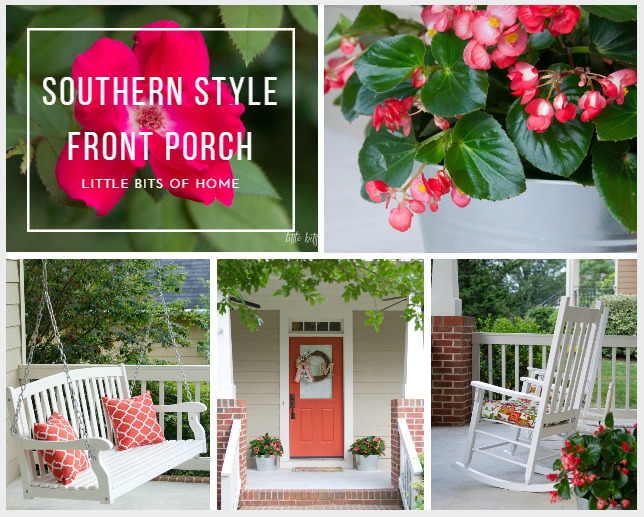 Summer Garden Tour & Outdoor Spaces Blog Hop
Monday
2 Bees in a Pod – Vicki's House
Tuesday
Wednesday
2 Bees in a Pod – Jennifer's house
Thursday
Friday
Follow Along with all the garden tours by following #gardentourbloghop