I'm super excited to be teaming up with an awesome group of bloggers for a fall home tour bloghop! I usually show you my fall mantel and crafts each year, but I've never done an official fall tour before. So, come on in! I hope you enjoy!
Let's start with the entryway! I have wanted a chalkboard for literally years, but just never knew where to put one. I finally decided the entry table could use a chalkboard and made this one in under 10 minutes out of a frame from Home Goods and some chalkboard spray paint. Seriously kicking myself for not making one sooner!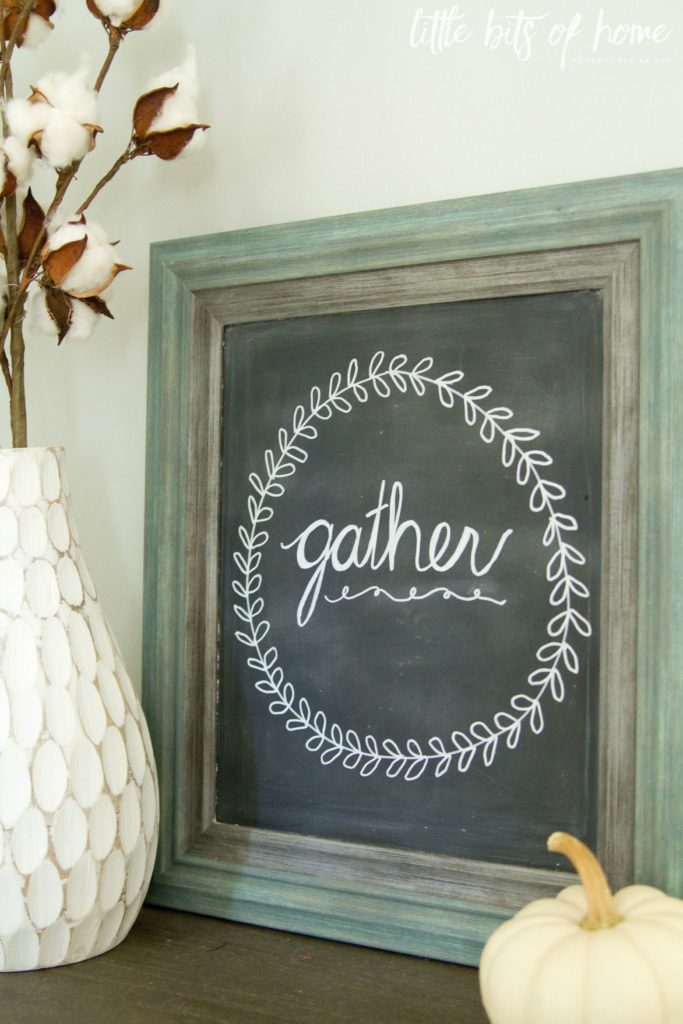 Don't laugh at my meager attempts at chalkboard art. I have apparently not progressed past 2nd grade cursive. 😉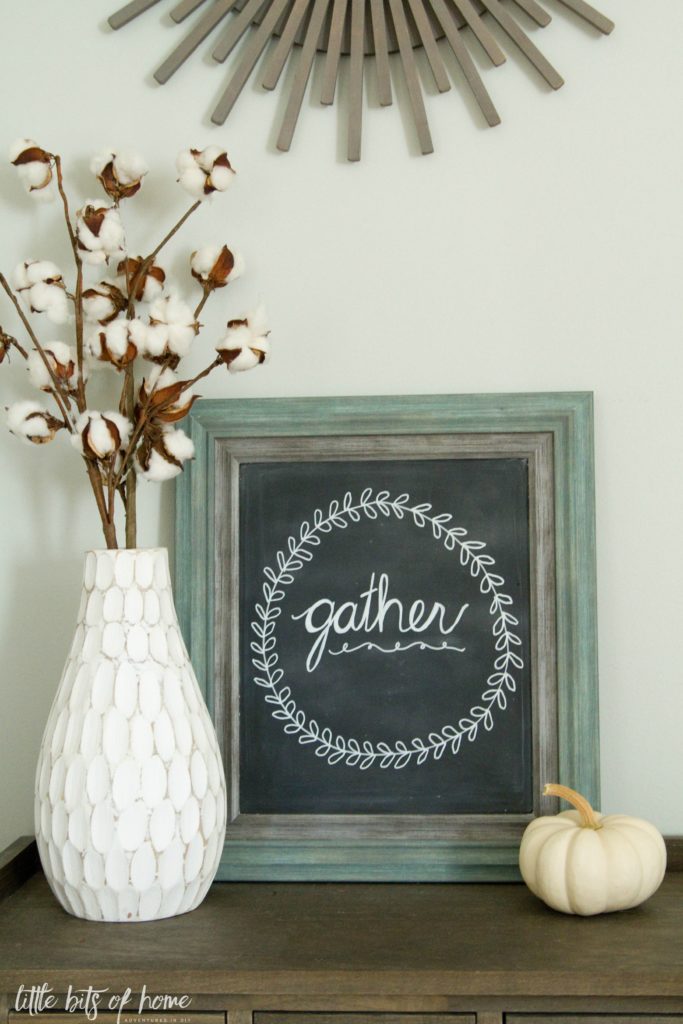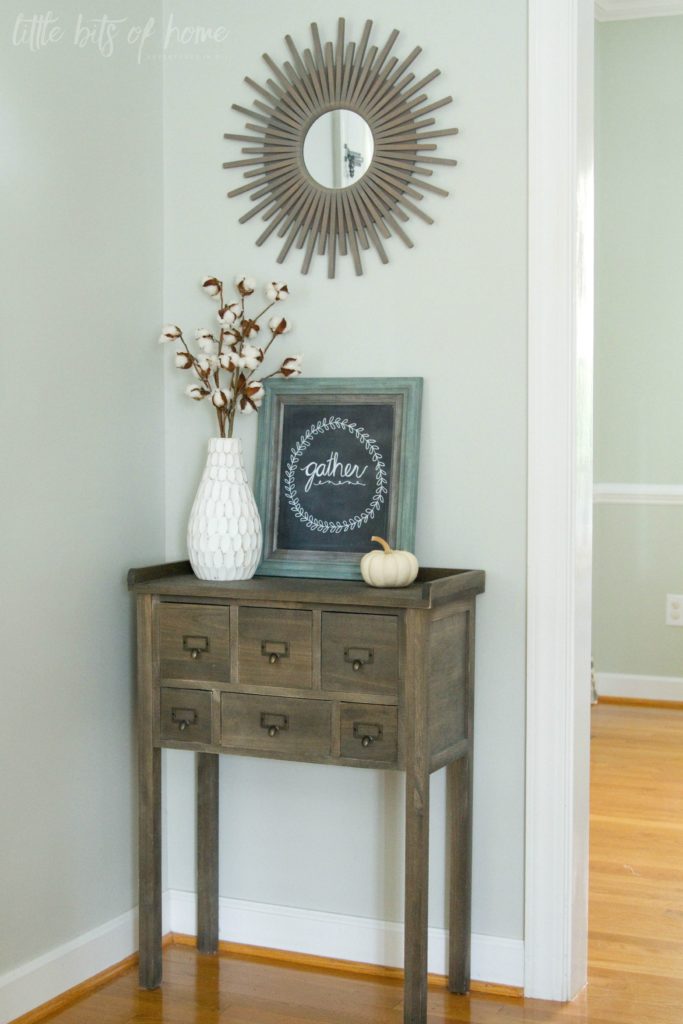 Turning toward the dining room, you'll notice I kept things simple and relatively neutral in here. I love how white and blue pumpkins look combined with the blues, greens, and teals in the dining room!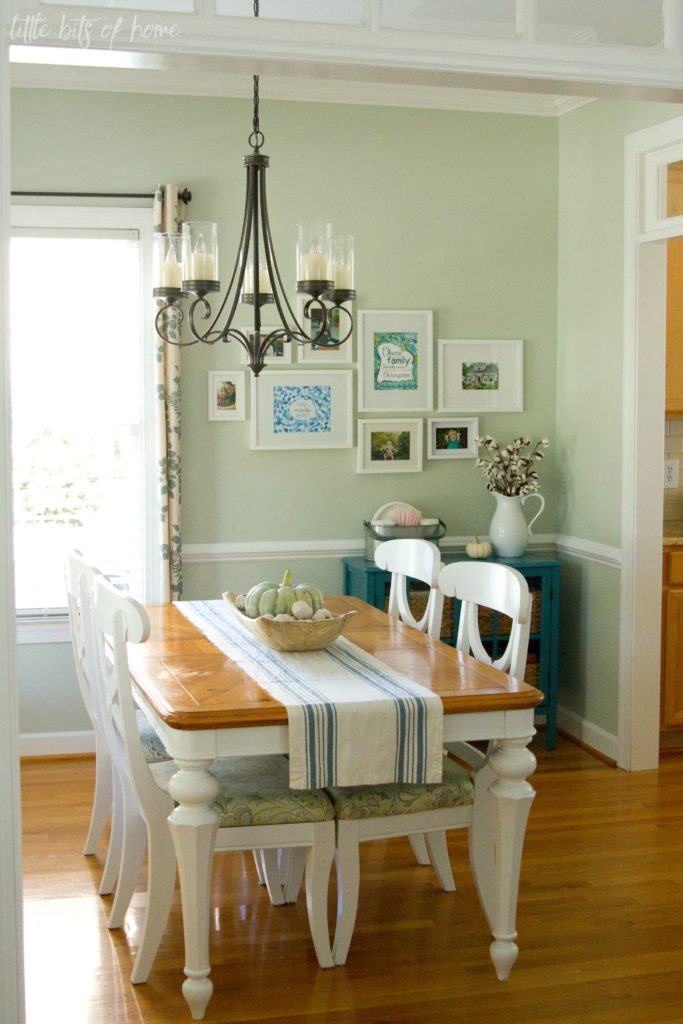 Side note– I was planning to put the adorable jute pumpkin I made last year next to the white vase. It would've looked perfect there! But, I can't find it anywhere! We tore apart our house for an hour searching for it today and it is gone. I just had it out this week! Sadly, we donated a bunch of stuff to the thrift store yesterday and I have a bad feeling it got put into the bags of donate items. Seriously, so sad! 🙁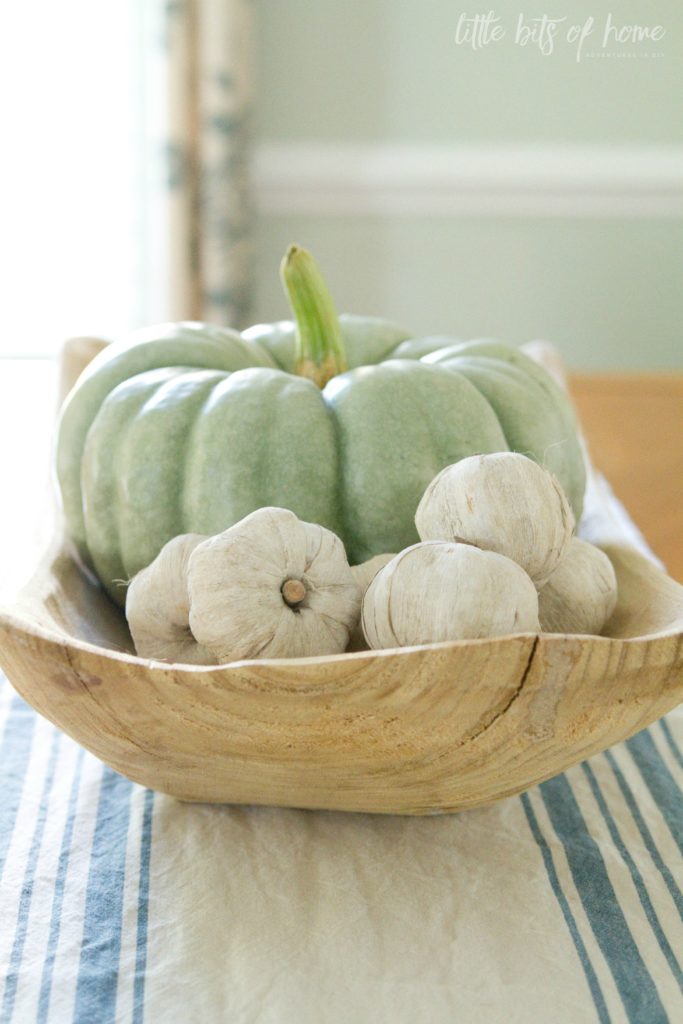 This bowl is my favorite thing ever in the fall! It is the perfect thing to fill with pumpkins! I scored the cute, white pumpkin filler at Home Goods this year. I love the little twigs as stems!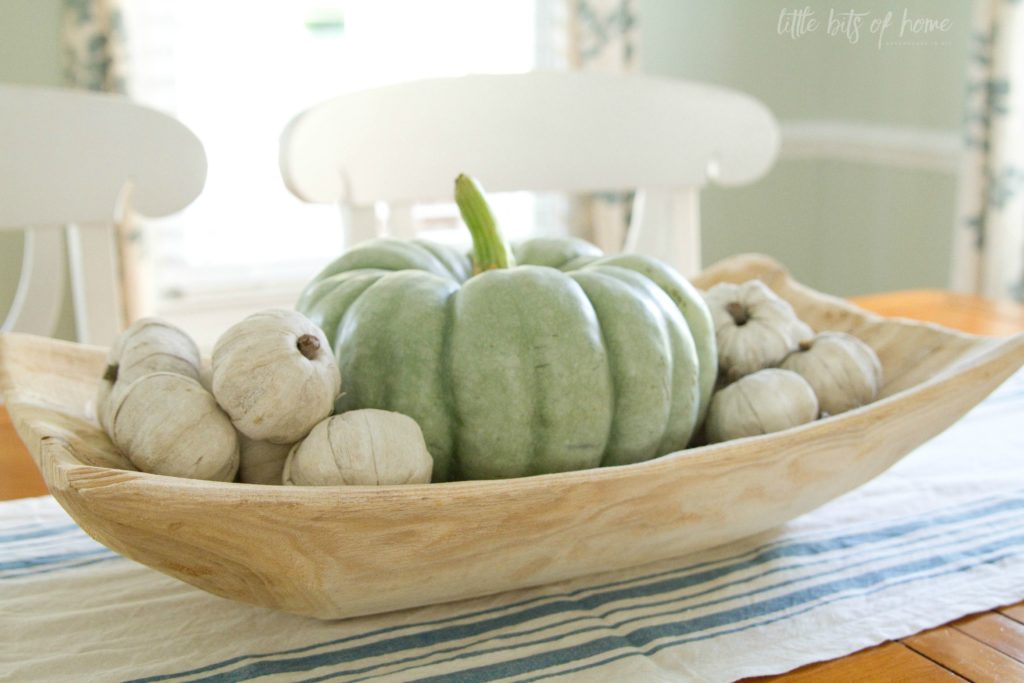 Heading into the living room, you'll see I added lots of pops of orange this year! It brings such a happy, fun fall vibe to the room!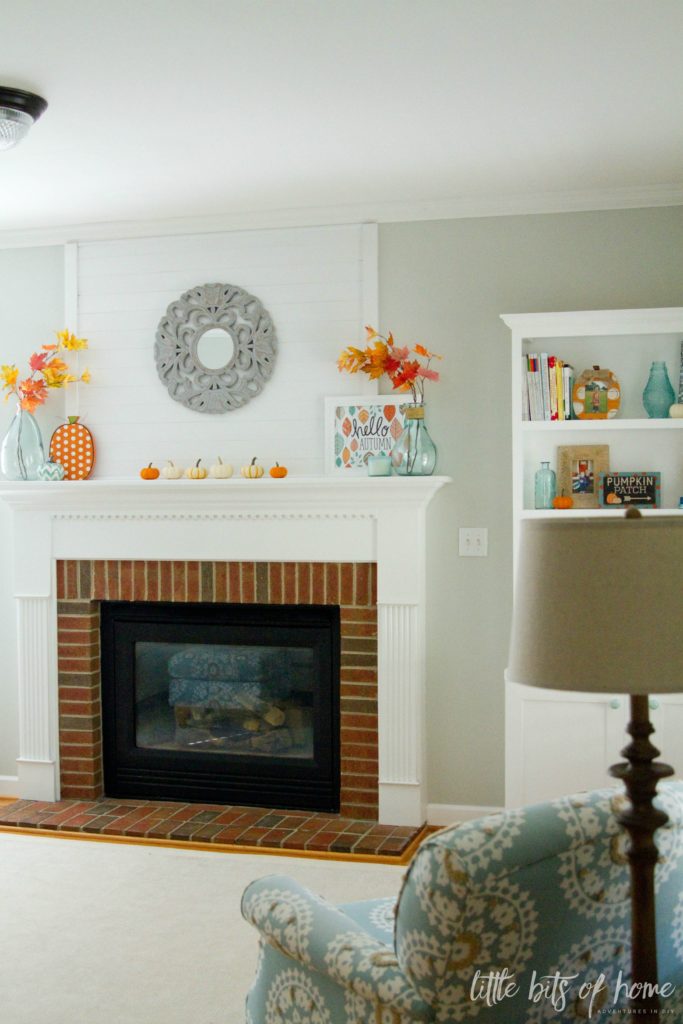 You can see my entire post about the fireplace and all the sources here, but I had to include a few pictures for the fall tour, too. 🙂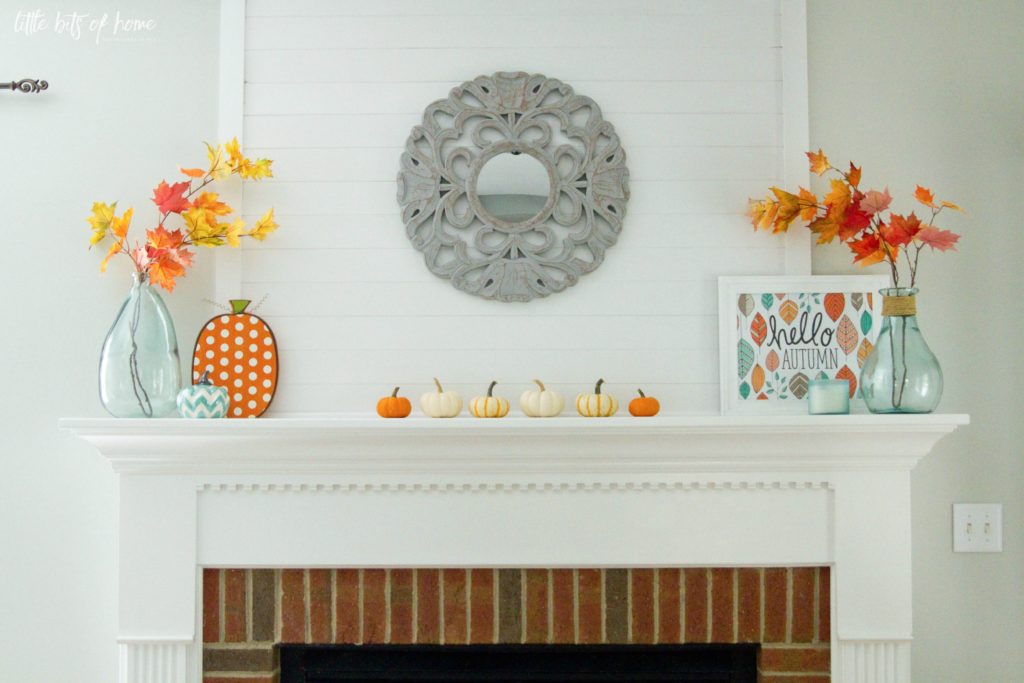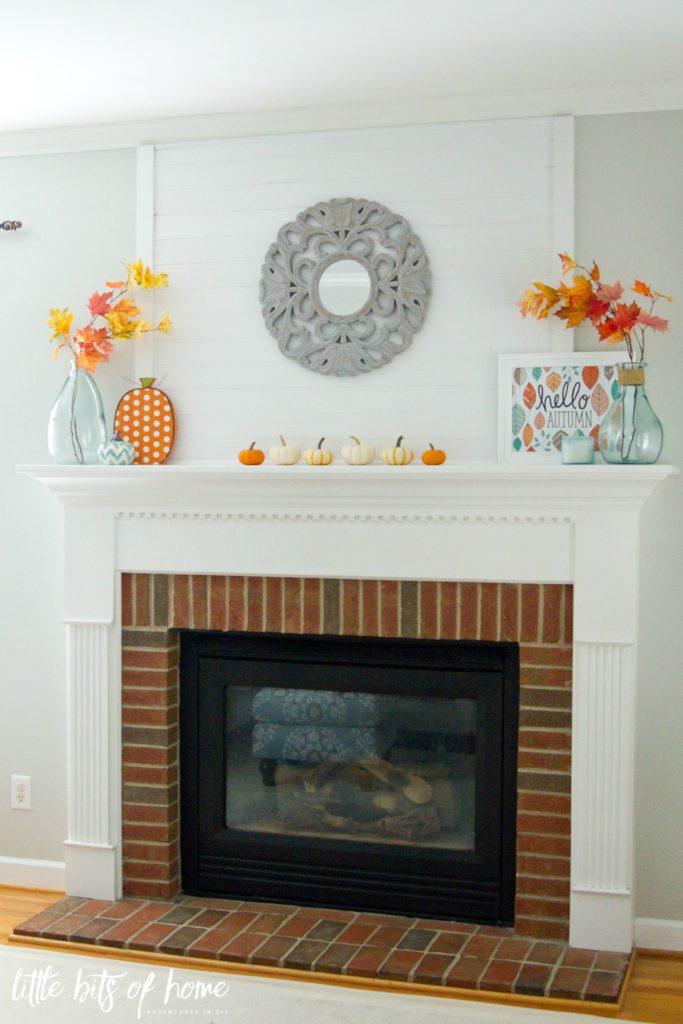 Have I mentioned how much I love this print from Pen and Paint?! It was the inspiration for my fall color scheme in here this year!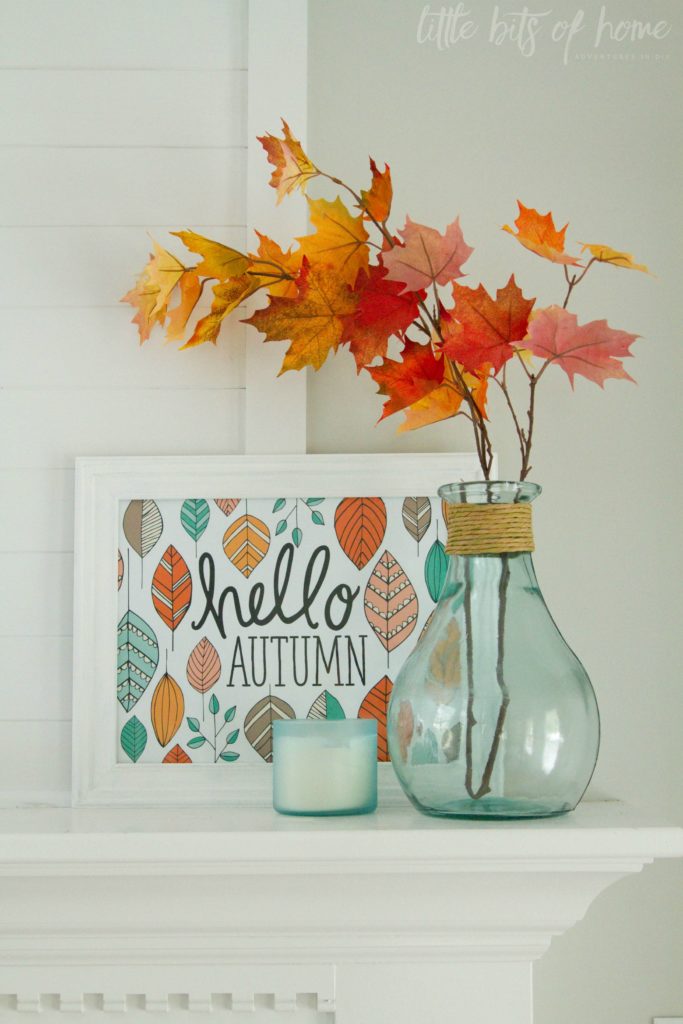 I just love these pumpkins from Kirkland's!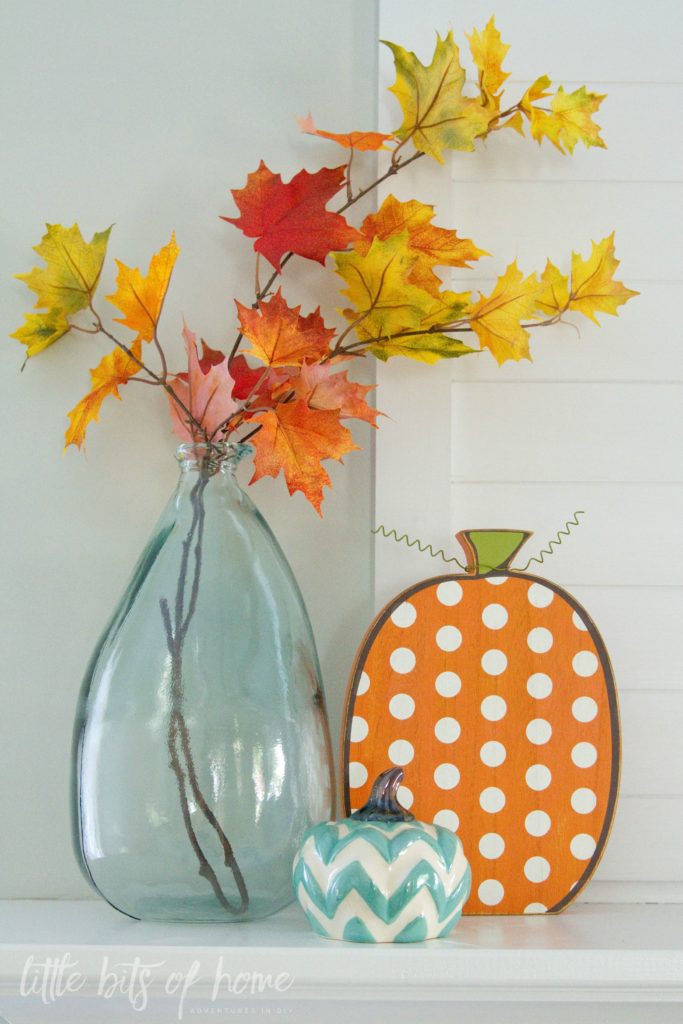 I switched out a few things on the built-in to give it a fall touch. The built-in is still one of my very favorite things we have ever built! I say we but really he did the building. Ha! I designed, Jeremy built it, I finished and painted it, and we are both super proud of it!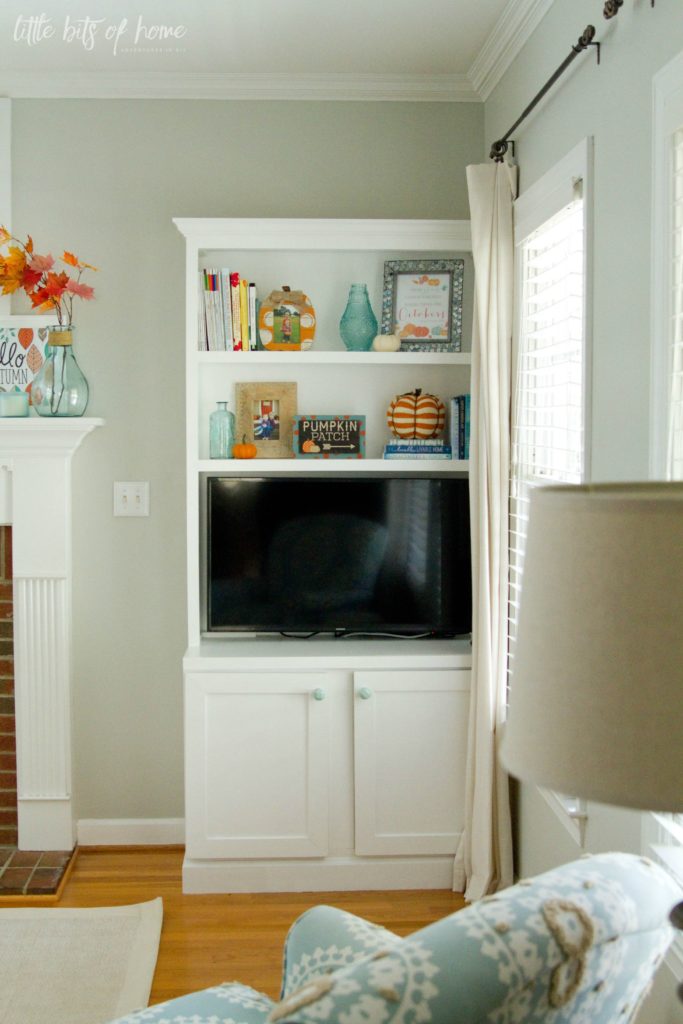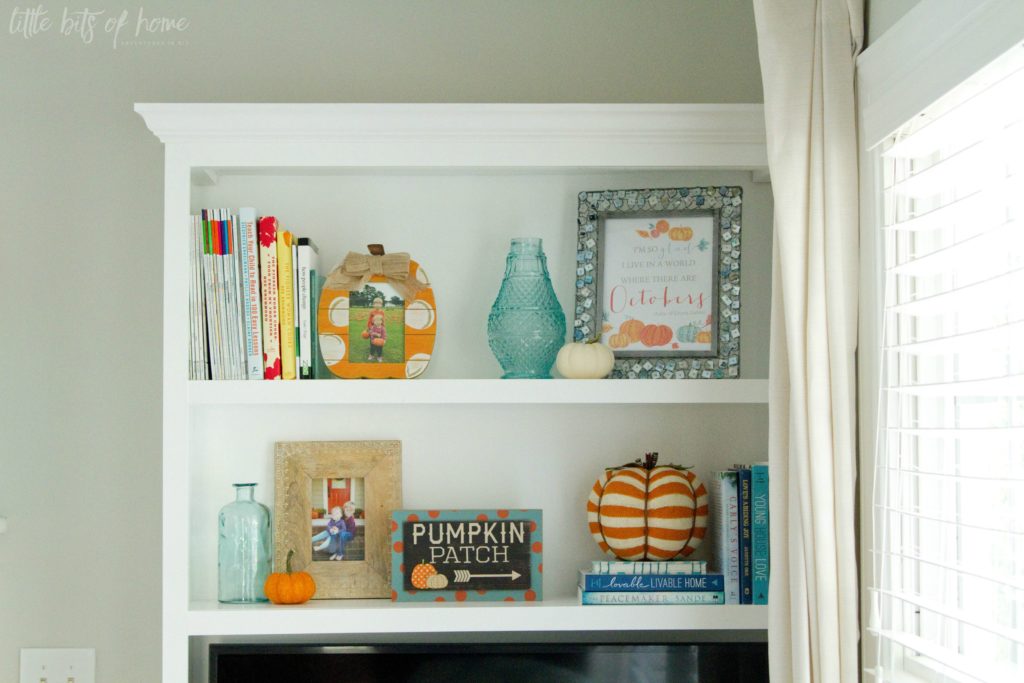 My friend Amy and I took a stroll through Kirkland's before heading to the gym last month and I came home with so.much.stuff. It was all so cute and affordable! And, I had a gift card burning a hole in my pocket. The pumpkin frame, sign, and striped pumpkin are all from Kirkland's! Seriously, Kirkland's is killing it with their fall decor this year! Love!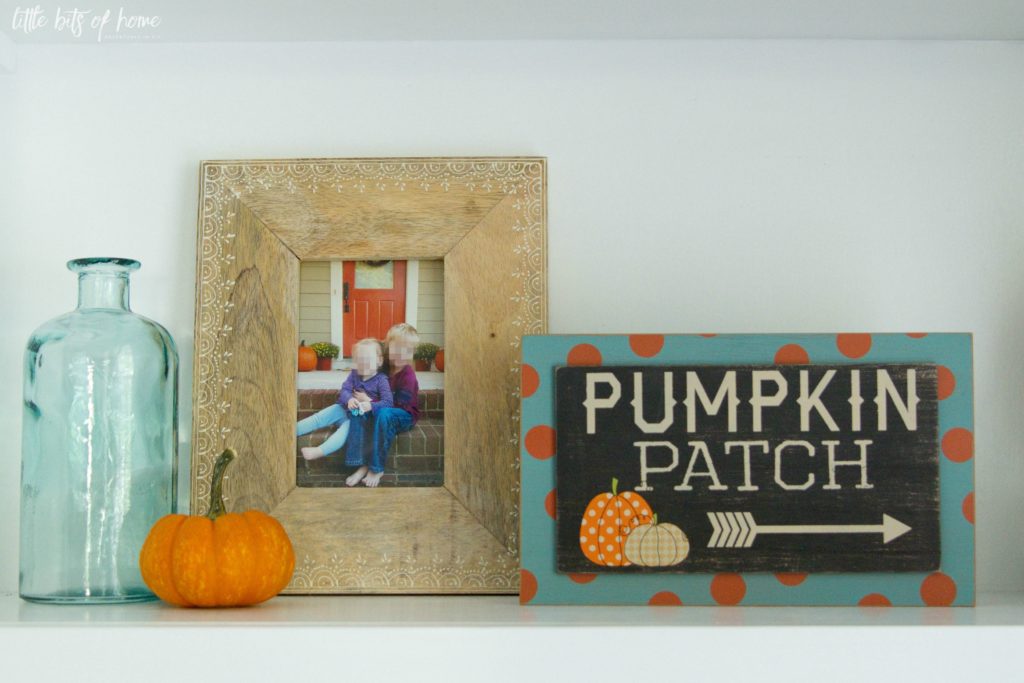 I love this (free!!!) printable from Kayla Aimee! You can download one for your own home here!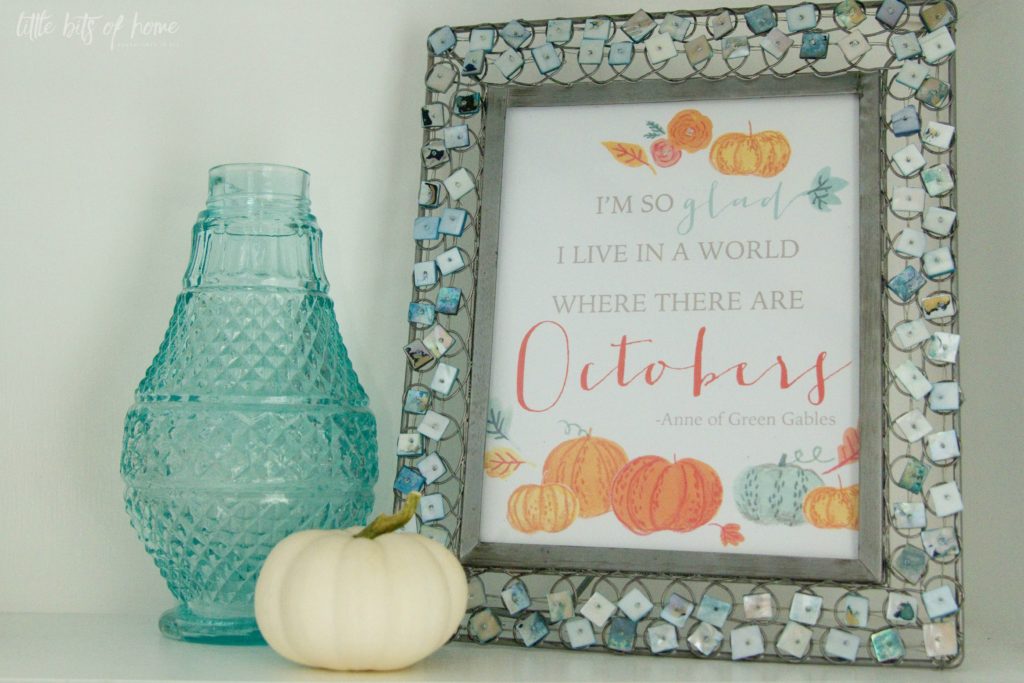 On the other side of the living room, I have my DIY no-sew pumpkin pillow and another Kirkland's pumpkin. Can't stop, won't stop.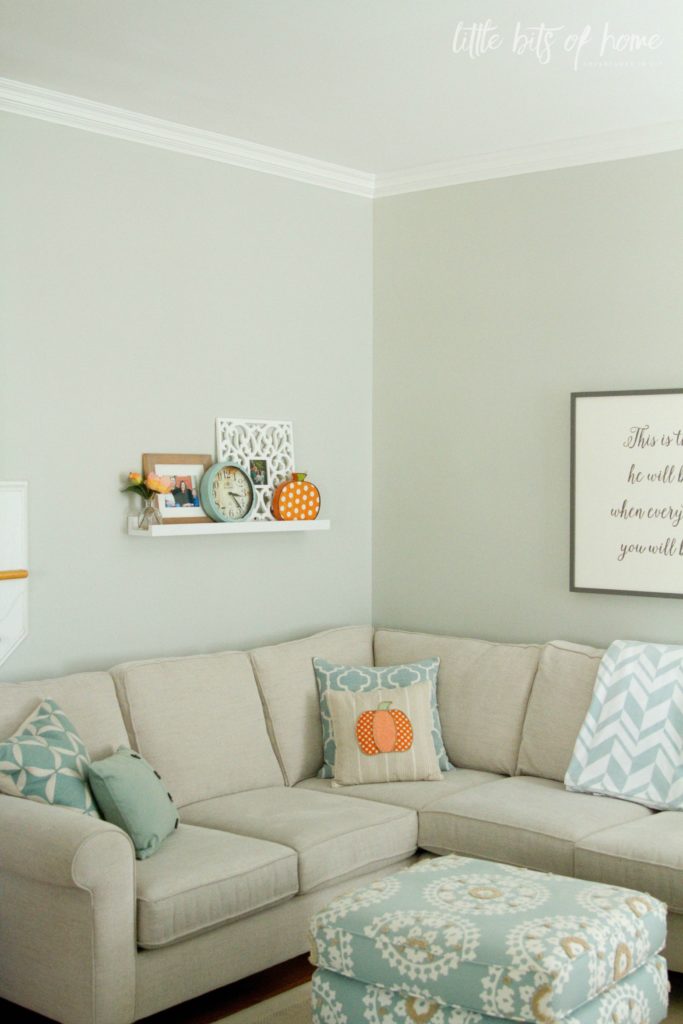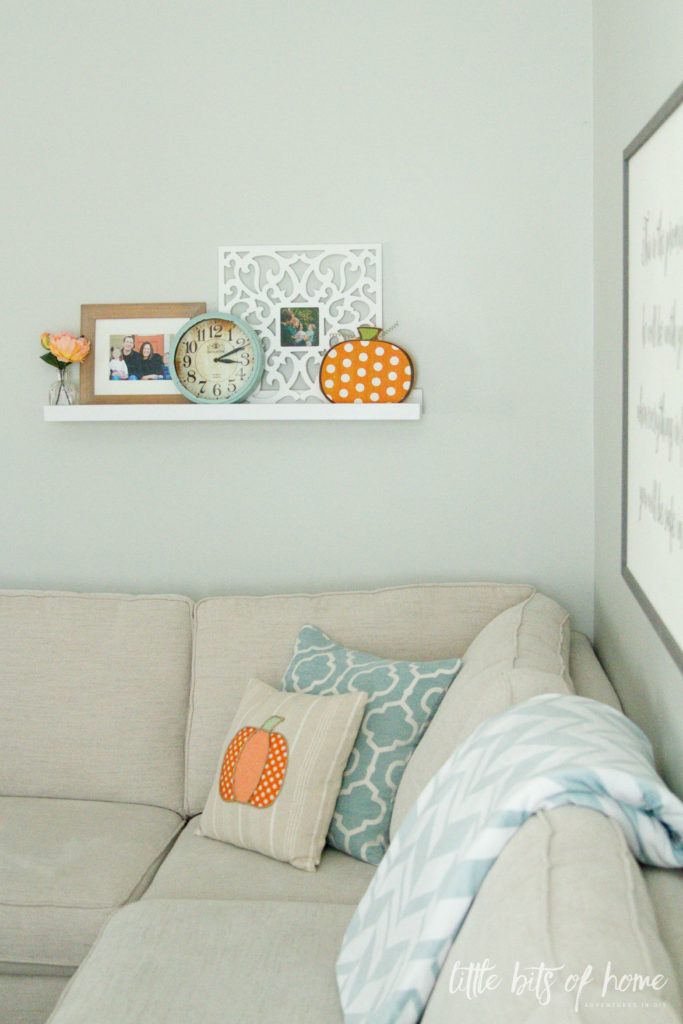 I love playing around with the decor on this DIY shelf we made!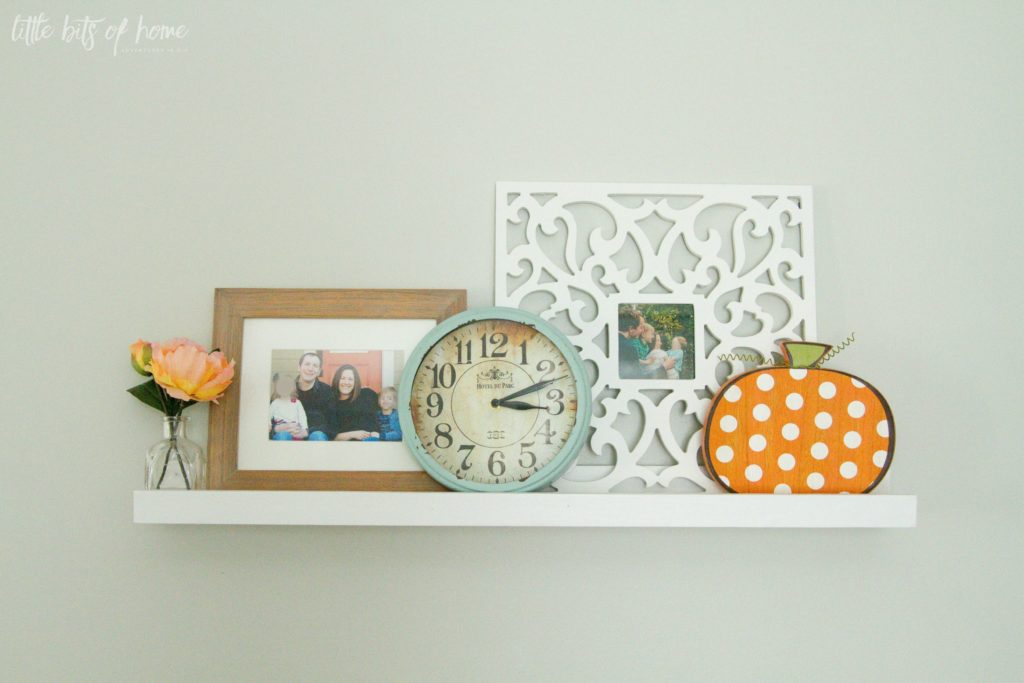 Hope you enjoyed the tour! I'll be doing an outdoor tour later this month! Ready for TONS more inspiration? Be sure to check out my blogging friends' home tours below!
Monday
Tuesday
Wednesday
2 Bees in a Pod – Vicki's house
Thursday
2 Bees in a Pod – Jenn's house
Friday
Linking up with Thrifty Decor Chick and many other awesome bloggers!