Hey, Friends! We are back with another Room by Room Summer Series today! This time, we are showing you our living rooms!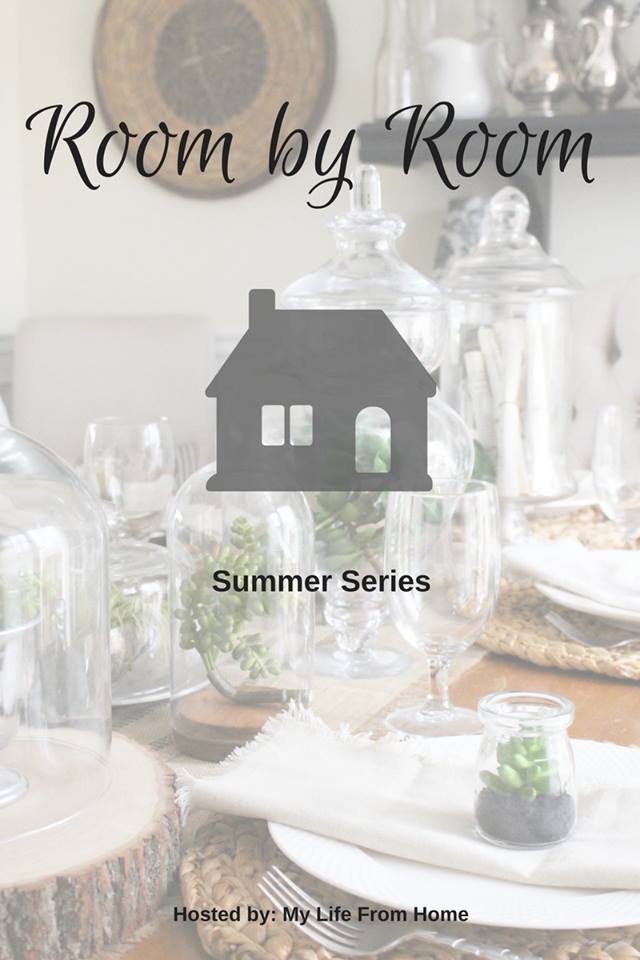 Our living room is my favorite room in the house. It is one of the few rooms we have checked off our list and declared done! It has been evolving over the 5 years that we've lived here, but it is finally my style and a room that I love to spend time in!
Here's are some (terrible!) photos from shortly after we moved into this house five years ago. We mainly reused things we had at our previous house.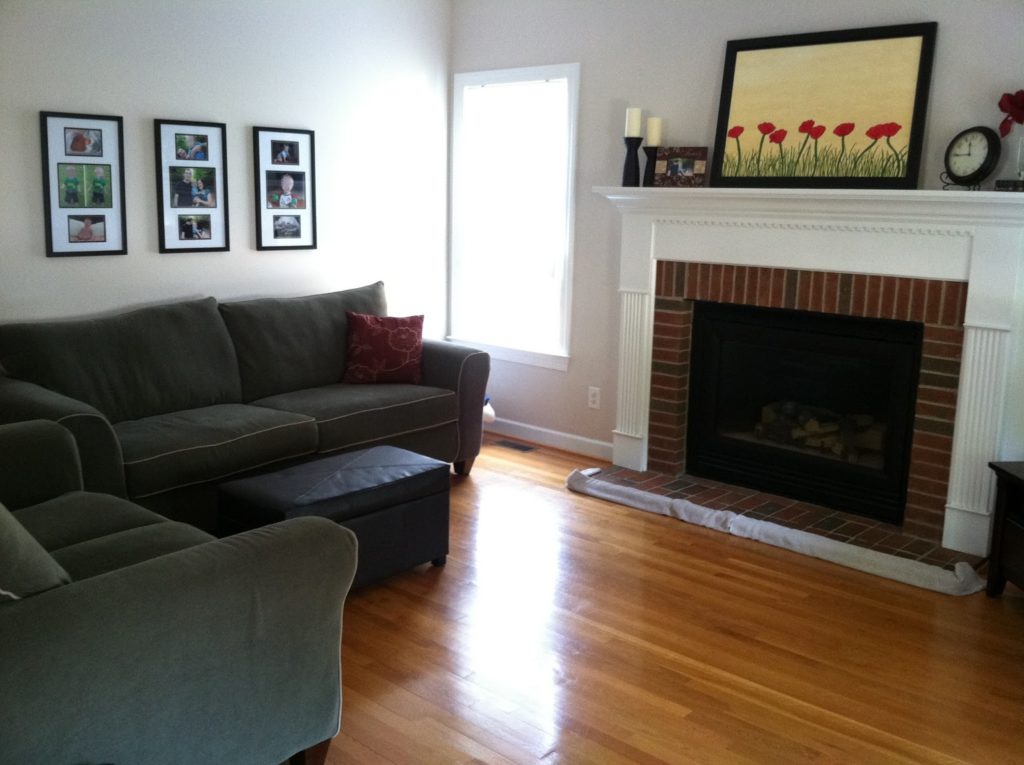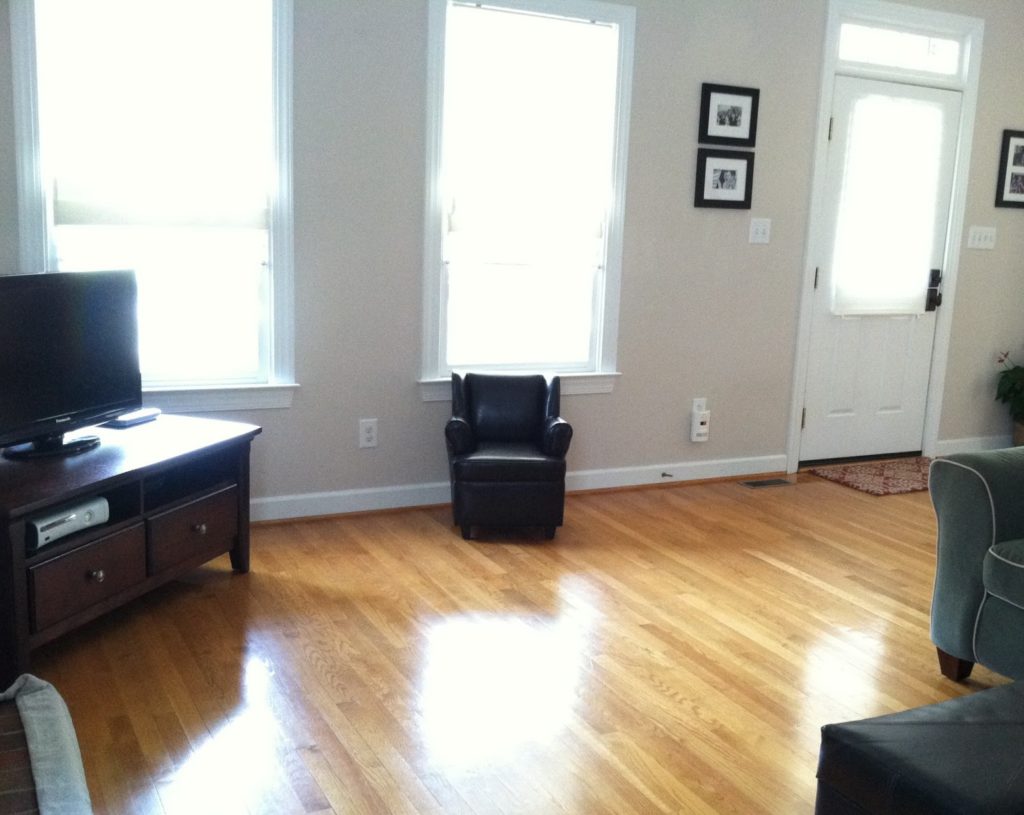 We realized pretty quickly that our old furniture didn't fit well and that we would need to get something else soon. We had to save up for a full living room overhaul, so we decorated as inexpensively as we could manage, working with what we had and trying to bring in lighter colors to brighten it up. It's not my favorite color scheme, but I still think we did pretty well with what we had to work with! It was a comfortable room!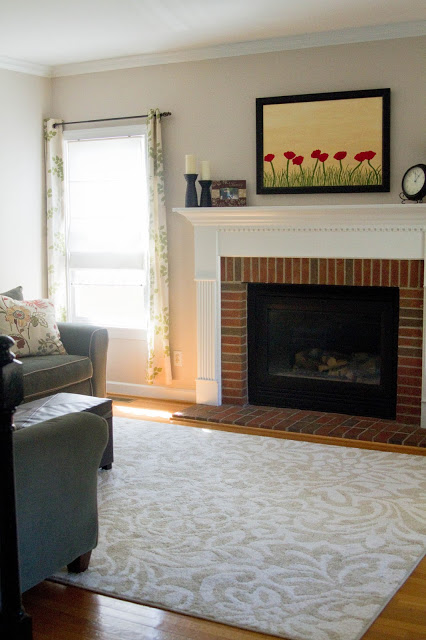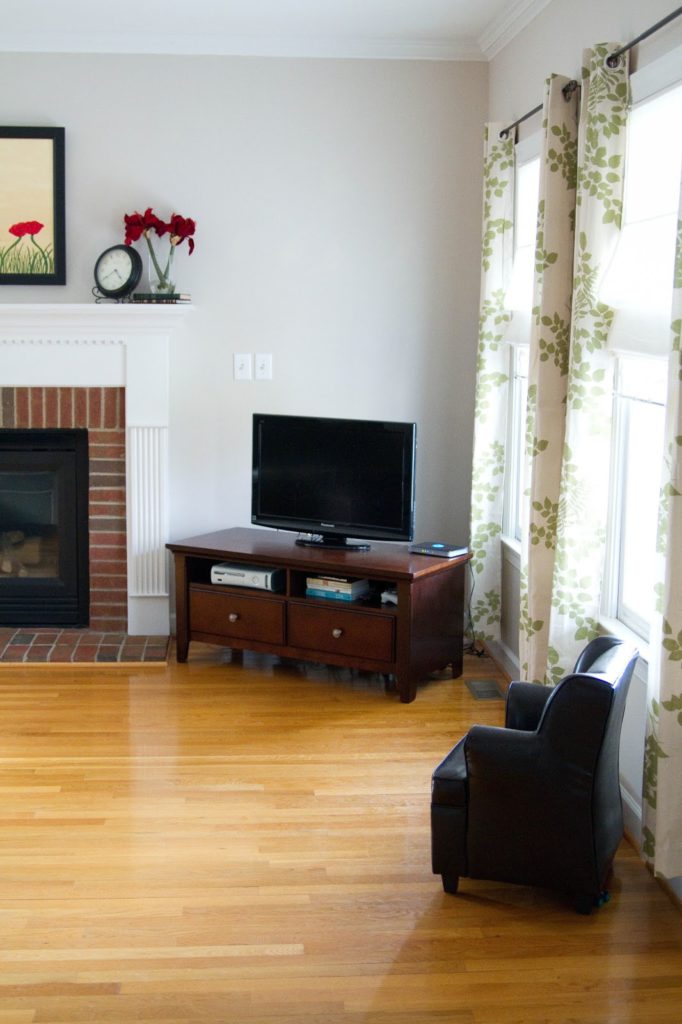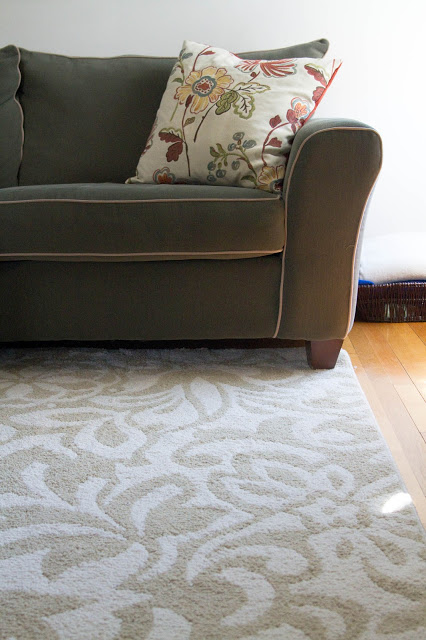 A couple years in, we changed some things around for more natural, neutral decor. I still love this mantel set up!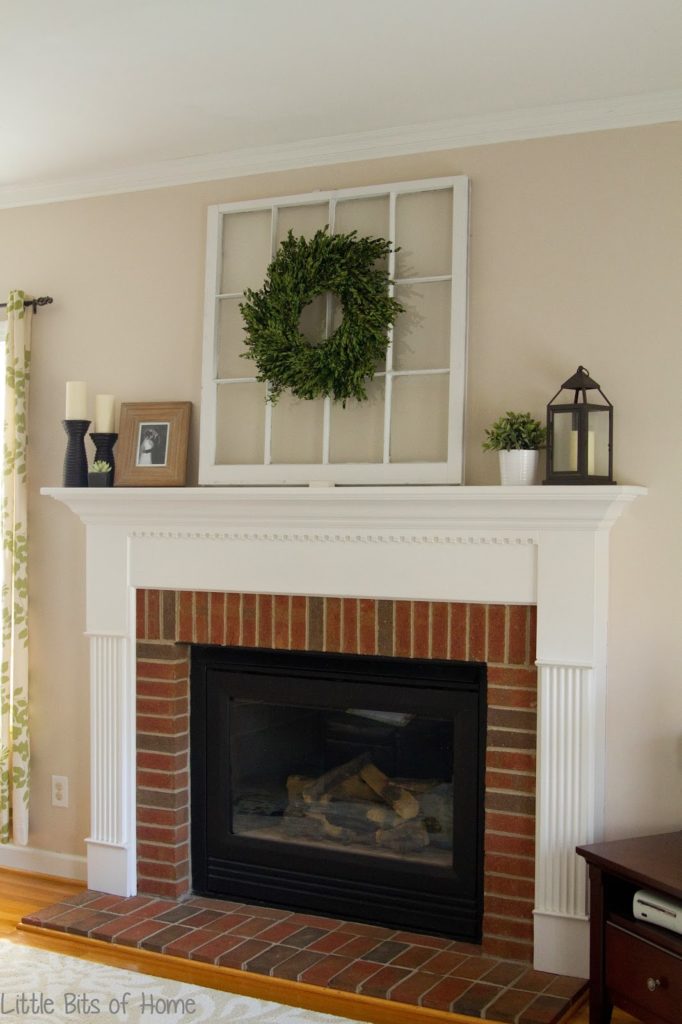 You can see here that I was trying desperately to add some symmetry to the right side of the fireplace using this picture frame. Struggling with this spot ultimately led me to design my favorite aspect of the living room–our built in! I'll show you that in a sec!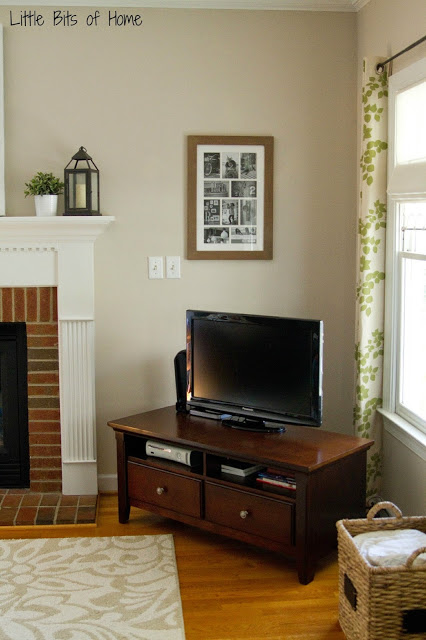 Here you can see just how poorly our furniture fit. We could have camped out in this corner between our oversized couch and loveseat! It was such an awkward space!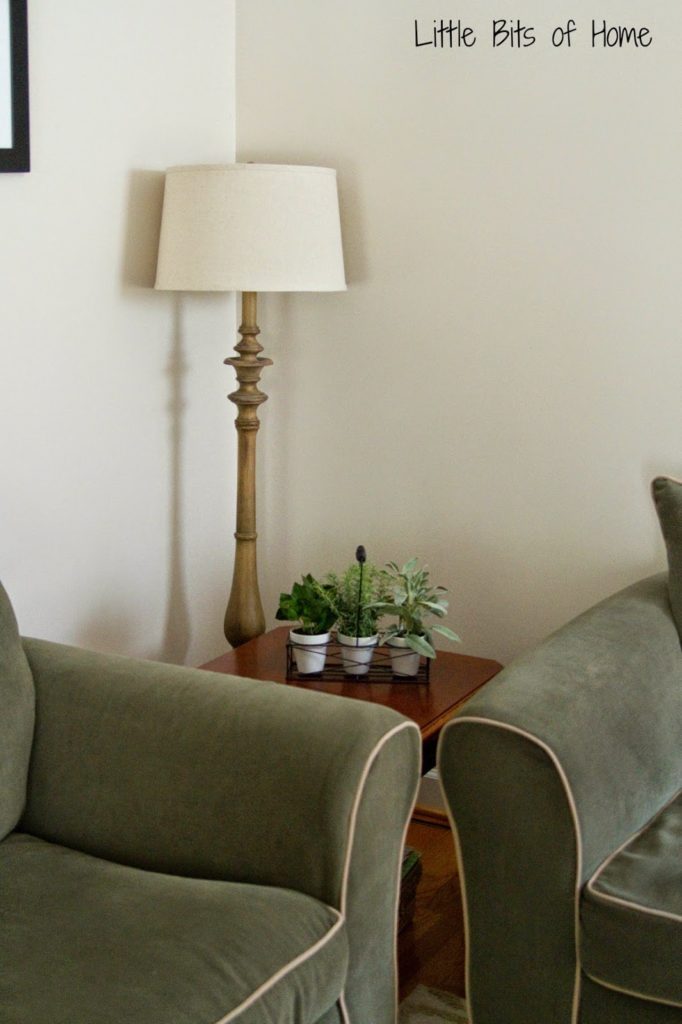 When we had finally saved up the money for new furniture, we tackled the full overhaul. We purchased a new sectional and chair, painted the room, added planking to the fireplace, built a built-in, got a new rug and curtains, new end tables, and lots of new decor, and reconfigured the layout a couple times. It took us over a year to let the room evolve and come together, but in my opinion, rooms that evolve over time tend to turn out better in the end!
Here's our living room now! Our goal was for it to be bright and airy and calming and I think it is just that! See that beautiful planking? I love the height and focus it adds to the fireplace!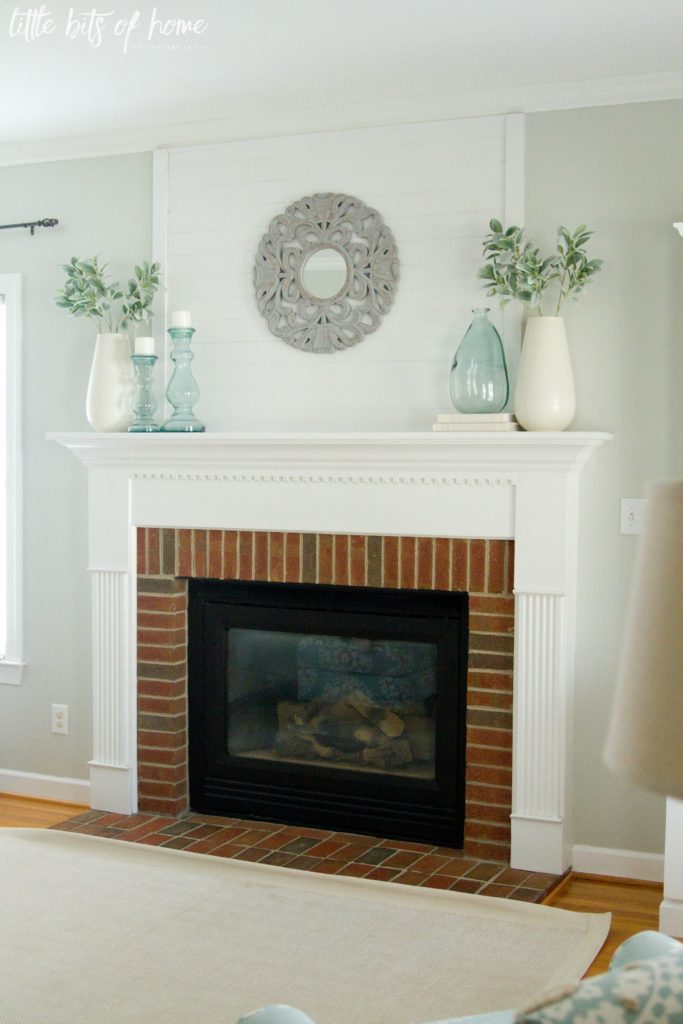 And here's that glorious built-in I designed and my hubby made come to life! It makes the living room! I couldn't love it more! Well, I guess I loved it more before a certain child decided it was fun to swing on the doors and bite the edge. But, you get my point. Haha!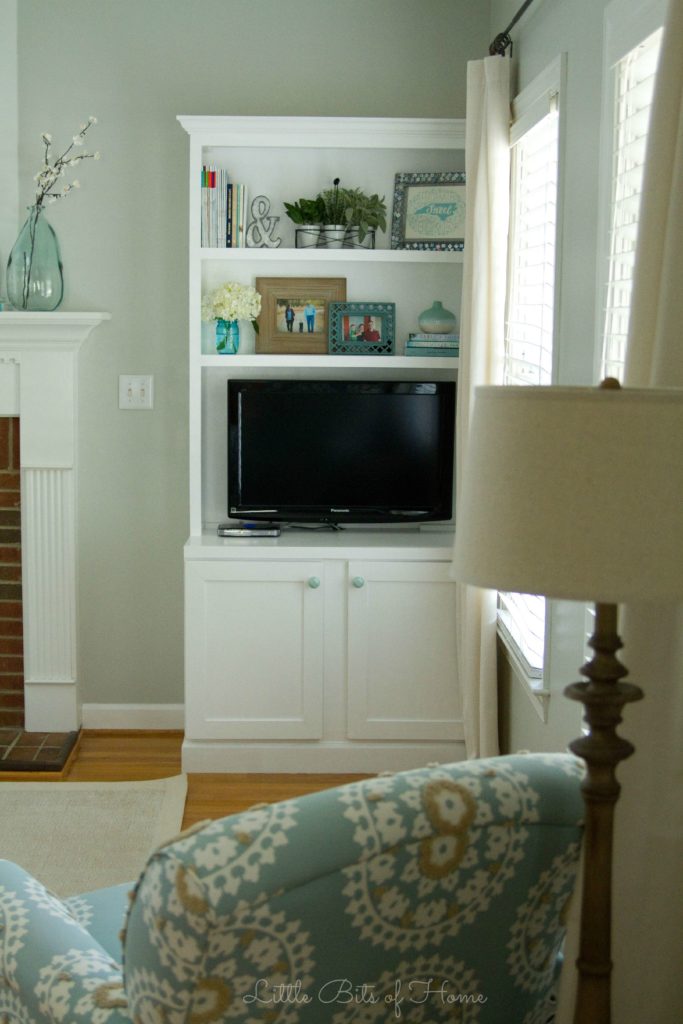 Before, the left side of the room was bright and tall, the fireplace was wide but not nearly as tall, and the right side was dark and blank. Now, the fireplace is the central focus and the window and built-in are the same size, adding the perfect symmetry around the fireplace. I LOVE it!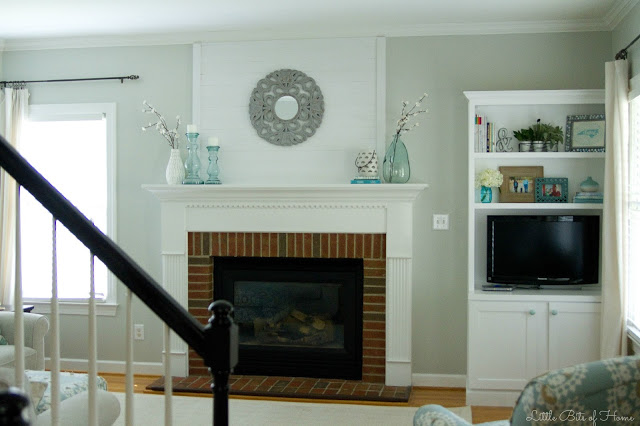 We solved the awkward corner problem by purchasing an L shaped sectional. I love the light color and how well it fits into the space. It adds a lot of seating without feeling huge! We also replaced the art over the couch with this sign I made. It still gives me all the feels!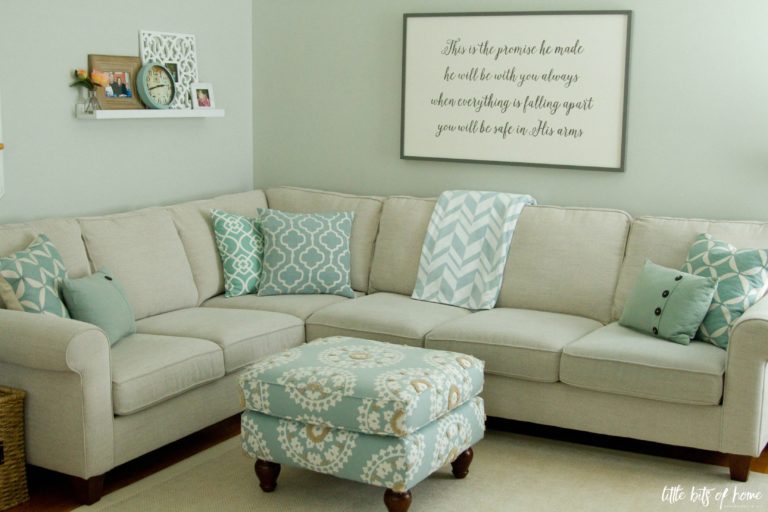 The shorter wall over here stumped me with decor for a long time. We built this ledge shelf for it and couldn't be happier with it!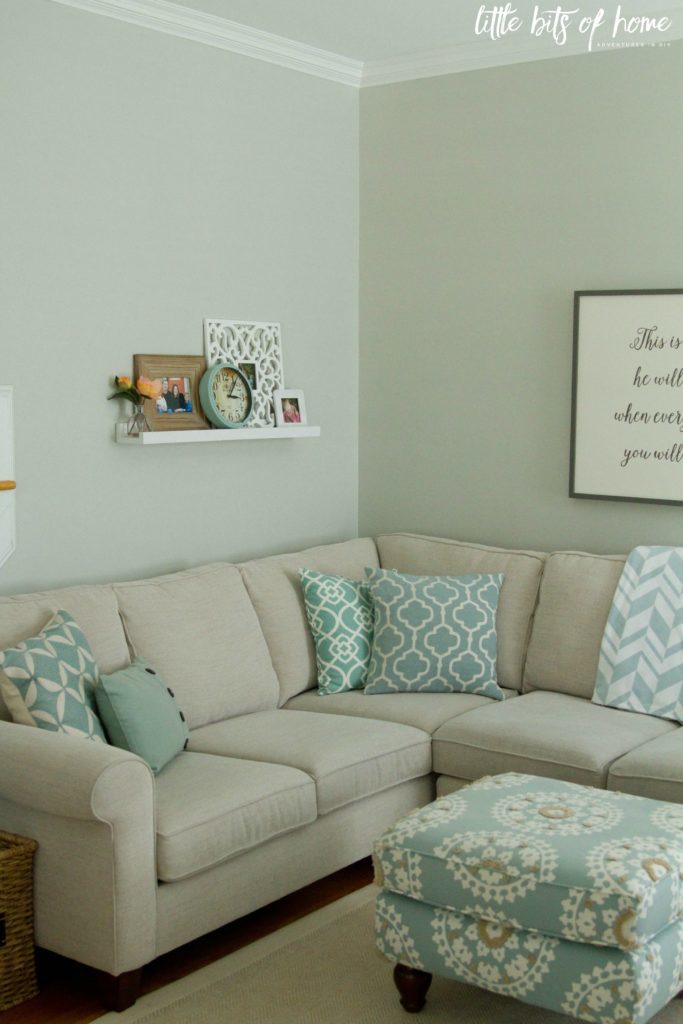 We also replaced our beat up end table with this new one from Target and accessorized it with a Target lamp, box, frame, and vase! I love Target, can you tell?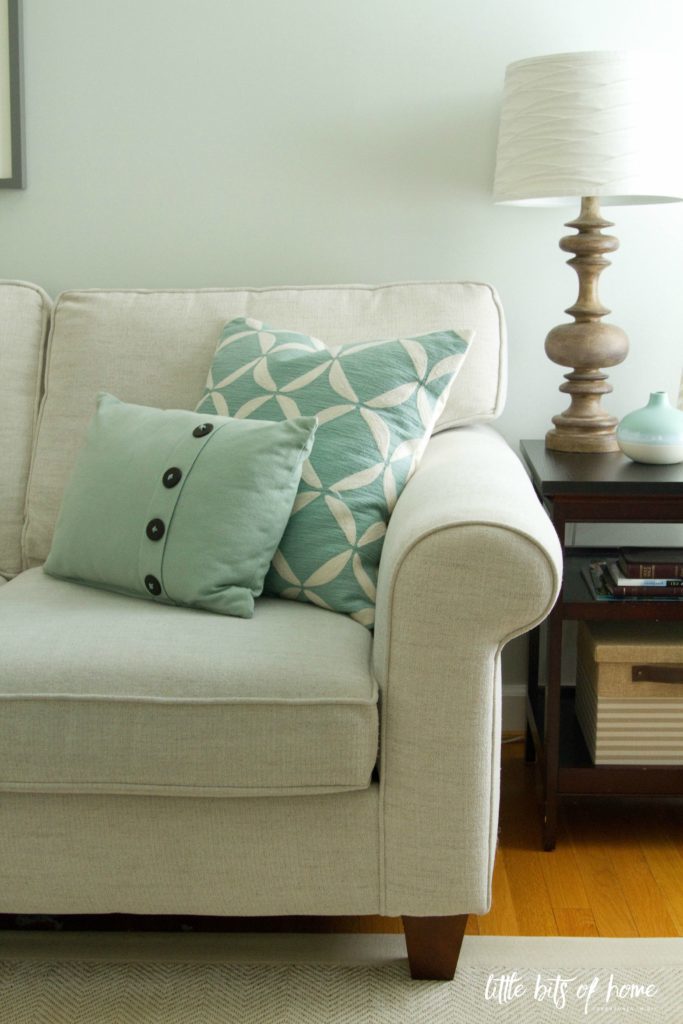 This may sound so weird, but the curtains are one of my favorite accessories in here! They are plain, cream curtains from Target. They are really nothing special at all, but I love the light, airy, simple feel and the breezy, comfortable softness they add to the room. Whew, that was a lot of adjectives, but they totally deserve it. 😉
We still want to replace the old light with a ceiling fan, but that keeps getting bumped from the priority list. One day!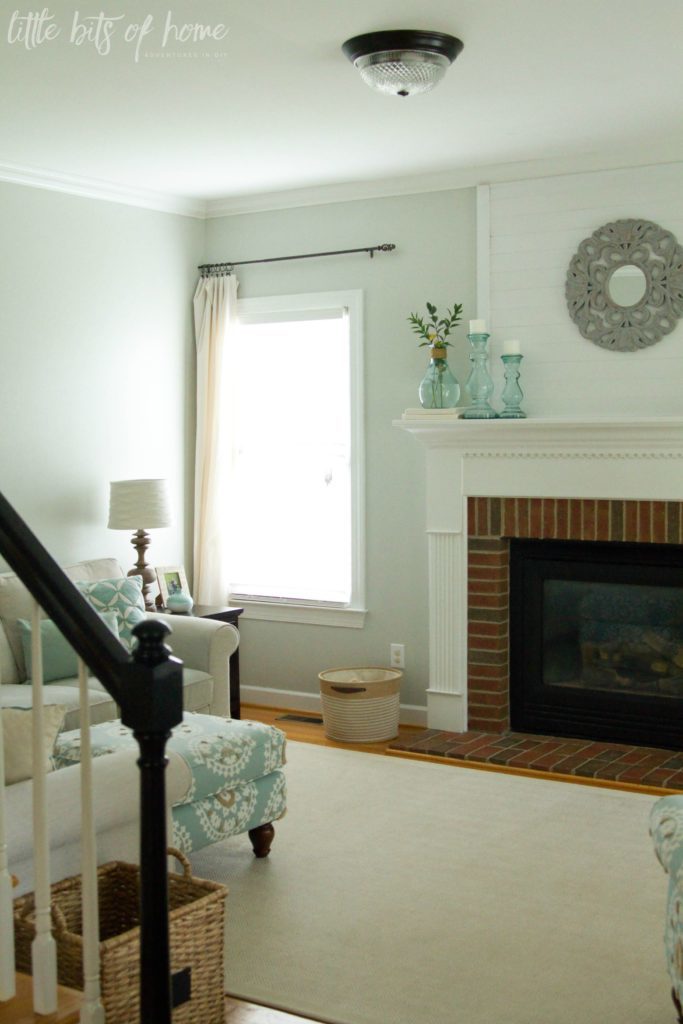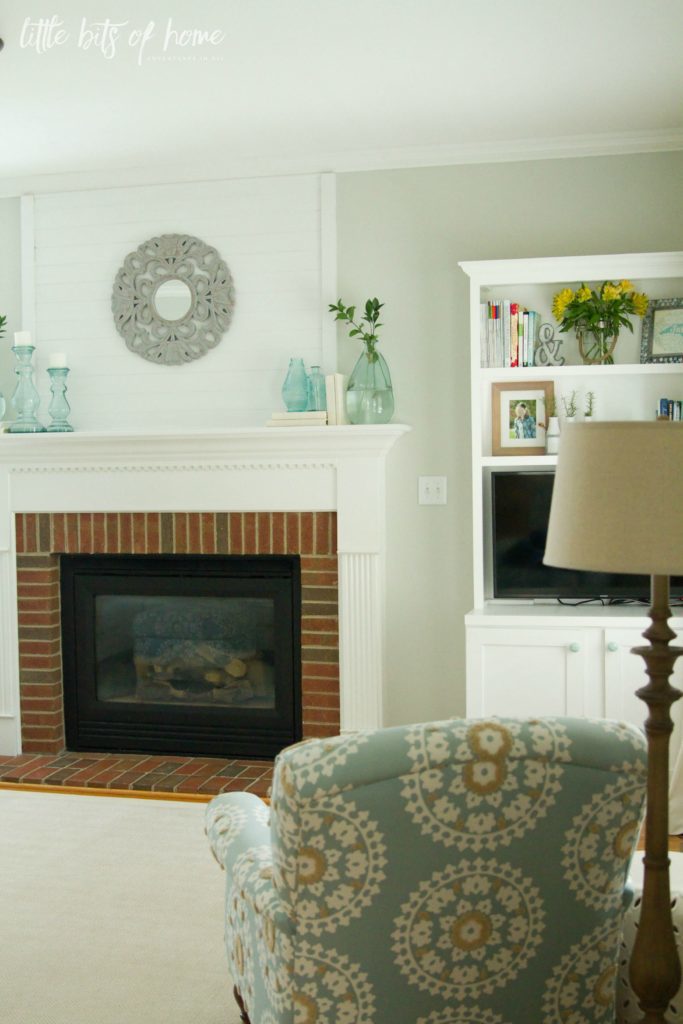 As you know, I have so much fun decorating and redecorating my fireplace and the built-in!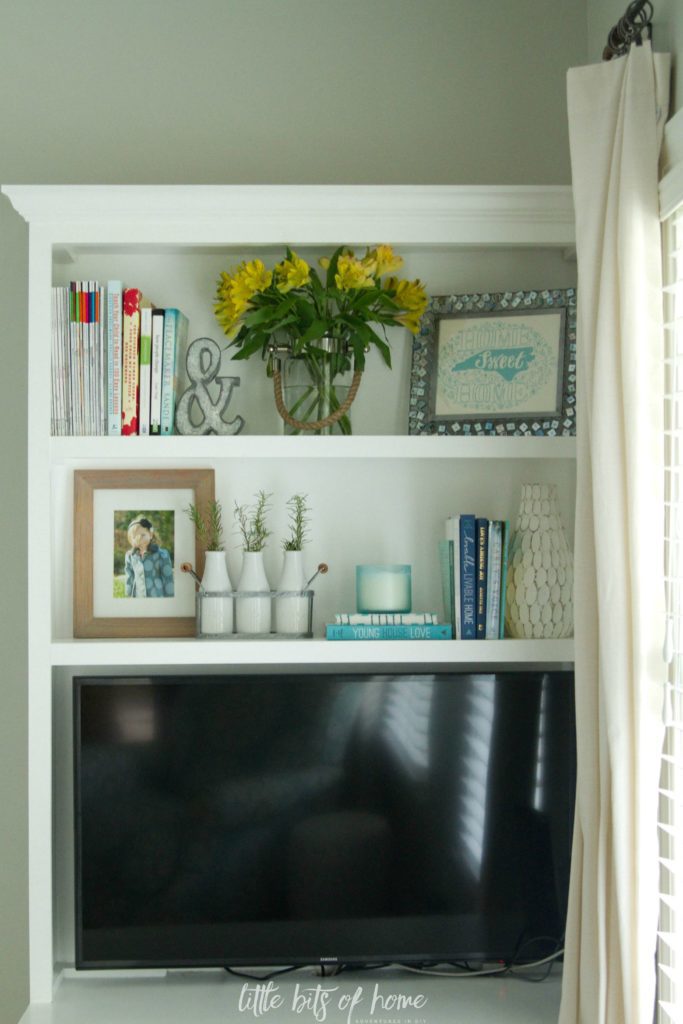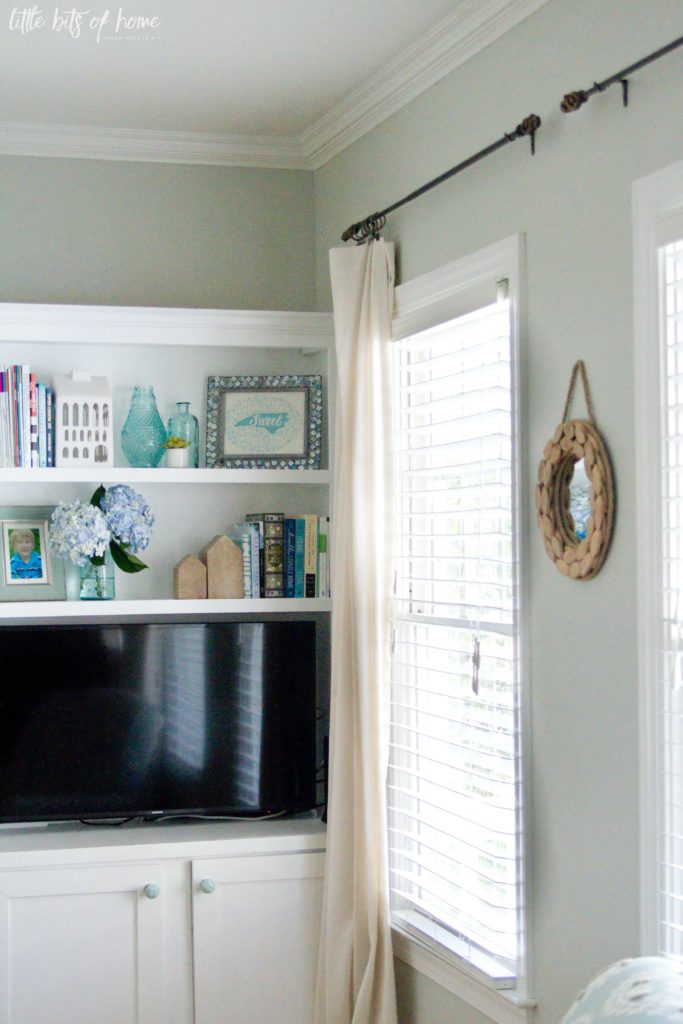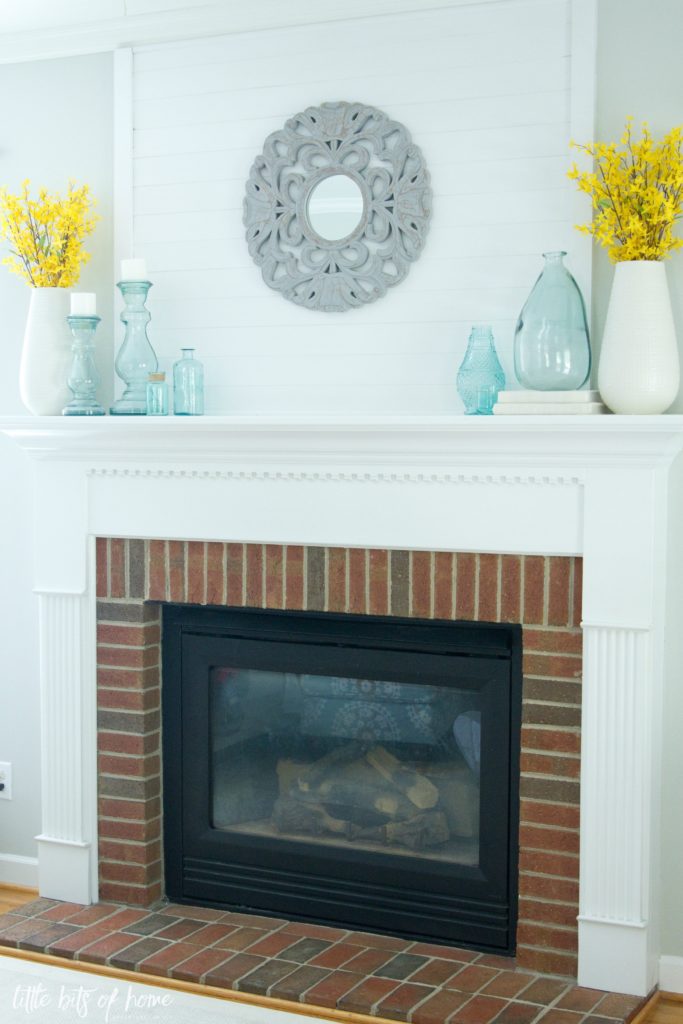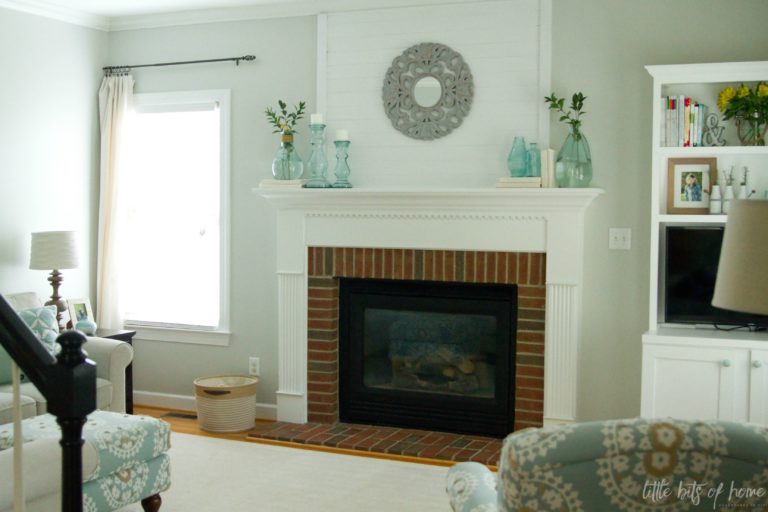 What before and after is complete without some side-by-side pictures?!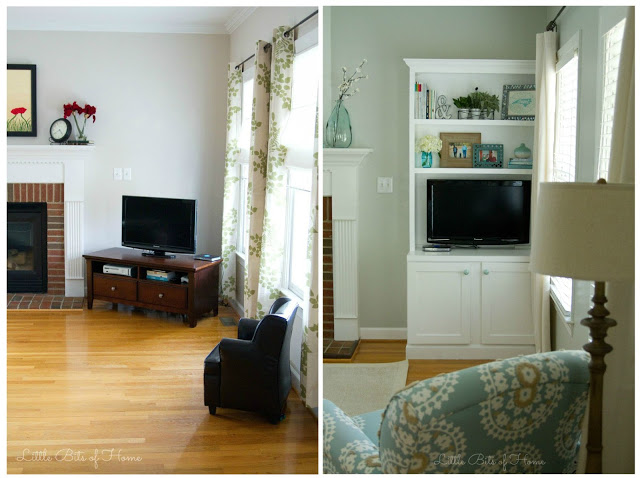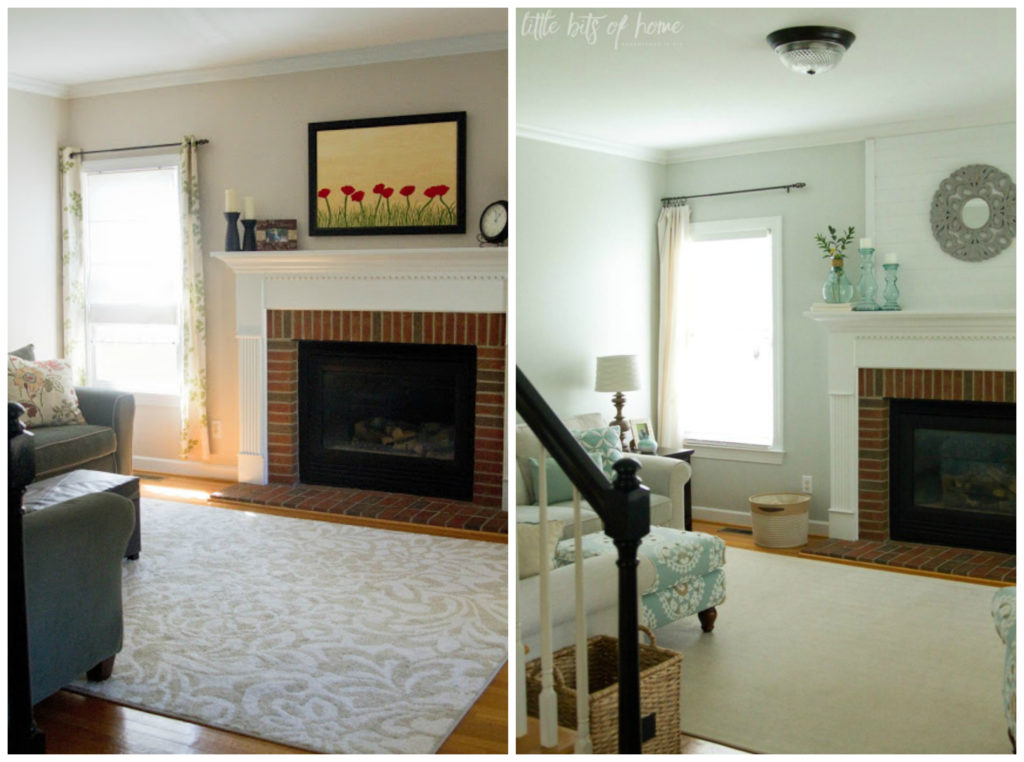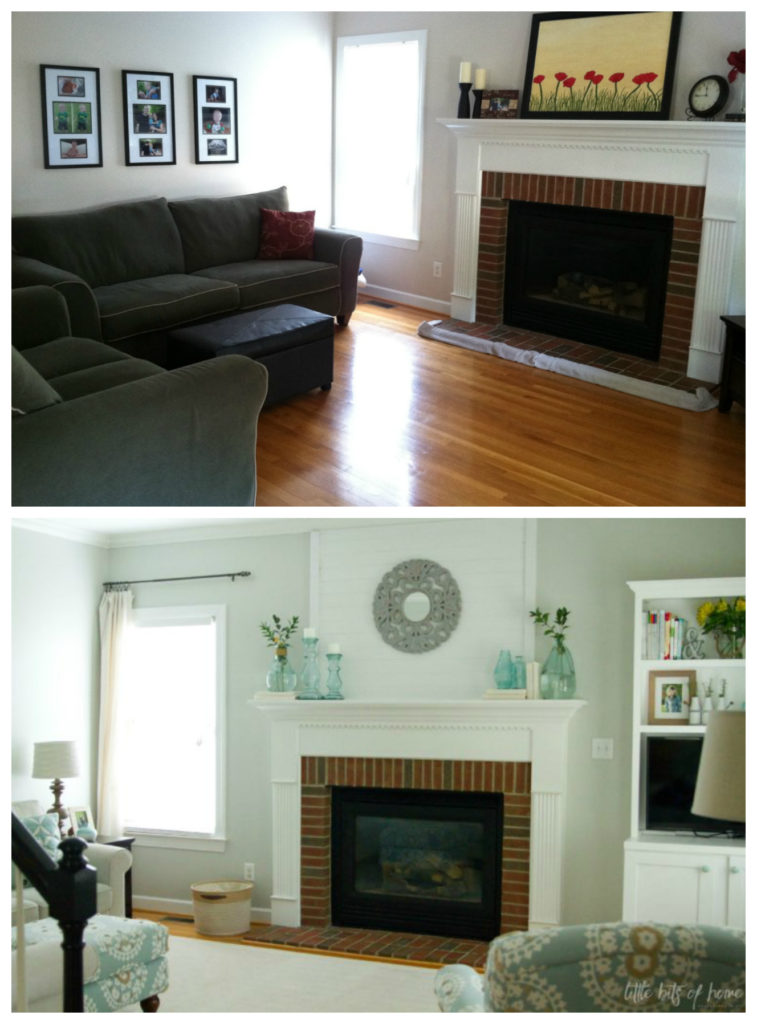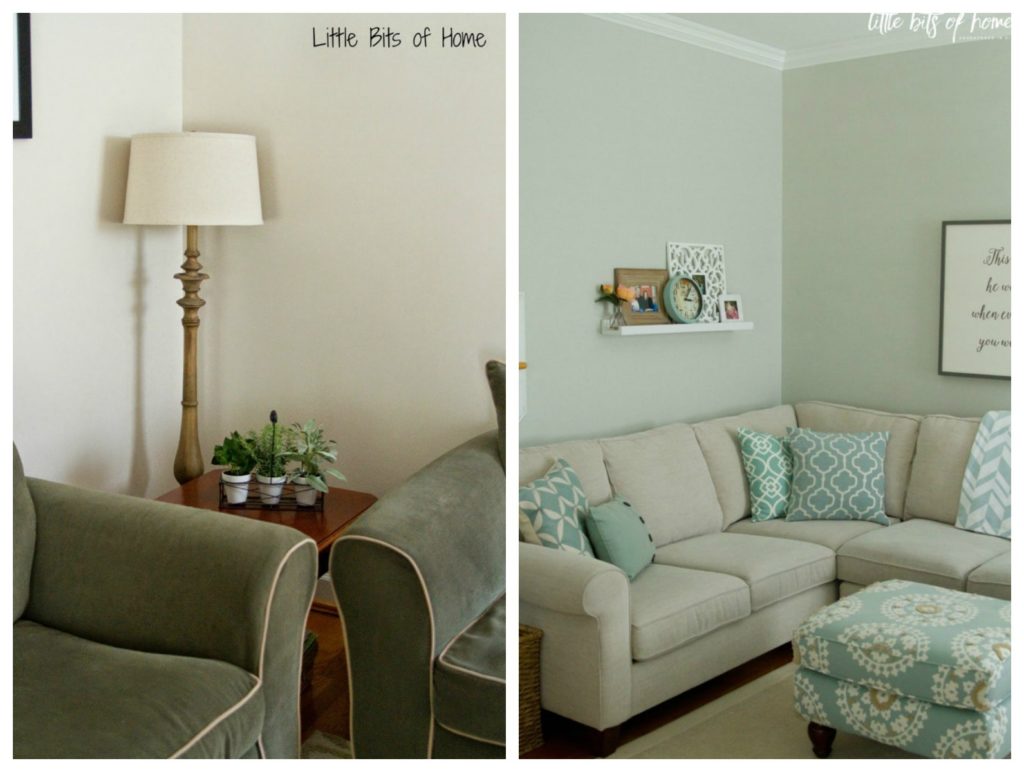 Sources:
Sectional, Chair, and Ottoman- Haverty's
Rug- Pottery Barn
Paint- Sherwin-Williams Gray Owl
Two Blue Throw Pillows- West Elm
Two Green Throw Pillows- World Market
Single Green Throw Pillow- Bed Bath and Beyond
Single Blue Throw Pillow- Home Goods
Chevron Throw Blanket- Target
Espresso End Table- Target
Drum Stool- World Market
Lamp- Target
Striped Box and Tote- Target
White Vases on Fireplace- Target
Large Jug and Glass Candle Holders- World Market
Jug with Jute Accent- Home Goods
Gray Mirror- Home Goods
Standing Lamp- Target
Curtains- Target
Large Basket- Target
Knobs- Anthropologie
Driftwood Mirror- See Tutorial Here
Lettered Wood Sign- See Tutorial Here
Ledge Shelf- See Here
Now, be sure to check out all of the other beautiful living rooms in our Room by Room Series!!