Hey, Friends! Hope you all had a happy and safe 4th of July! We celebrated by going to a baseball game and watching fireworks with our friends on Monday night, then grilling out and making s'mores last night! So fun!
Last week, my blogger friends and I started a summer series where we give you a tour of a different room in our house each week. You can see our entry here! This week, we are giving you a peek into our kitchens!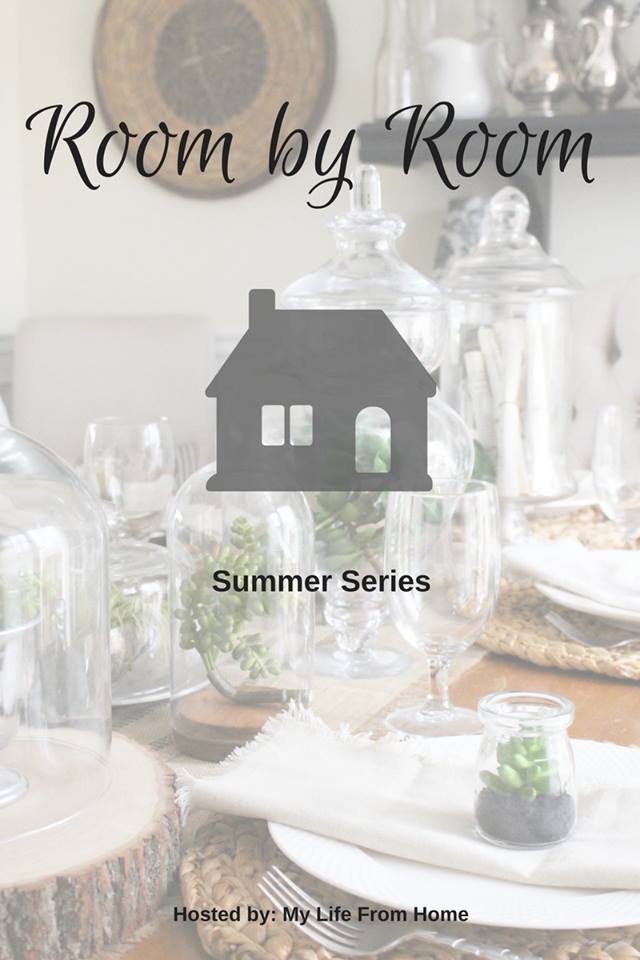 In the five years I've been blogging, I've only shown you our kitchen a couple of times. Honestly, I just really struggle with it. On one hand, I am very grateful for it. It was updated by the previous homeowners before we purchased the house. The updated counters, hardware, and backsplash go well with the existing cabinets and are really nice quality. Our first home was a foreclosure and the kitchen was filthy and had no appliances when we bought it, so moving into a home with a nice kitchen that was squeaky clean was a total luxury. We have had to replace both the stove and the dishwasher, but that's all that we've had to do in here in the last five years.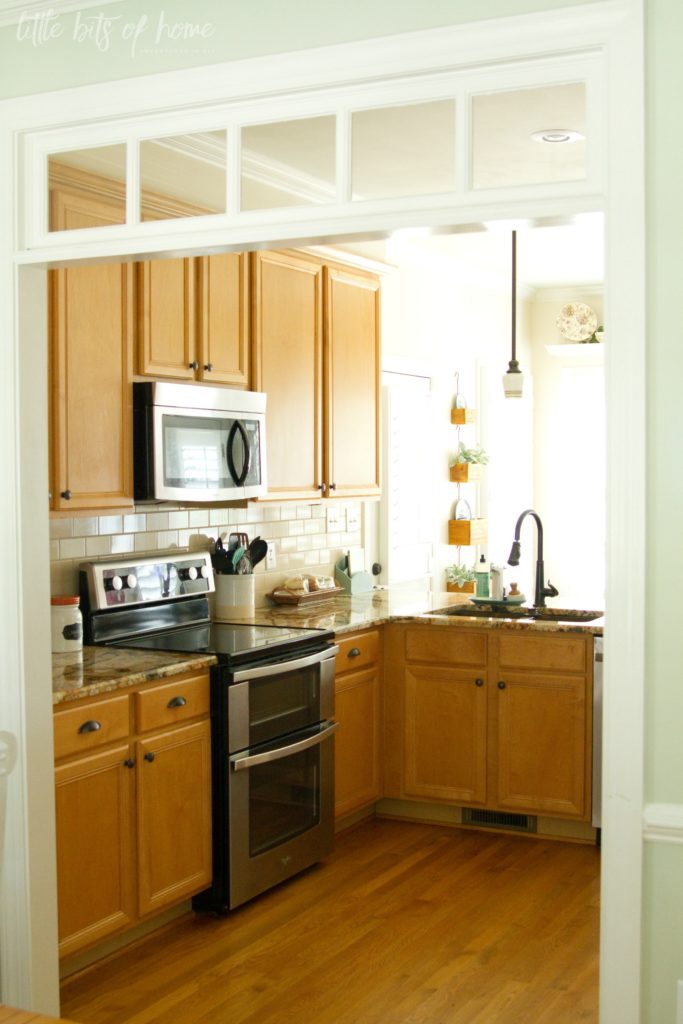 Over the years, though, I've just had to come to grips with the fact that, while I appreciate my kitchen, it is just not my style. I admit, I feel really guilty typing that out. I mean, there are people in this world without clean water and here I am saying I don't love my nice kitchen. Talk about first world problems, right?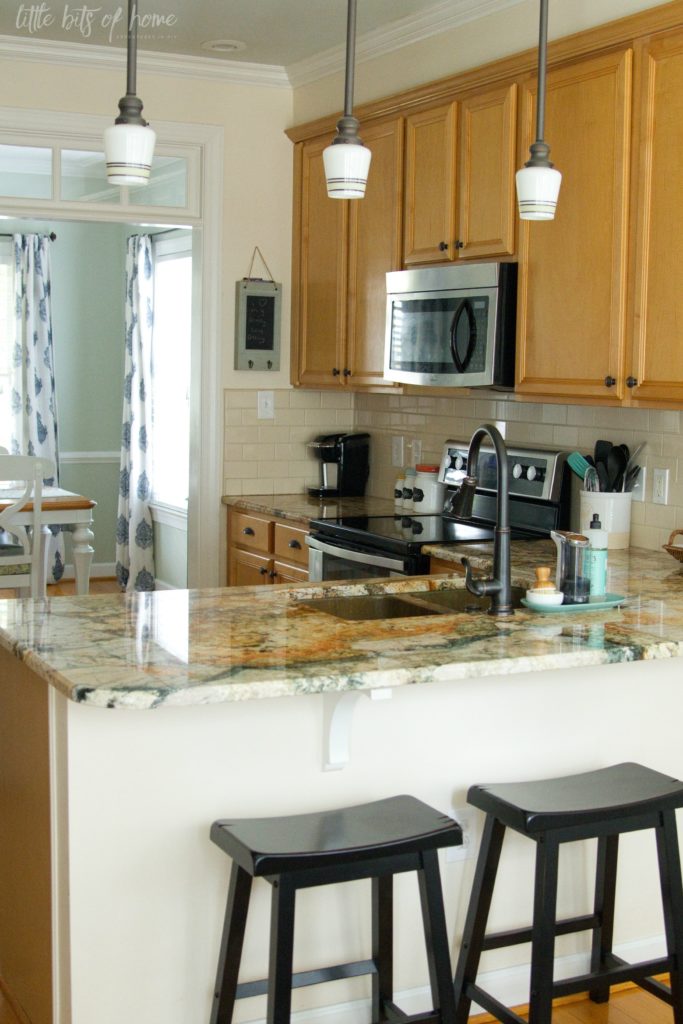 I would love to change out a few things in the kitchen eventually, though, to make it more my style without being overly wasteful. I want it to flow better with the rest of the house and be a bright and cheerful place to be. It's not top priority as far as the budget is concerned this year, but I'll still fill you in on what I'm thinking!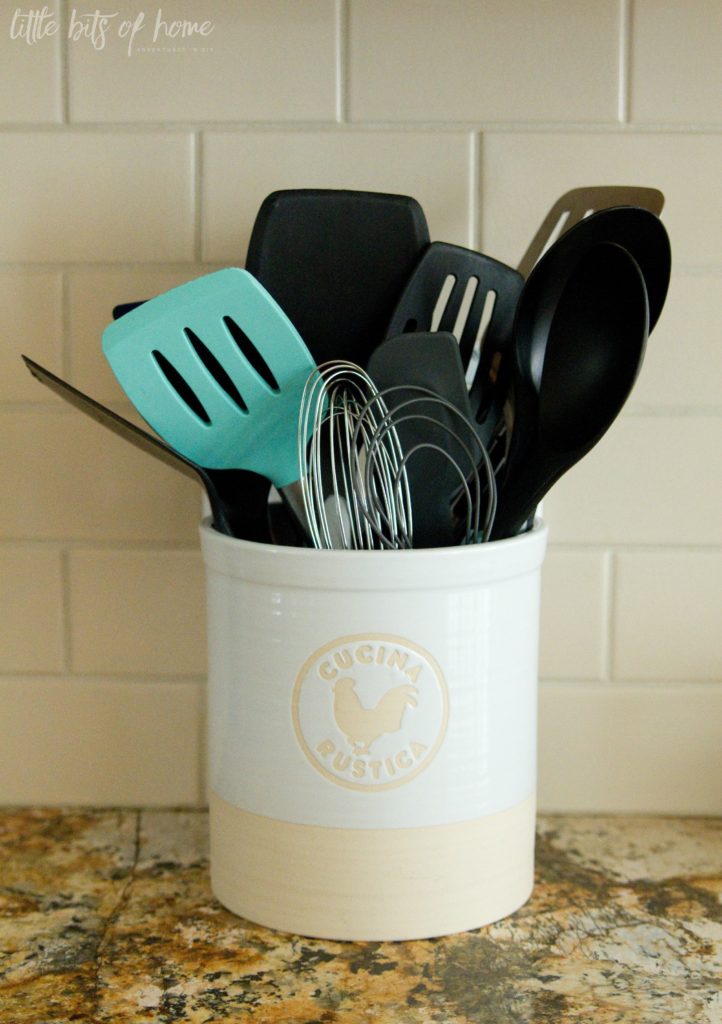 First up, I am dying to paint the cabinets white. The cabinets are nice wood, in good shape, and I like the overall design. I just hate the orange hue! I have dreamed of having a white kitchen since I was a little girl and can't wait to paint these cabinets white! I think it will make such a huge difference in here!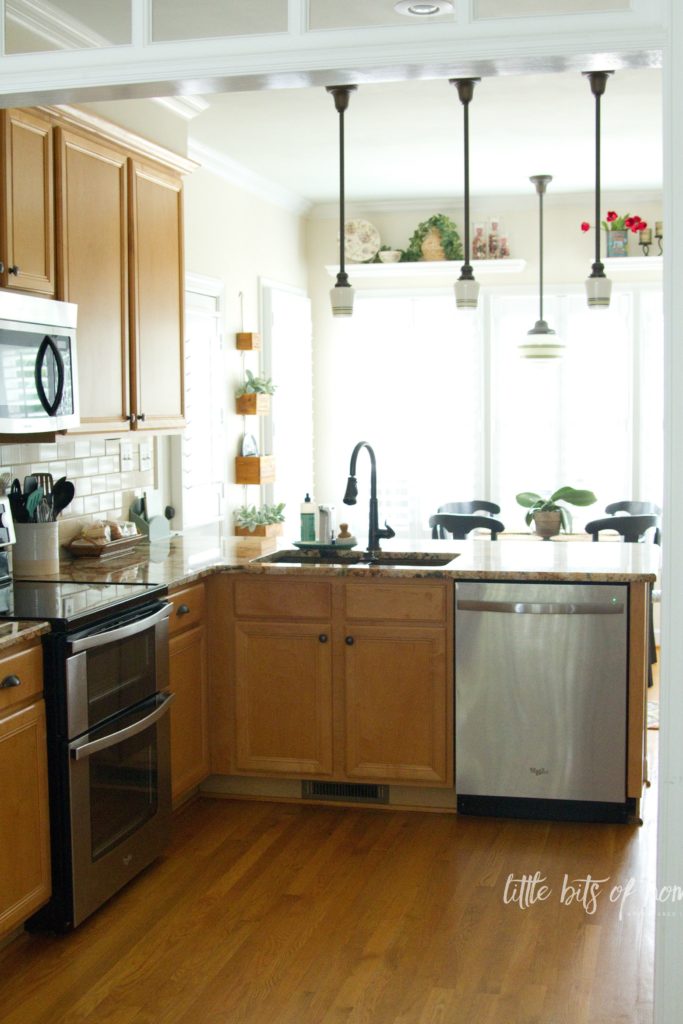 I would also love to change out the sink. Right now, we have a copper sink and I loathe it. It is a royal pain in the neck to keep clean and always looks dirty to me. All it takes is a splash of diet soda or ketchup and your pretty patina is gone and the sink looks all manner of crazy. Pretty much every time I wash dishes, I daydream about the day I can kick the sink to the curb. If you are considering a copper sink for your kitchen, just say no.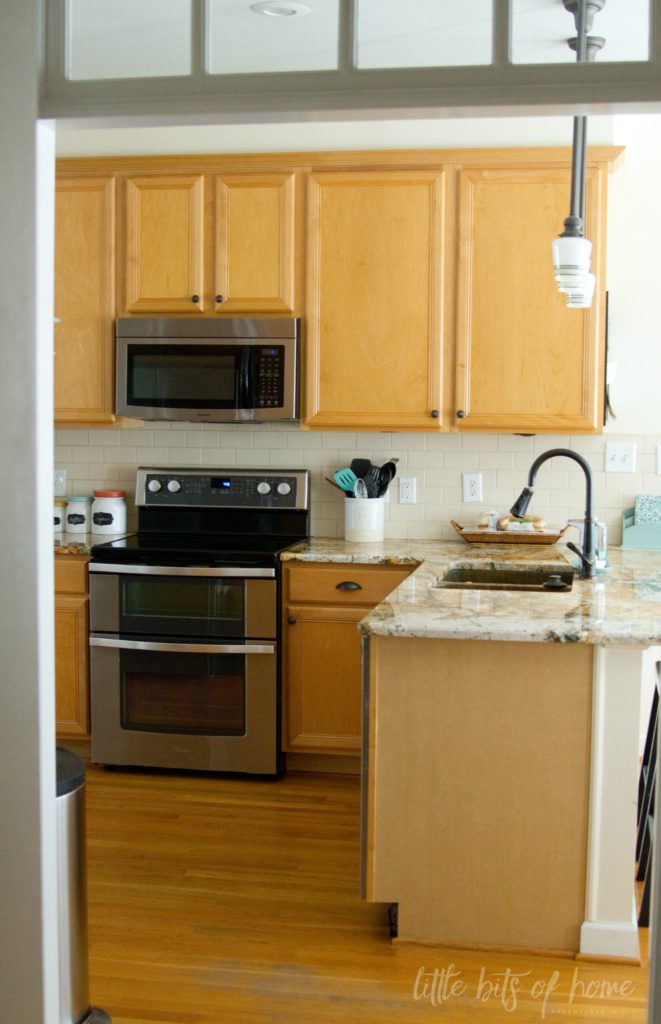 The granite in here is really interesting and the colors go well with the cabinets. However, orange is not my jam. I have wanted Carrara marble counters for years and years. One day, I'd love to replace the orangey granite with Carrara or a quartz that has a similar vibe to Carrara.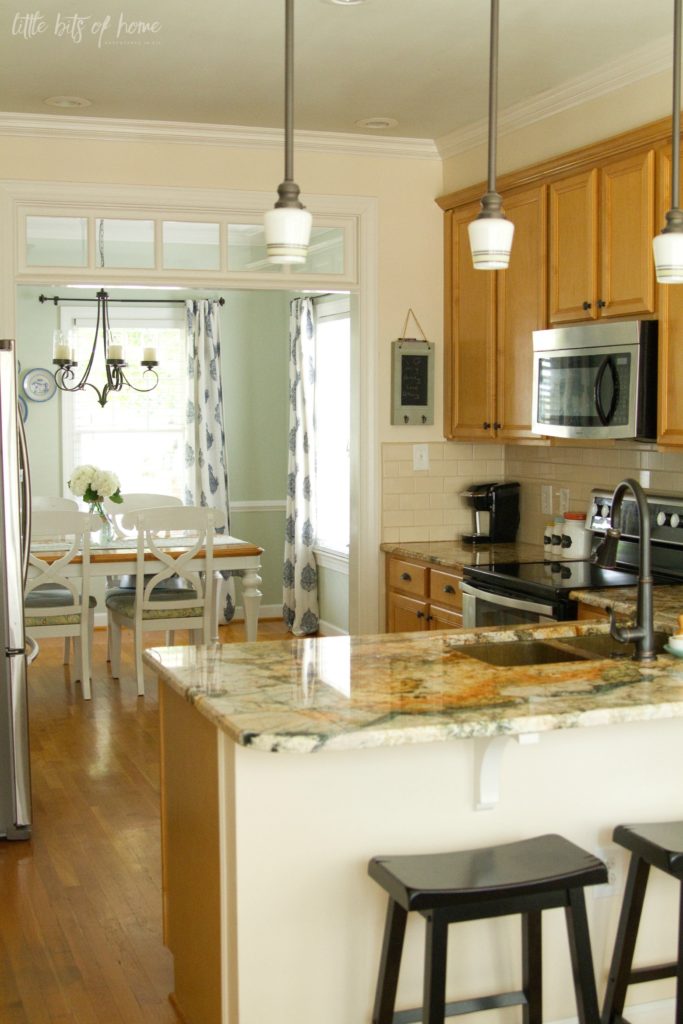 I love subway tile, but once we paint the cabinets white and change the counters to a white/gray color scheme, we will want to change out the backsplash to get it to match. While we are at it, we would love to simplify the electric wiring in here. For some reason, we have outlets next to outlets and so many light switches. I'd love to consolidate!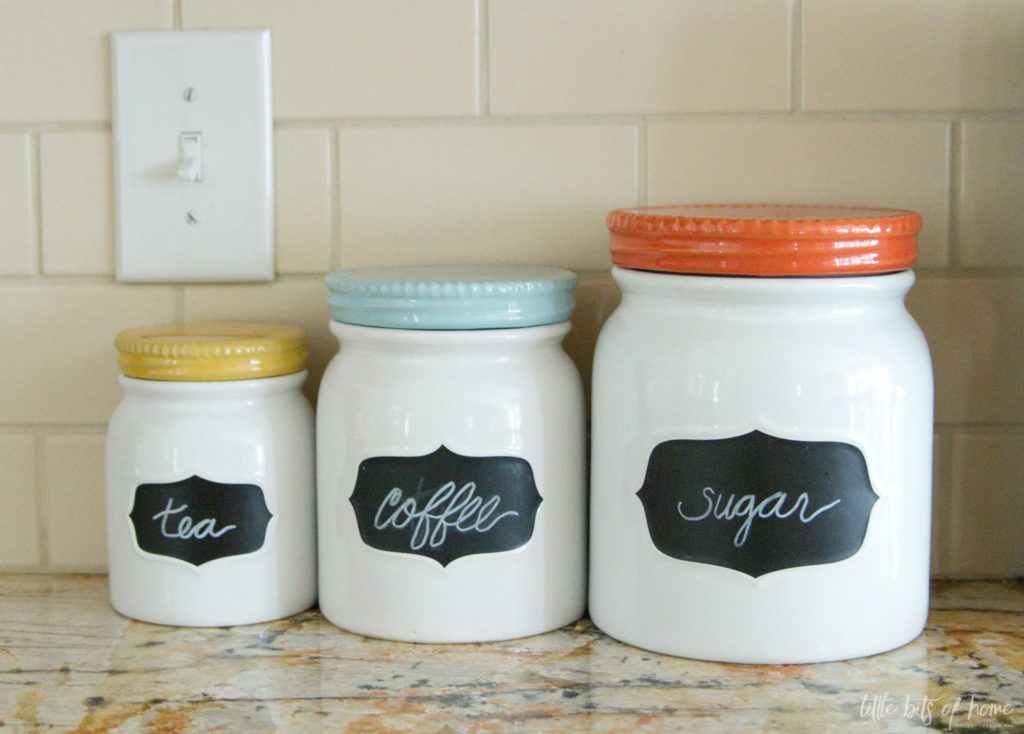 Once we brighten up the kitchen and banish the orange, I'll go in and brighten up the breakfast nook with some cooler colors. For now, I decorated the shelves above the windows with the decor we had above our cabinets at our old house. I still like it and it flows well with the kitchen. This photo looks super flattened out and busy, but I promise it's not this cluttered looking in real life. I just wanted to give you a sense of the flow of the room and give you a glimpse of my favorite feature in the kitchen/breakfast nook… all.those.glorious.windows!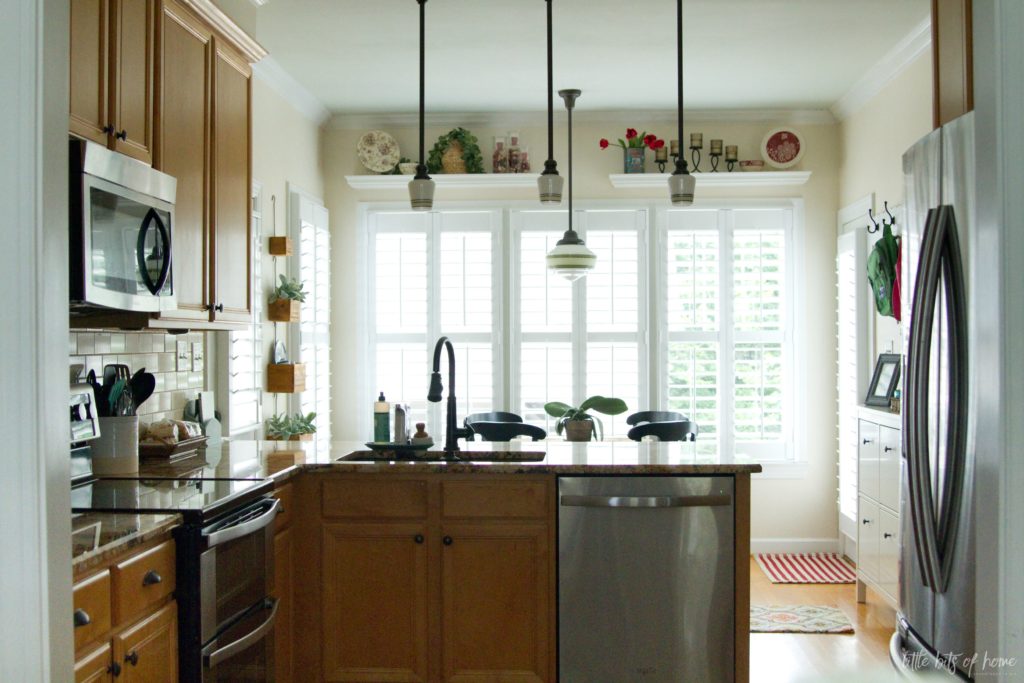 One other thing we'd love to do to the kitchen is install pull-out shelves in the pantry cabinet next to the fridge. It's a deep, skinny cabinet, so the space is hard to get to and totally under utilized. Pull-out shelves would make accessing things in the back so much easier!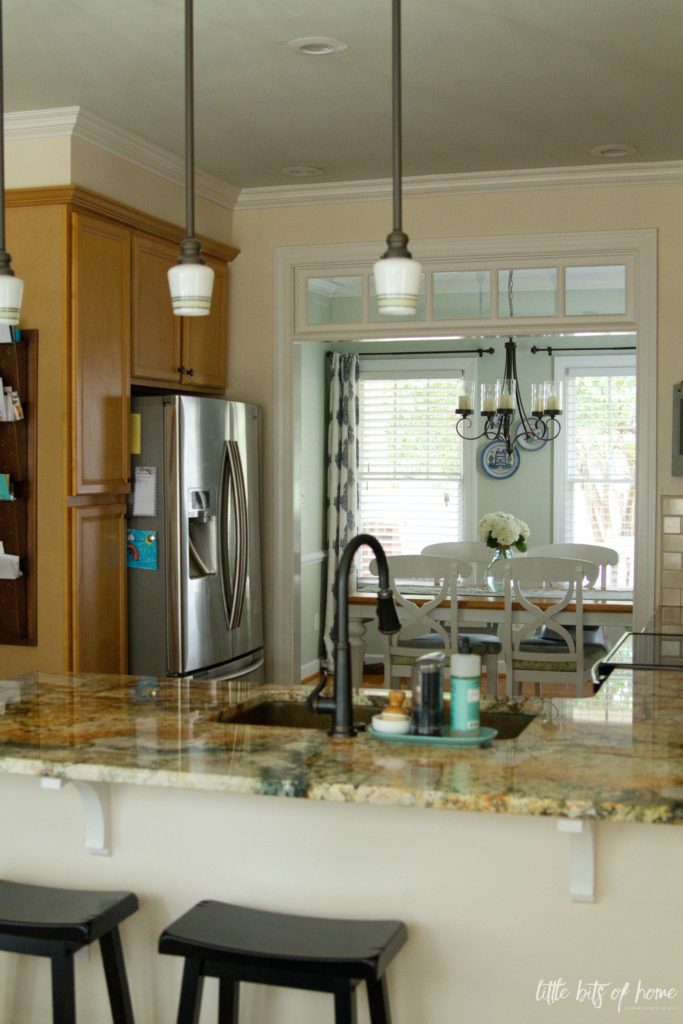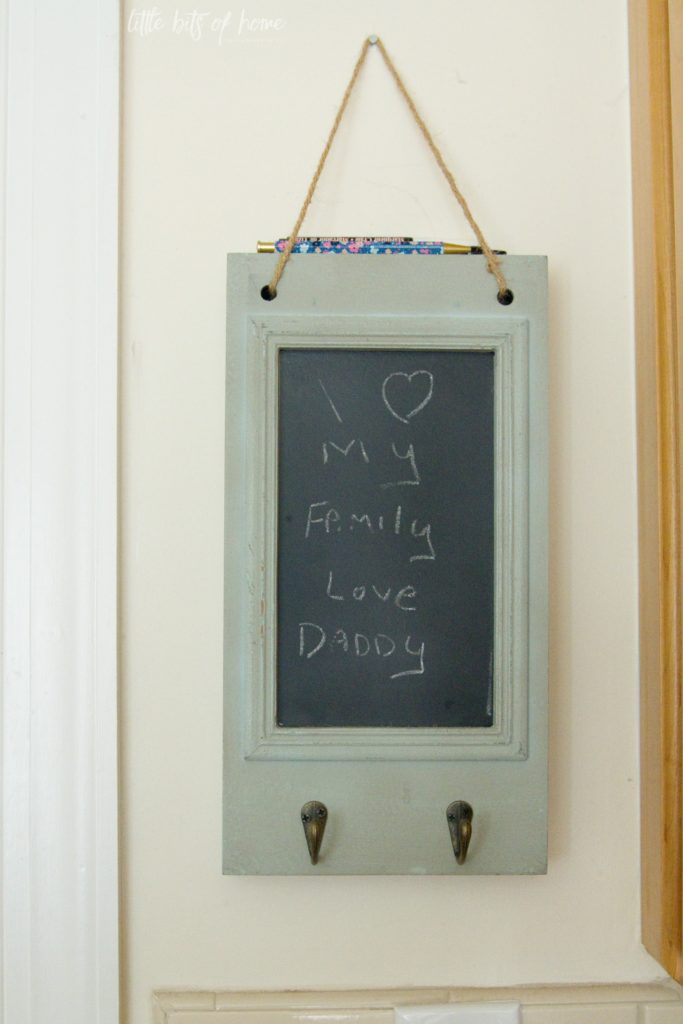 By the way, I saw this hanging herb planter back when we lived at our old house and loved it, but couldn't find it anywhere. Fast forward several years, I saw it on Decor Steals and snatched it up! I hung it up in the breakfast nook and I love love love it! It was worth the wait!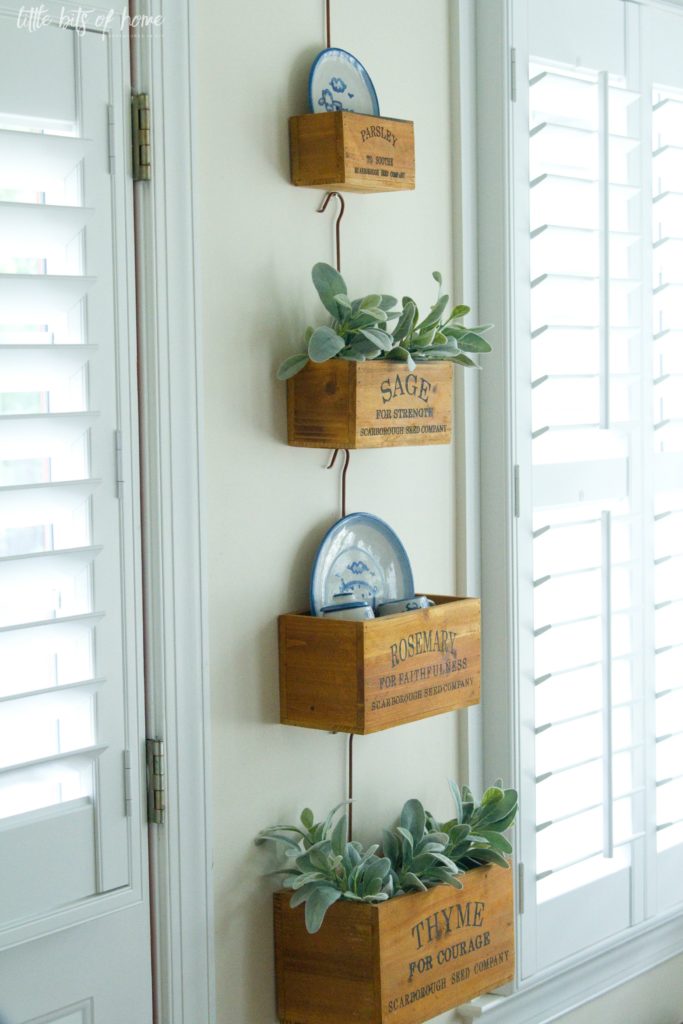 I originally styled it with various live herbs, but in true Samantha fashion, I promptly killed them all. So, now it's styled with fake greens and some of the dishes from the set my Grandma gave to me. She collected this set and they are all hand painted! I used some of the dishes in our dining room, too. I'll tell you more about them when we get to the dining room tour!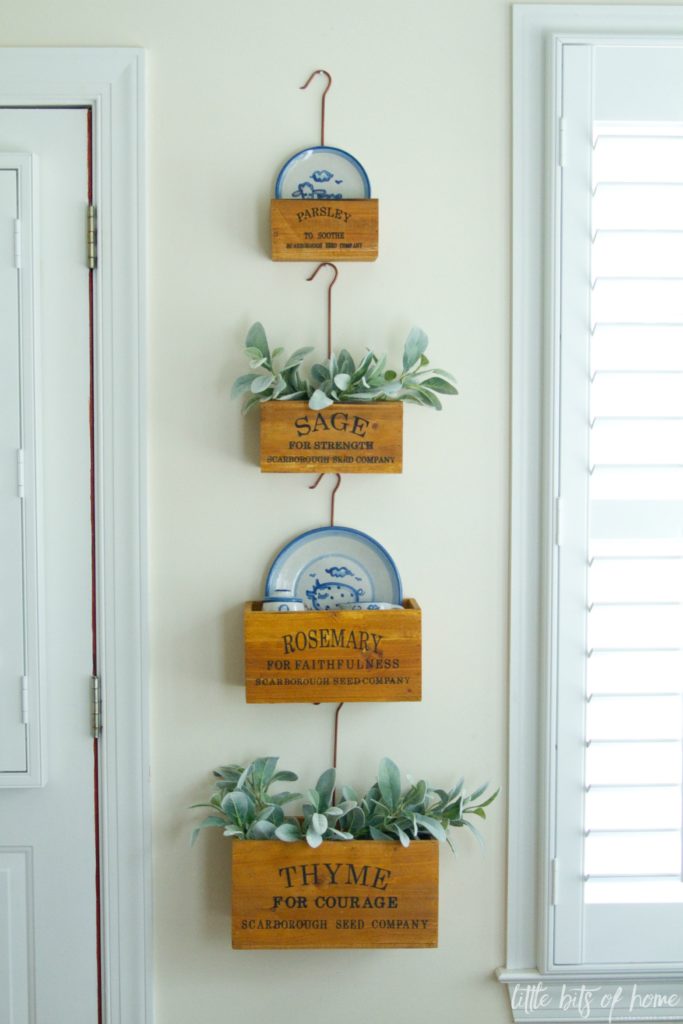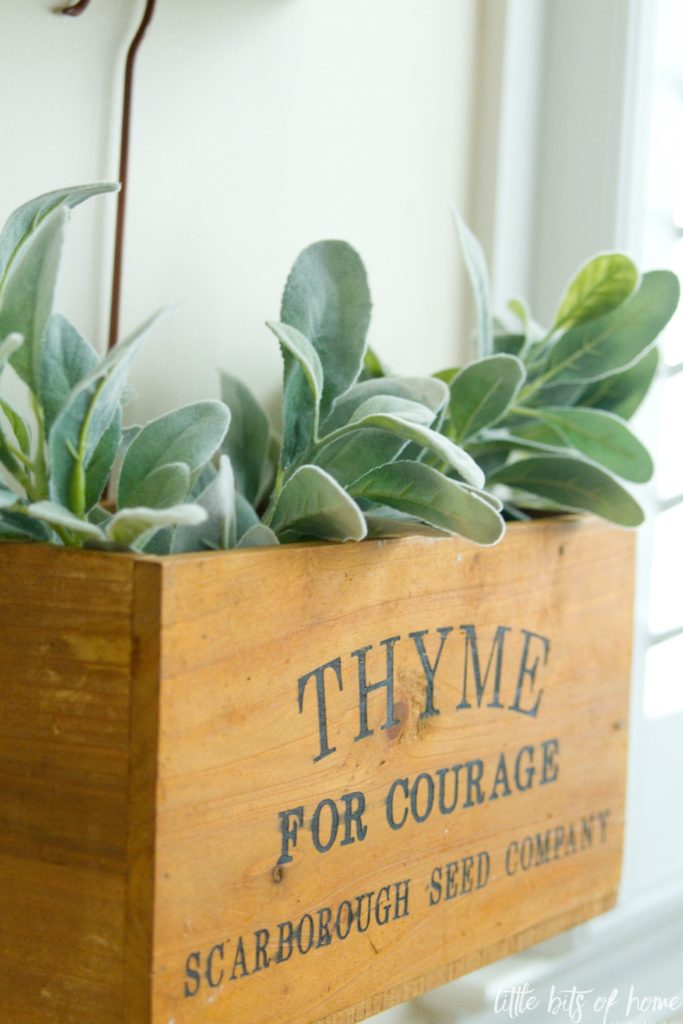 So, there you go! Our "not our style but still nice kitchen that I'm super thankful for and looking forward to changing" kitchen! 😉
Be sure to hop on over to check out my blogger friends' kitchens!