Need to catch up on our One Room Challenge progress? Here's Week 1, Week 2, & Week 3!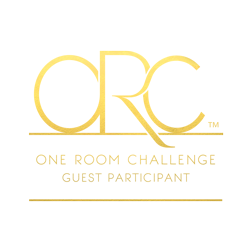 I'm *super* excited to share another progress update in Little Man's room with you! As you saw last week, we built Little Man a window seat with storage cubbies. It sits just a few inches below the window, so I knew it would need a  couple pillows for him to lean back against.
I shopped around for Star Wars throw pillows, but just couldn't find anything that got me excited. I like a more clean and classy aesthetic and all I was finding were pillows with Star Wars plastered over every inch. It was all too cluttered for my taste.
As I was browsing, I just kept thinking about Brittany from ZigZagz Embroidery's products. Brittany is a teacher turned stay at home mom just like me. She started an embroidery business a couple years ago as her creative outlet and her work is gorgeous!
I have ordered a couple appliqued outfits for Little Girlie from ZigZagz Embroidery and they have always been beautifully made! I had never seen her do a pillow, but that girl can put monograms and applique on anything and make it look like a million bucks. I emailed her and she was up for creating some awesome pillows for Little Man's room! In fact, she was up for sponsoring this post for the One Room Challenge! Thanks, Brittany!
Now, just so you appreciate how awesome Brittany is… I had no idea what exactly I wanted. I just knew I wanted Star Wars pillows with a Pottery Barn aesthetic. I am terrible at mixing fabrics and have zero sewing knowledge, so I let her work her creative magic. #needycustomer You guys, I am in LOVE with what she came up with!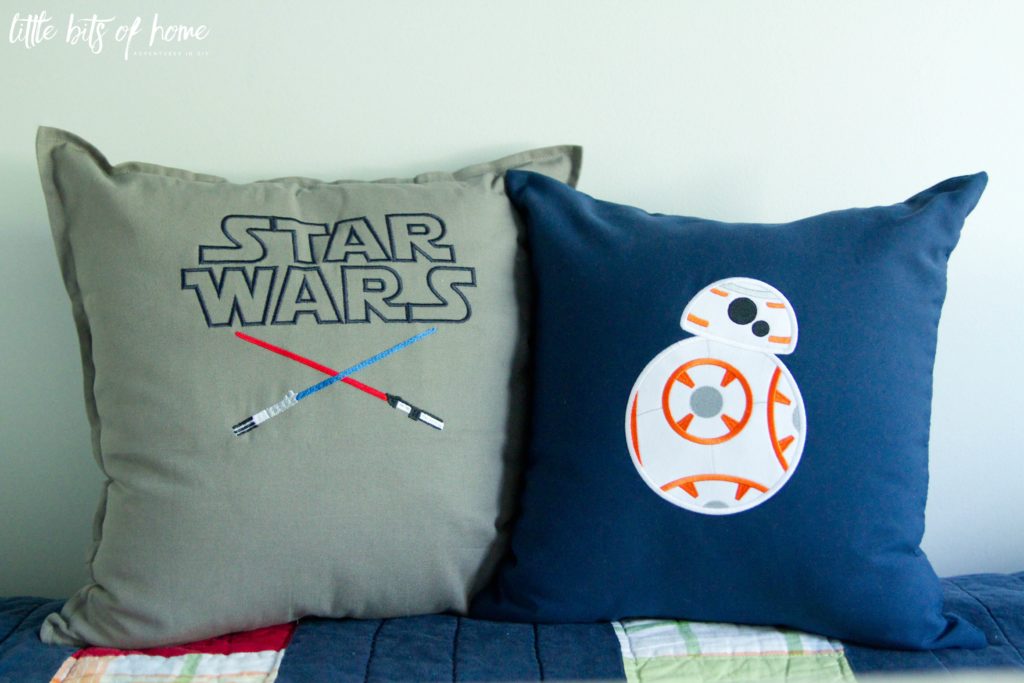 Aren't they amazing?! These have converted me to the dark side. I'm now decorating with themes and characters and liking it. Heh heh, see what I did there? Dark side? Vadar? Star Wars? Never mind. 😉
The quality of Brittany's work is amazing! It's always perfectly made and adorably packaged. Little Girlie has worn her outfits a ton and they have definitely stood the test of time!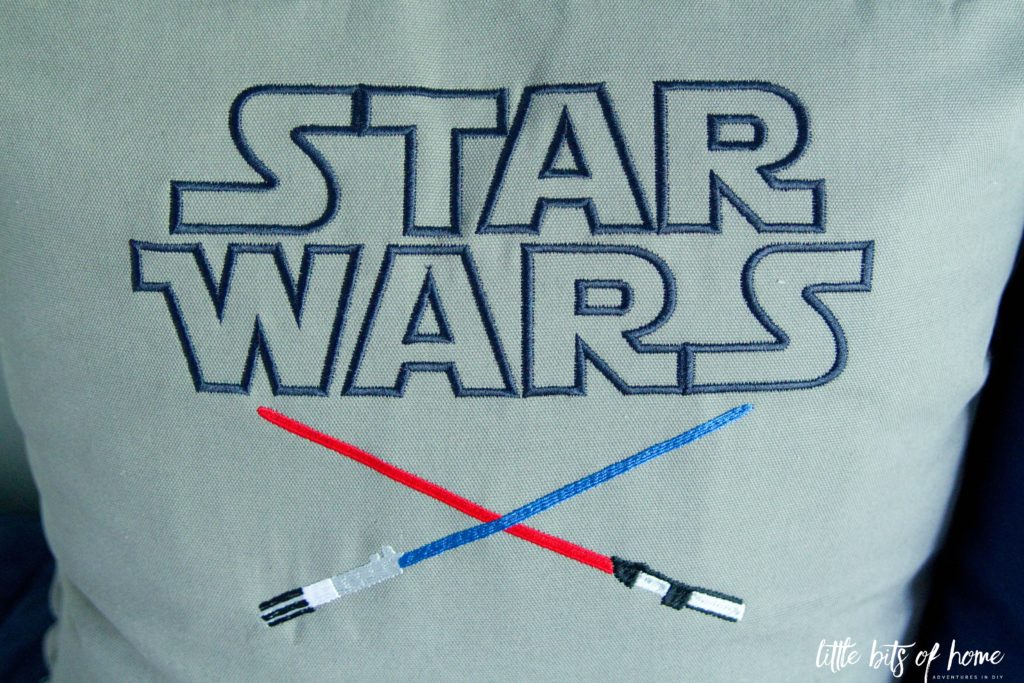 Isn't BB-8 so adorable?! Side note– I purchased a Target Threshold pillow insert for the BB-8 pillow and an Ikea pillow insert for the gray pillow. The difference in fullness is crazy! Target wins, hands down! I really wish Target sold a 20″ size!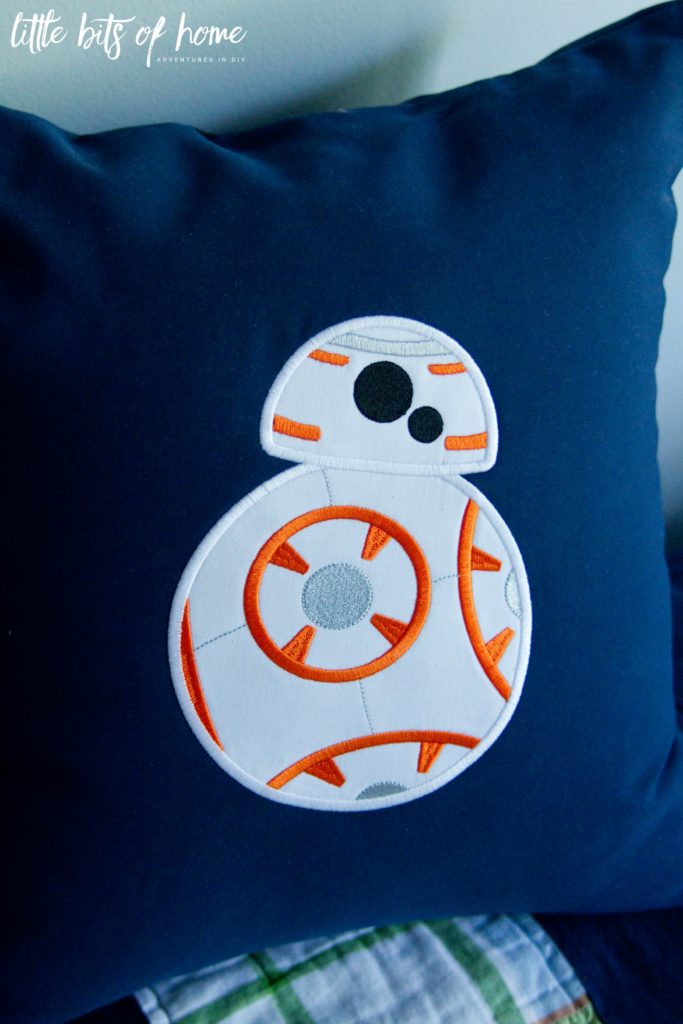 Here's how they look on our newly upholstered window seat! See the sneak peek of the curtains?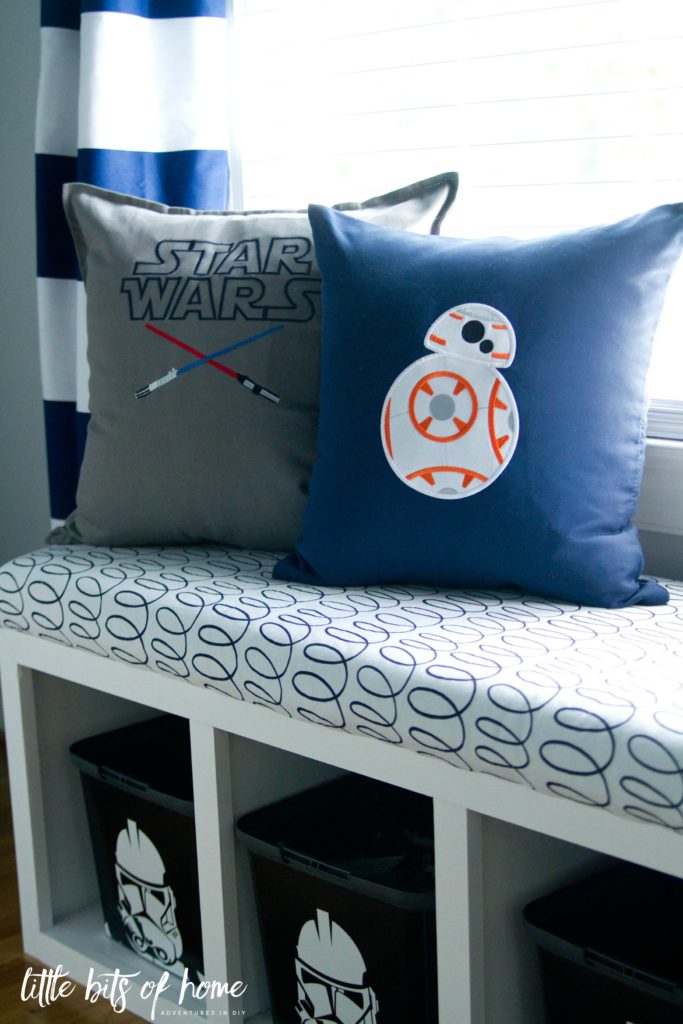 Check out some of the other awesome things Brittany has embroidered! I love the matching Minnie backpack and shirt!

 Her seasonal items are my all time favorite!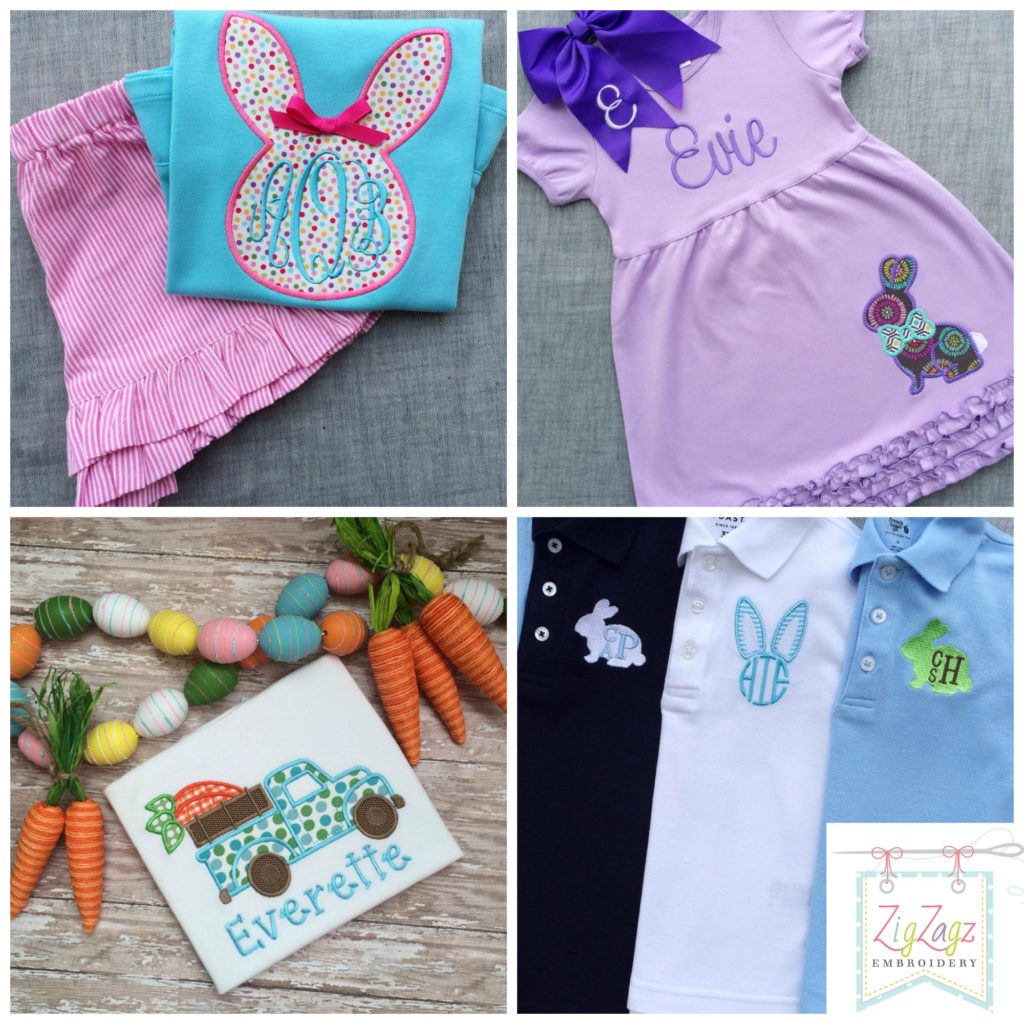 Those Christmas tree skirts are the cutest things ever!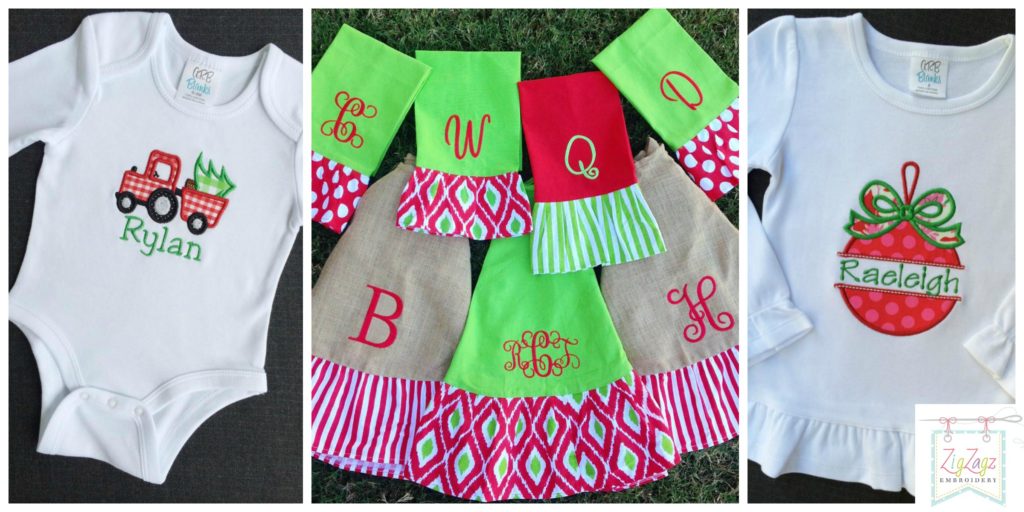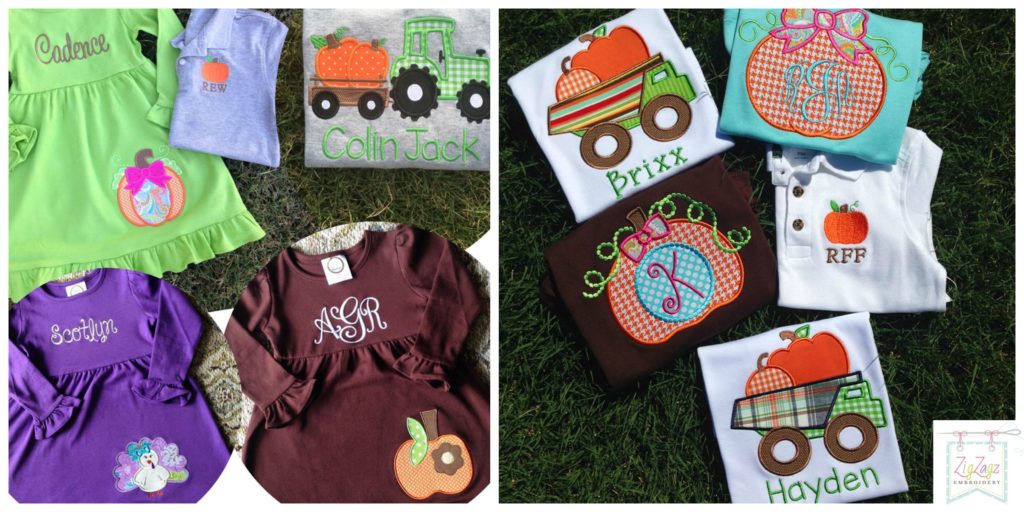 Aren't these summer outfits adorable?!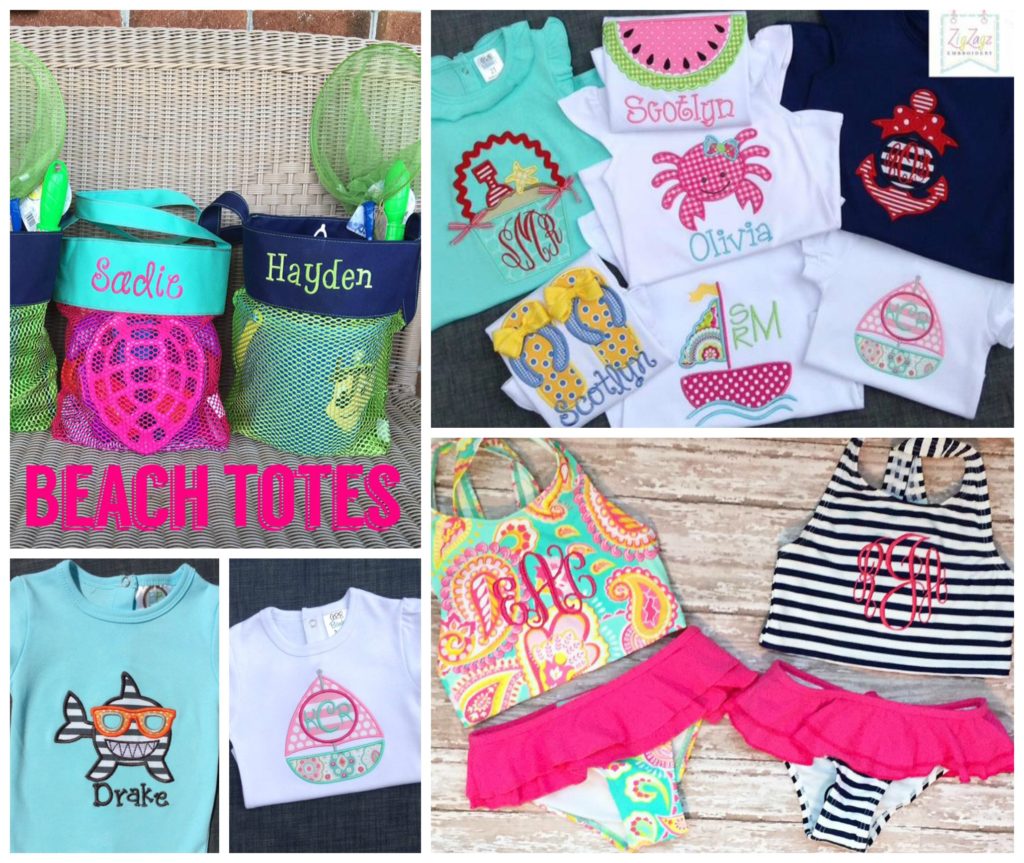 See what I mean about Brittany being able to put embroidery on anything and it turn out amazing?!

Be sure to check out Brittany's shop ZigZagz Embroidery over on Facebook! She is always posting seasonal items for sale or you can message her with your embroidery requests! I wish I had known about her shop back when Little Girlie was born. I would have ordered Big Bro and Lil Sis outfits for my kids to wear when they met! 🙂
Thanks, again, Brittany! We LOVE the pillows and your shop!
Be sure to check out all of the other awesome projects going on over at Calling it Home!
This is a sponsored post. All opinions are 100% my own!