Guess what??? This is the last project post for Little Man's room makeover before the final reveal! I can't wait for you to see it!
Remember in my last room update when I said I did something cool to our newly painted navy walls & ceiling? Any guesses what I did? I'll give you a hint– it's a Star Wars room… 😉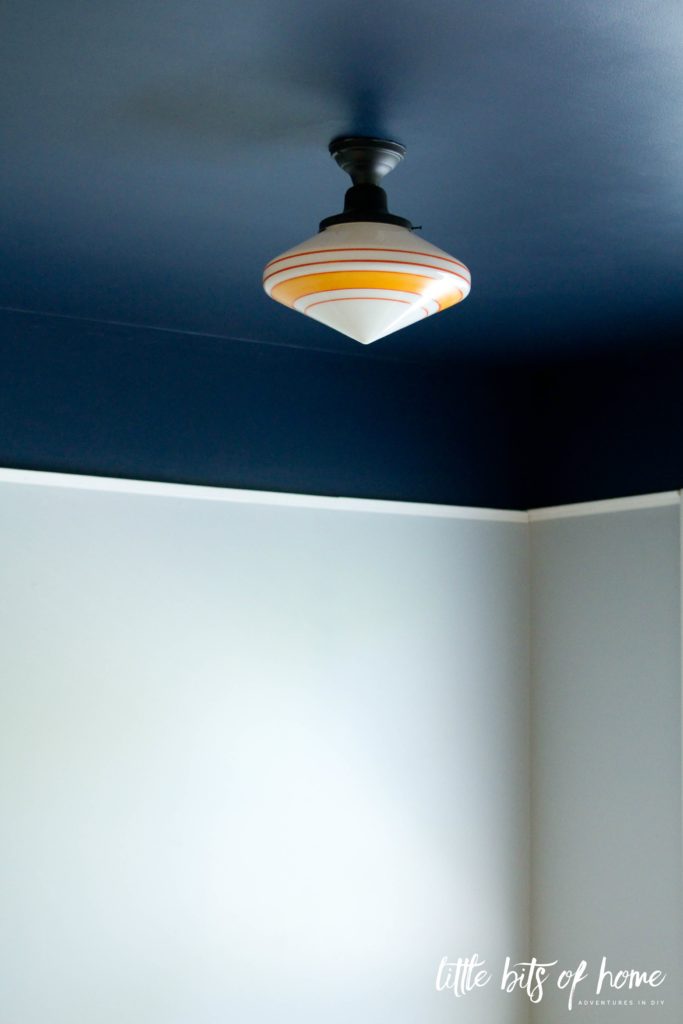 If you guessed stars, you are right!! The beautiful dropped ceiling we painted in Sherwin Williams Naval is now the backdrop to hundreds of stars! I mean, what's a Star Wars room if you don't feel like you're in a galaxy far, far away, right?!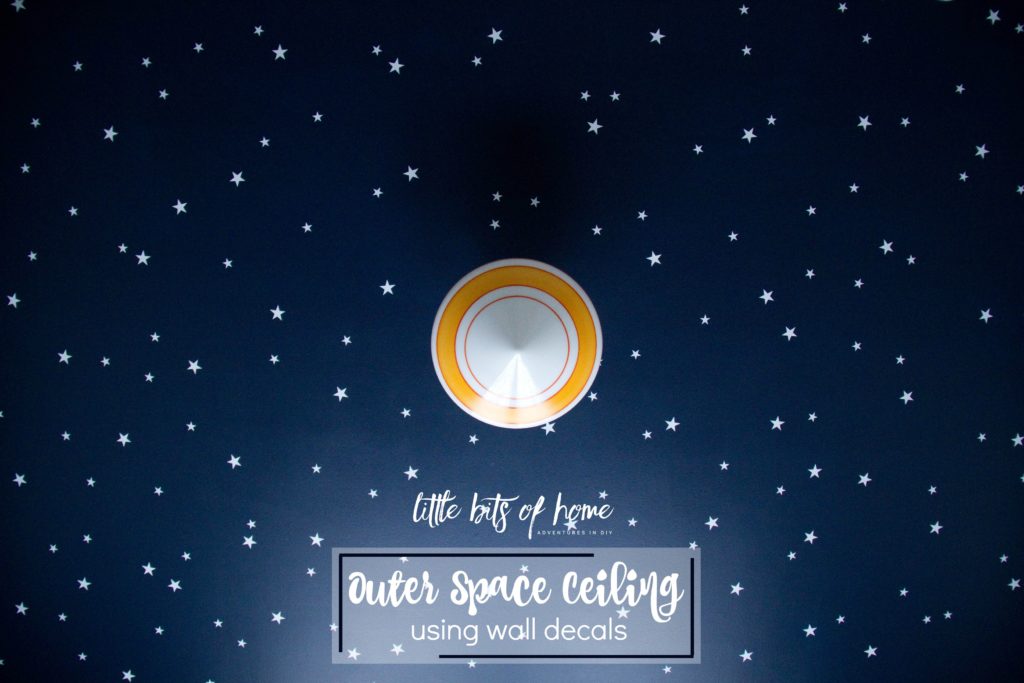 This project could not be any easier and turned out exactly like I had pictured in my head! I had initially thought of painting on the stars, but quickly decided against that because I don't have that kind of time or patience. Ha!
I turned to Etsy and searched for star decals that were less nursery looking and more on the realistic outer space side. I found a bunch of shops selling stars, but I kept coming back to this listing from Jesabi.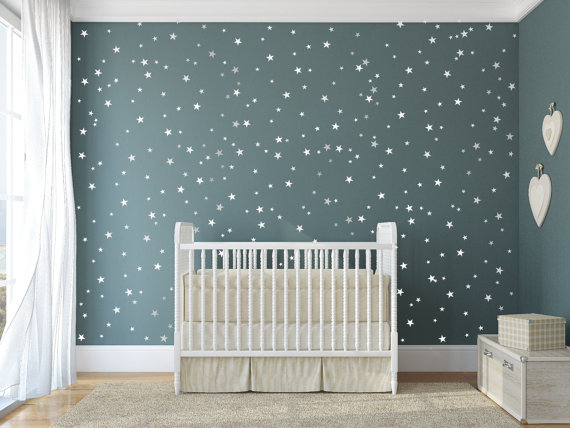 I loved the size variation in the stars and how they were arranged! I also loved that the individual stars had crisp corners instead of rounded corners, making them more appropriate for a realistic looking sky. I reached out to Jerusha at Jesabi and she agreed to collaborate with me for this post! Yay!
The listing was for a set of stars in three different sizes in your choice of 61 different color options. I decided to go with all white stars in just the smaller two sizes to get the look I was after. The stars came on large sheets and were super easy to apply! They're literally just peel and stick! The larger designs in the shop come with transfer tape to offer stability and ease in the application process.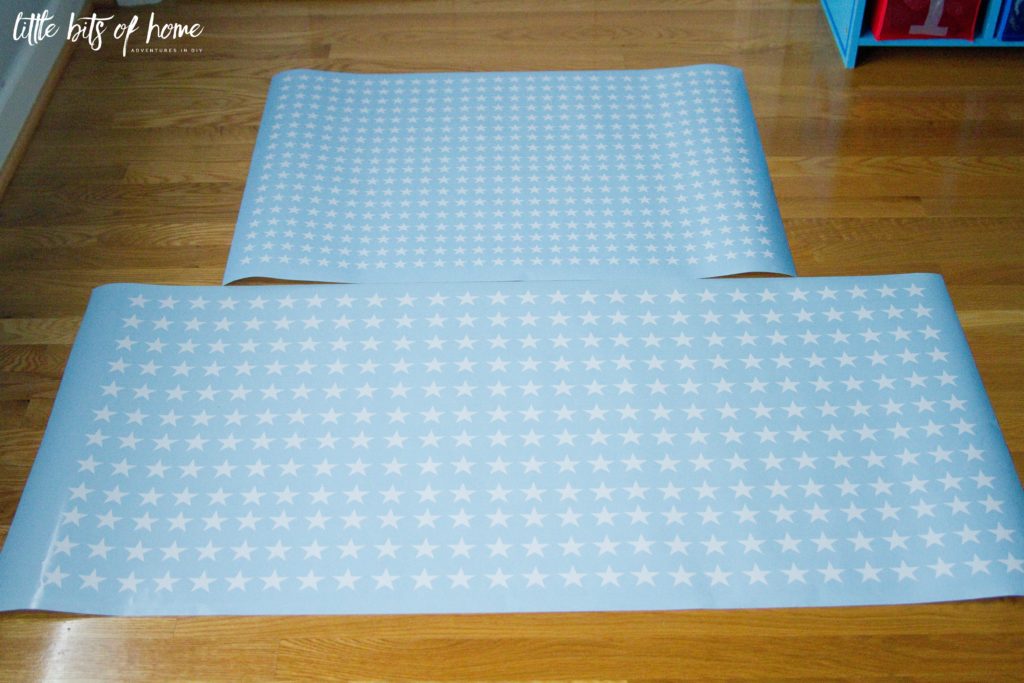 I started by randomly placing the larger stars.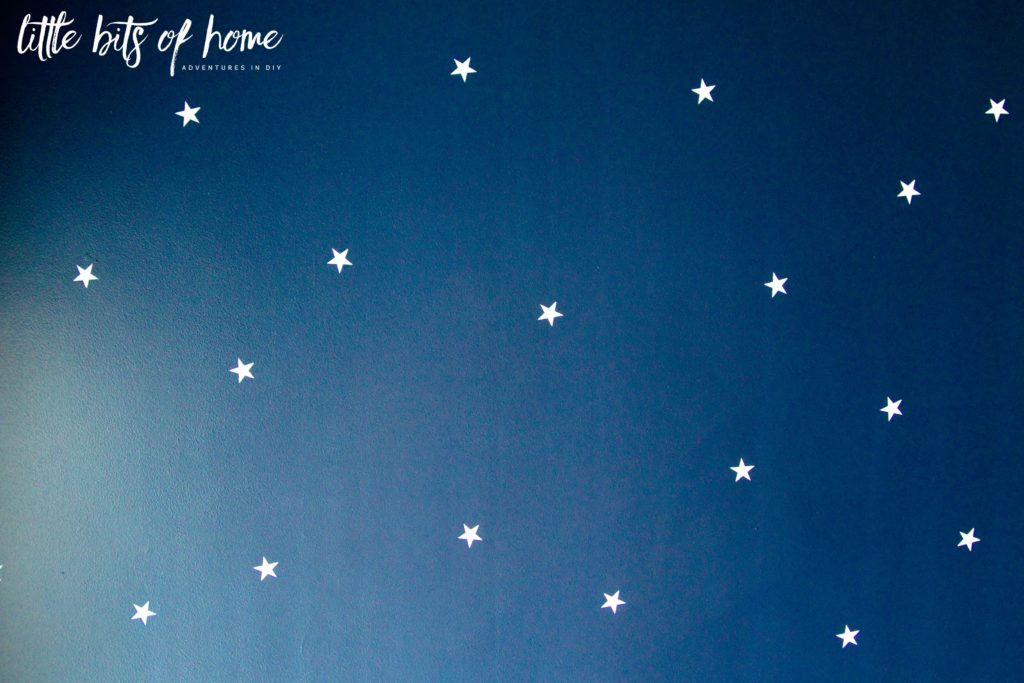 Then, I went back through and added in a bunch of the smaller sized stars. I ended up using more smaller stars than larger ones. I found that the stars looked more realistic when I placed the small stars in clusters instead of trying to space them out evenly.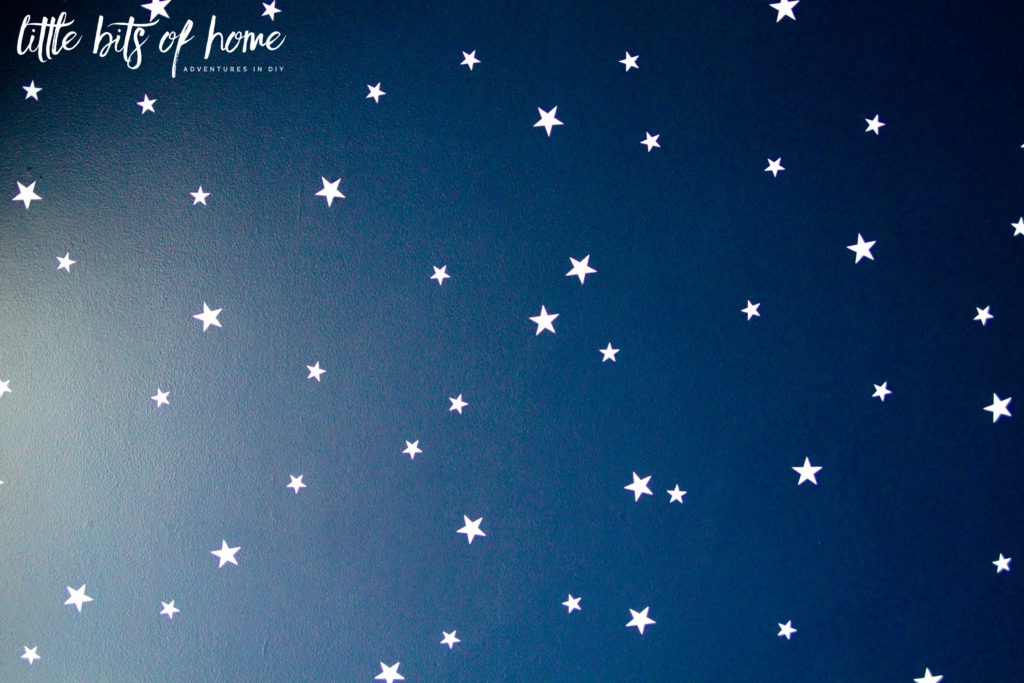 Another tip that Jeremy suggested and worked out great was to work in quadrants. I did one fourth of the ceiling at a time. That way, I could keep track of how many stars I was using in each area, ensuring that one portion of the wall wasn't more dense than another.
I just love how it turned out! I did the navy portion of the walls, too, but you'll have to wait until Thursday to see those. Can't spoil the reveal, now can I? 😉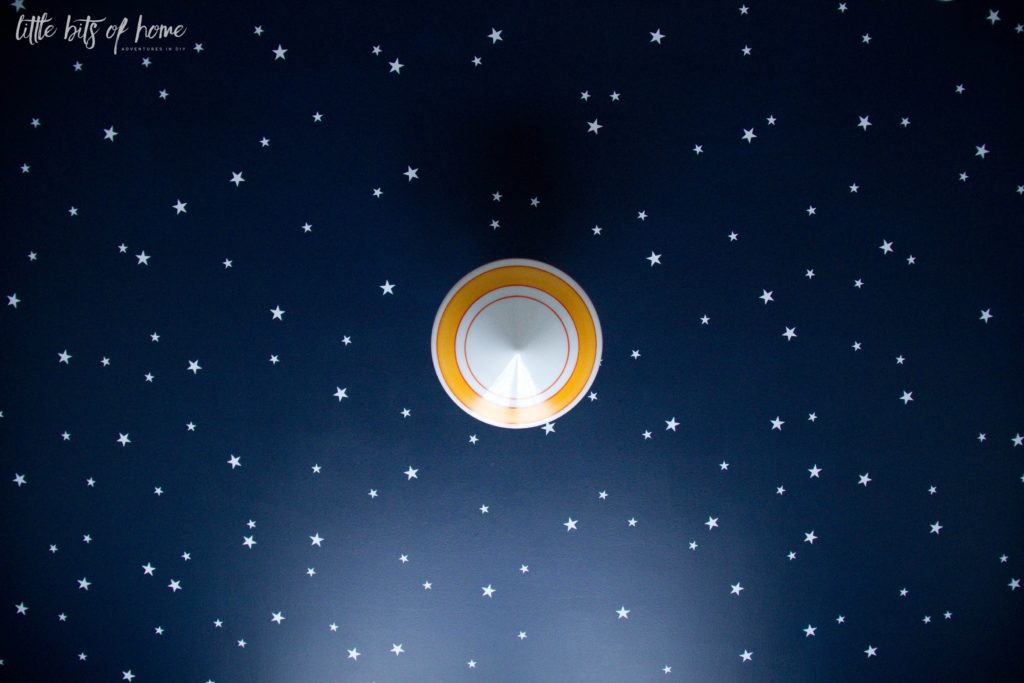 This is the first time I have ever used wall decals and I have to say, it was way easier than I thought it would be! It took me about 2 hours to apply the stars. Not bad when you consider that there are nearly 600 stars on the walls!
I am especially impressed with the quality of the vinyl. It is nice and thin so that when it is applied, it gives the appearance of being painted on. Love!
Check out some of the other awesome designs from Jesabi! I love how clean and modern they all are!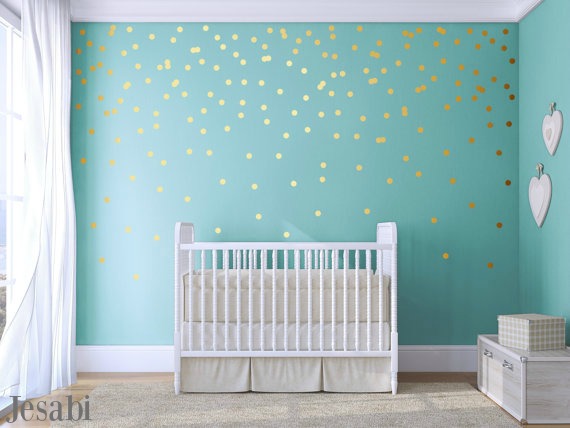 I love the selection of trees! Those birch trees against the navy walls are stunning!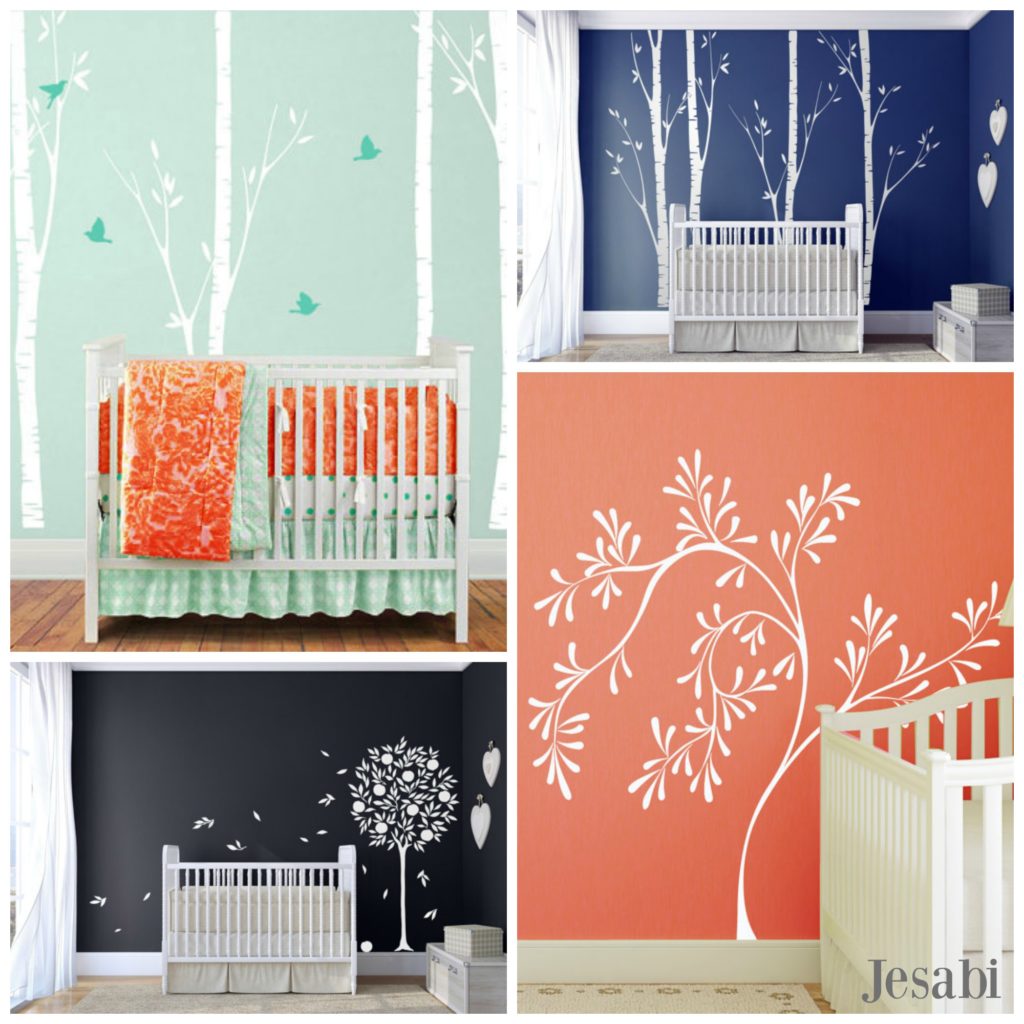 These designs would be so beautiful in a nursery or child's room!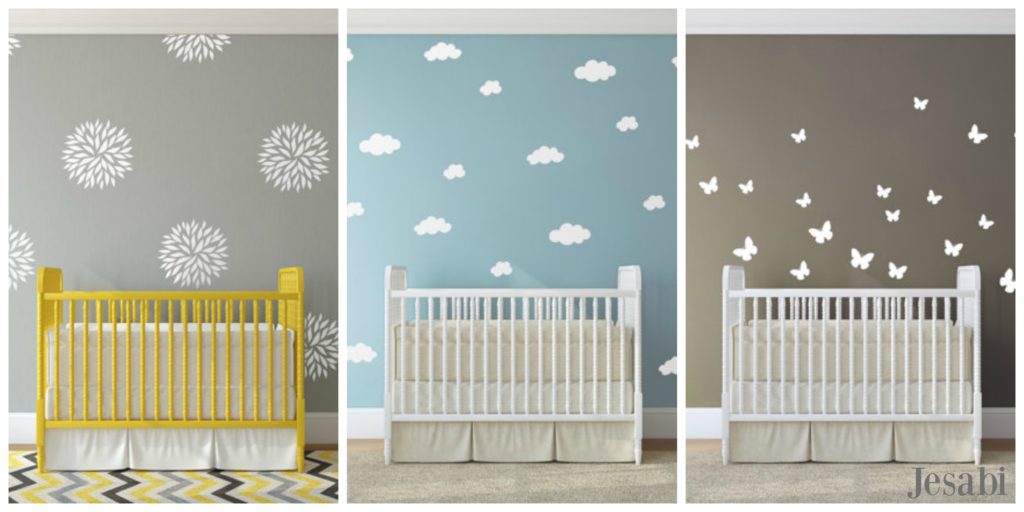 Ahhh, these whales are just the cutest!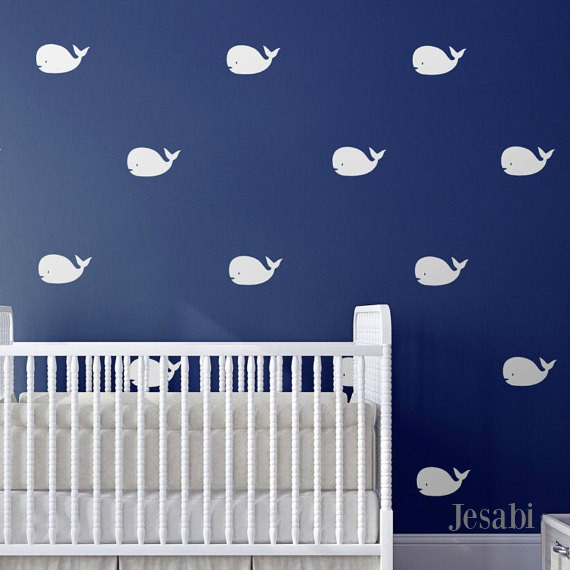 Be sure to check out all the other awesome designs over at Jesabi's Etsy shop! Jerusha is so kind and great to work with and provides an awesome product!
Disclaimer: This is a sponsored post. All opinions are 100% my own. Thank you SO much to Jesabi for providing product for this post! I loved working with you and using your awesome decals!