Guess what today is?! One Room Challenge REVEAL DAY! Wahoo! I'm crazy excited to share Little Man's room makeover with you!
If you need to catch up, here's Week 1, Week 2, Week 3, Week 4, & Week 5 and the Star Ceiling!
Just as a reminder, here's our inspiration…
And here's what we started with… No play space and a hodge podge of nursery and big boy decor.
Ready to see it now?! Come on in!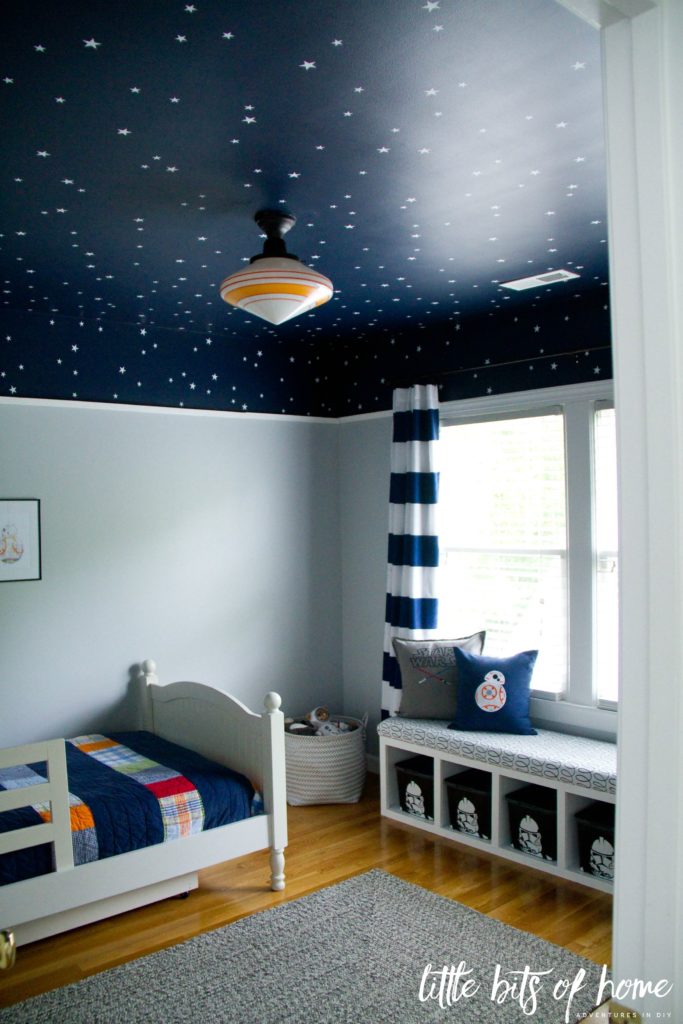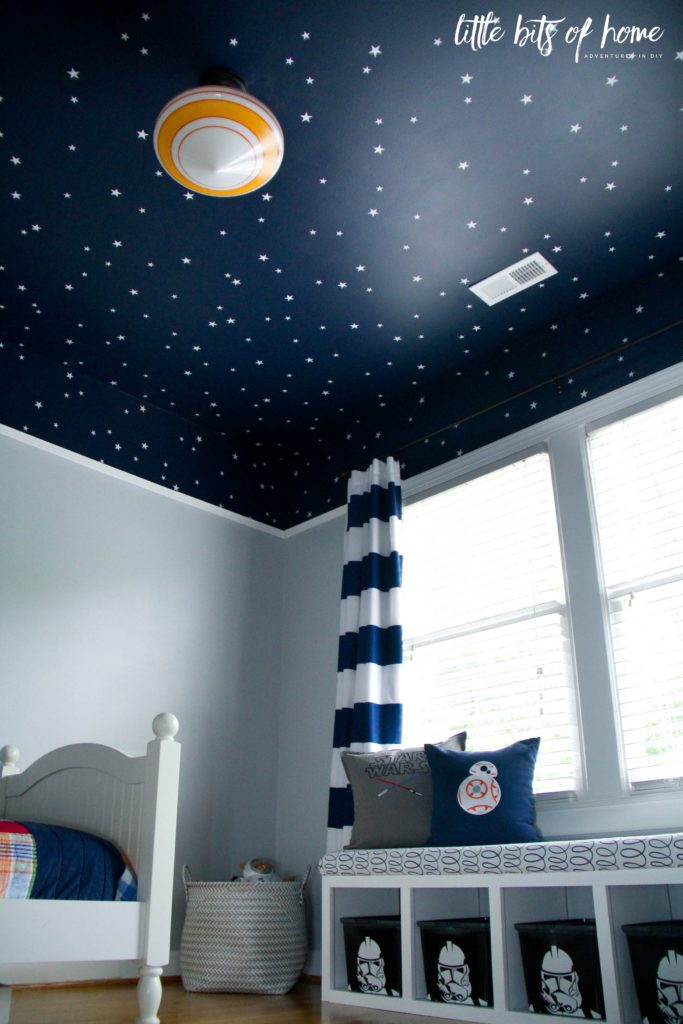 Clearly, the paint and the stars are showstoppers! I can't stop staring at them!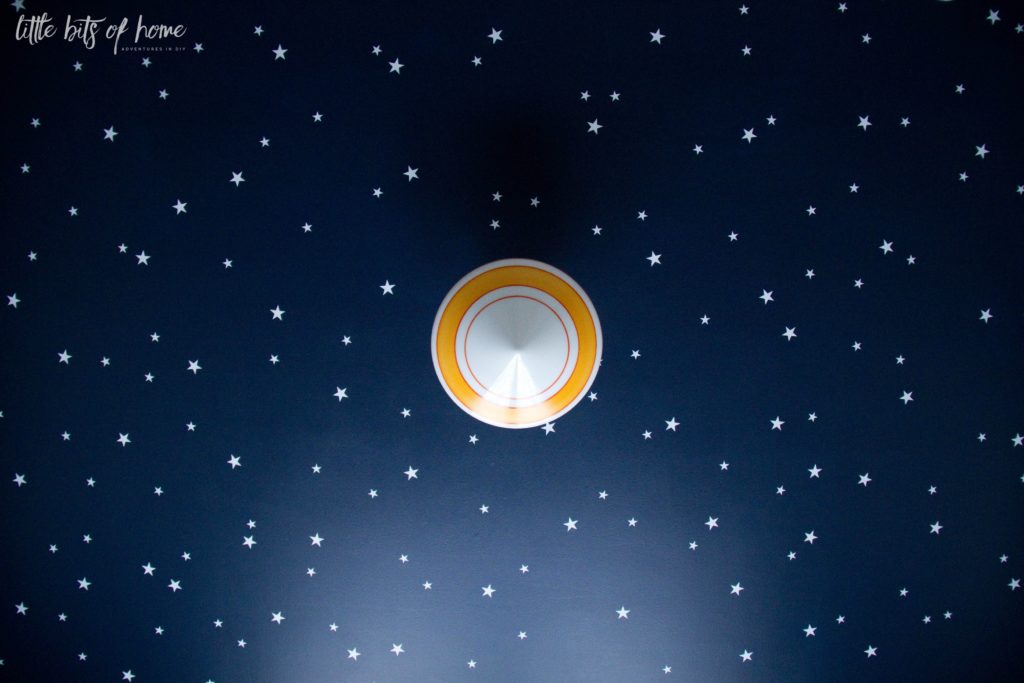 Our biggest project in the room was building the window seat. Jeremy did an awesome job with the carpentry and it turned out just like I planned in my head. I upholstered it with a Kate Spade tablecloth I found on the cheap at Marshalls!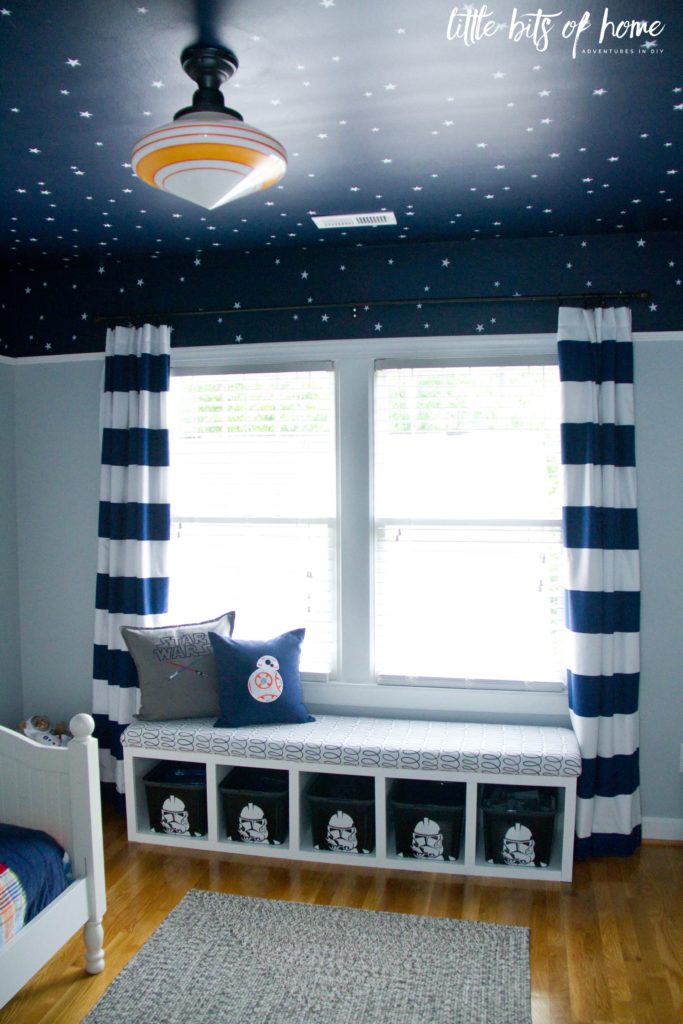 I found the curtains and the stuffed animal basket at Target. I clipped the curtains with drapery rings to make them easy for Little Man to open and close. They are nice quality and lined–love them!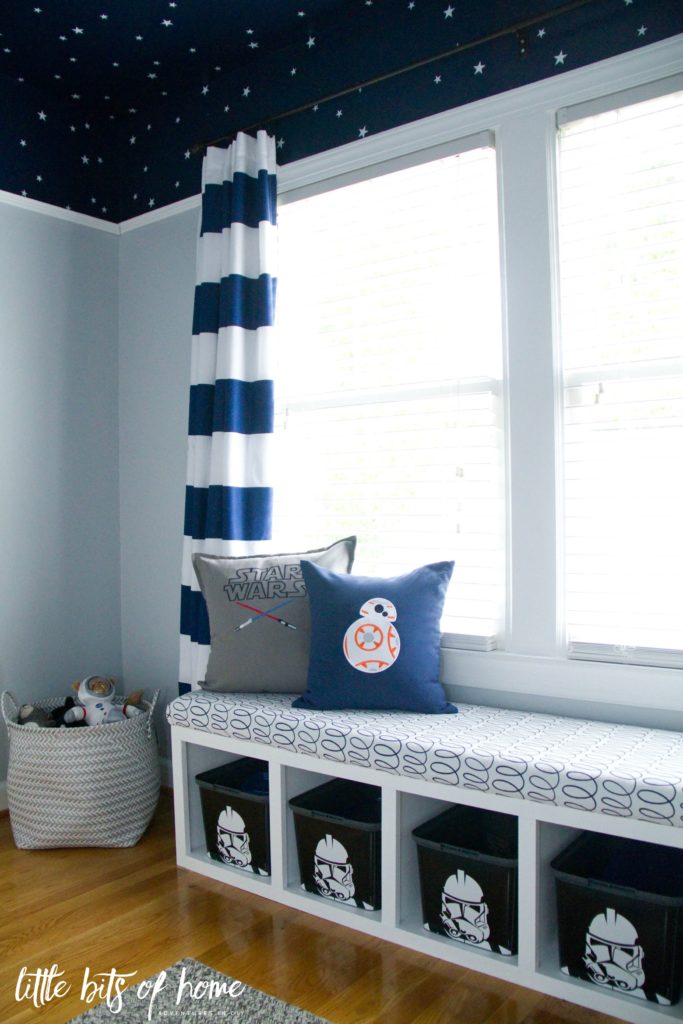 The storage bins were a last minute find from Target. They have lids, but Little Man prefers to keep the lids off. The bins are consistently one of his favorite parts of the room. He organized all of his Legos into them… by color. He may take after his mommy. Ha!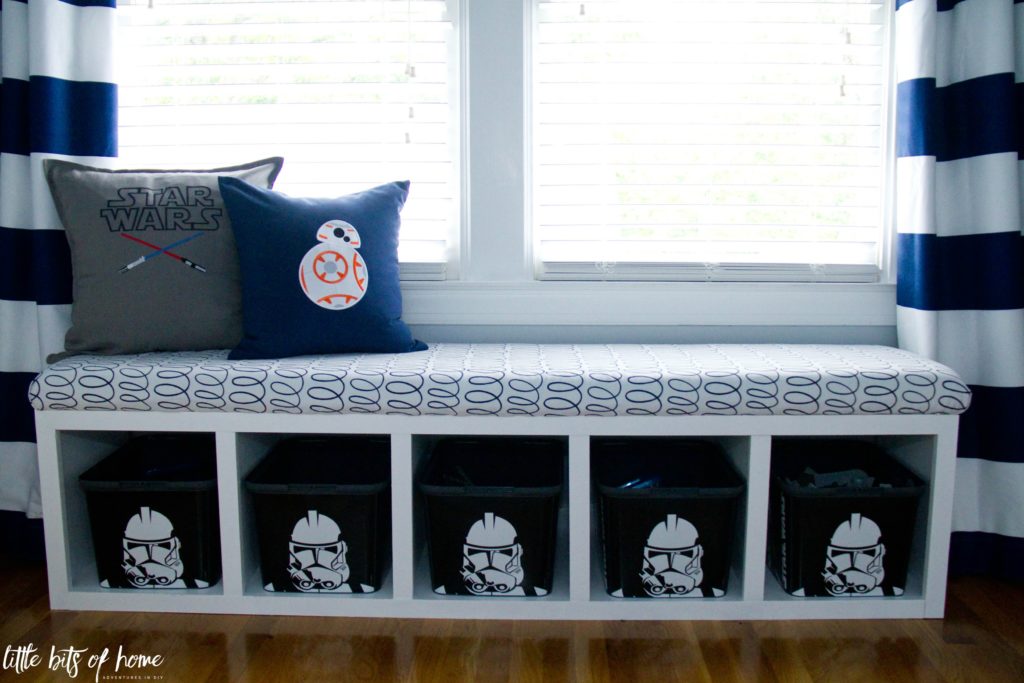 I love how the curtains frame the window seat!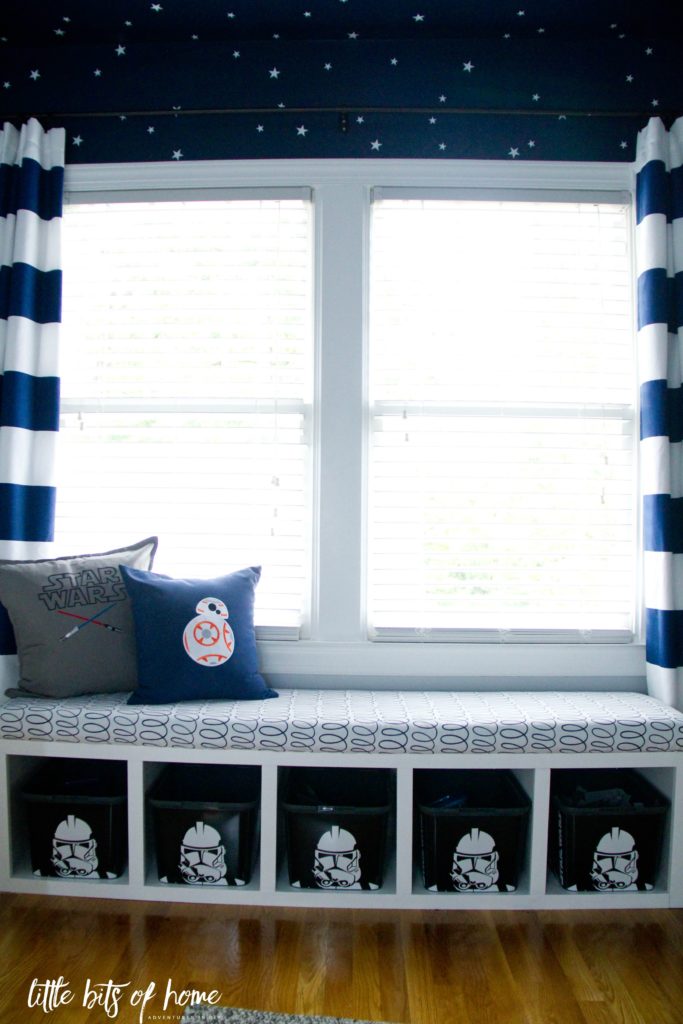 These pillows give me all the heart eyes! I just love them!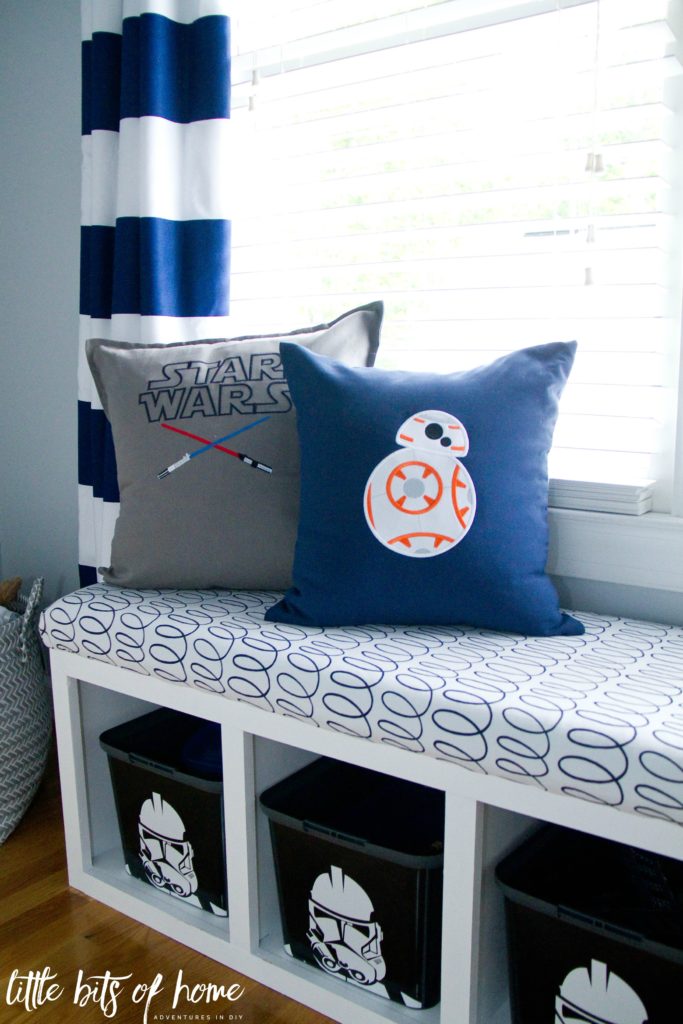 You'll notice that we rearranged the furniture and got rid of the dresser, instead storing Little Man's clothes in the closet. That has freed up so.much.space in his room for him to play!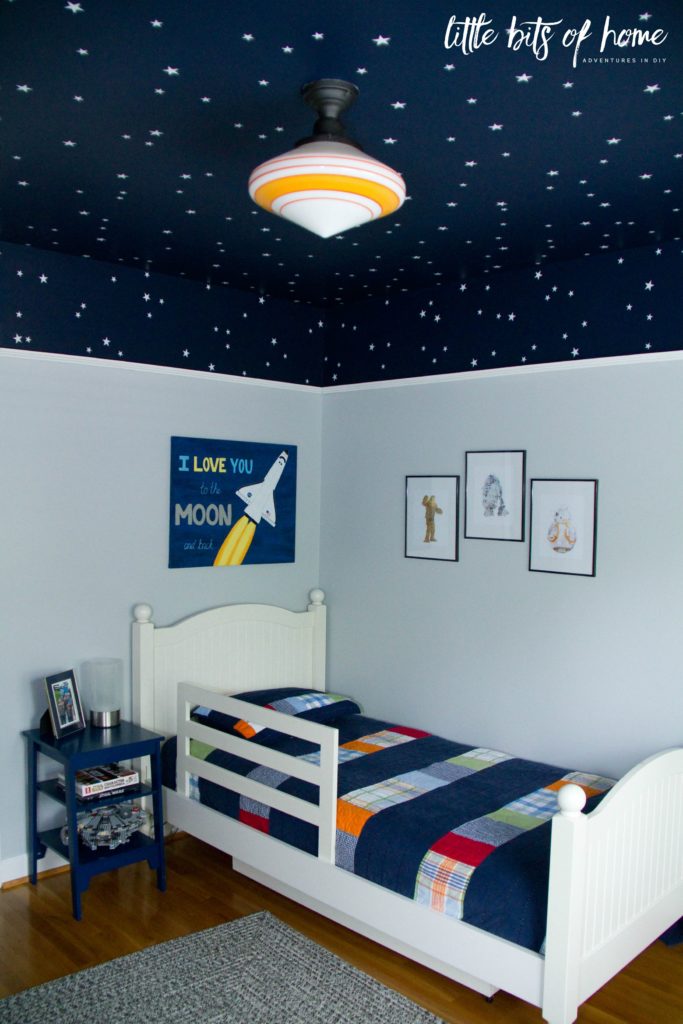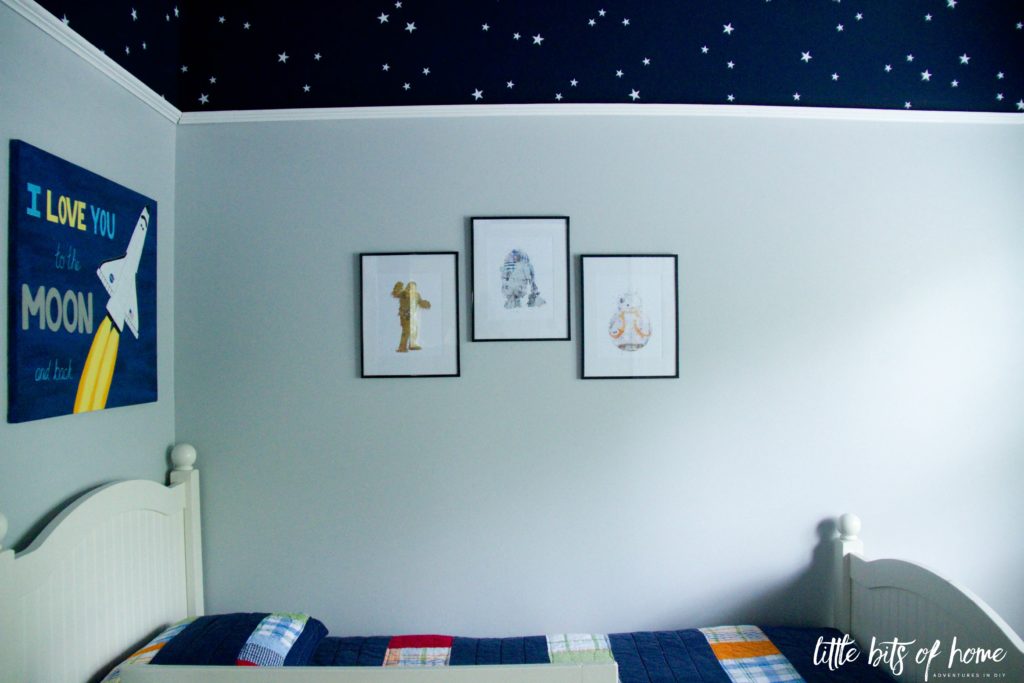 Little Man loves looking at his cool artwork when he's in bed!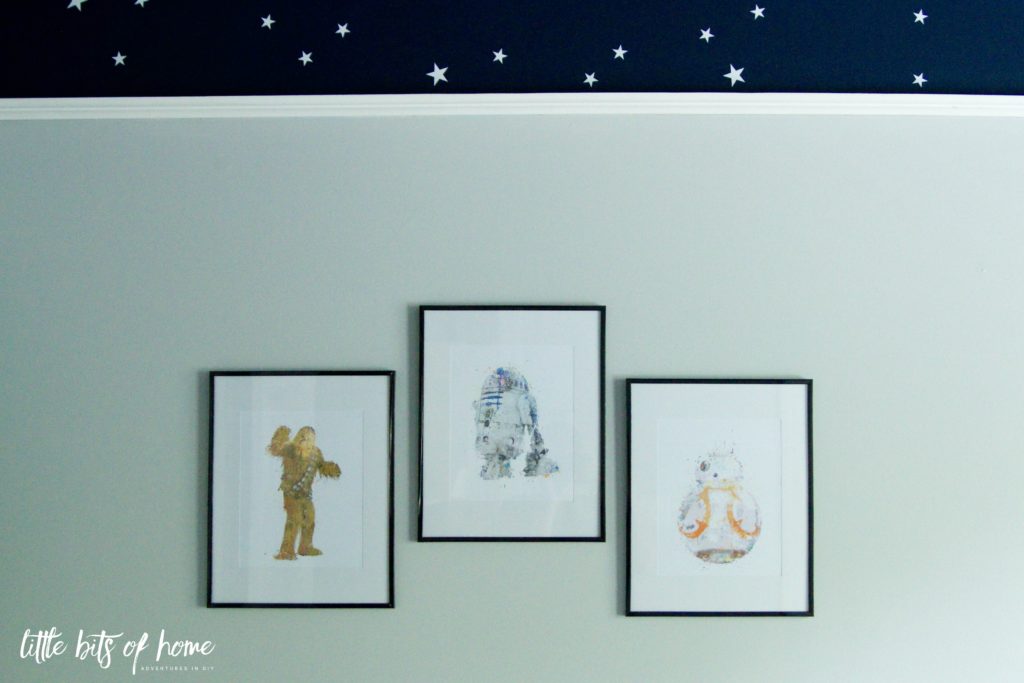 We kept the painting I did for Little Man above his bed. I think it still goes perfectly in here!
Sweet story– I was tucking Little Man into bed recently and we resumed our game of seeing who could "out love" the other person. I told him to look at his stars and that I loved him to all of the stars and back. He grinned and thought about that for a moment, then pointed at his painting and said, "Well, I'm gonna blast off in the rocket to the moon, then go to all the stars and back. That's how much I love you. So, ha!" Sweet, silly boy of mine! He melts my heart!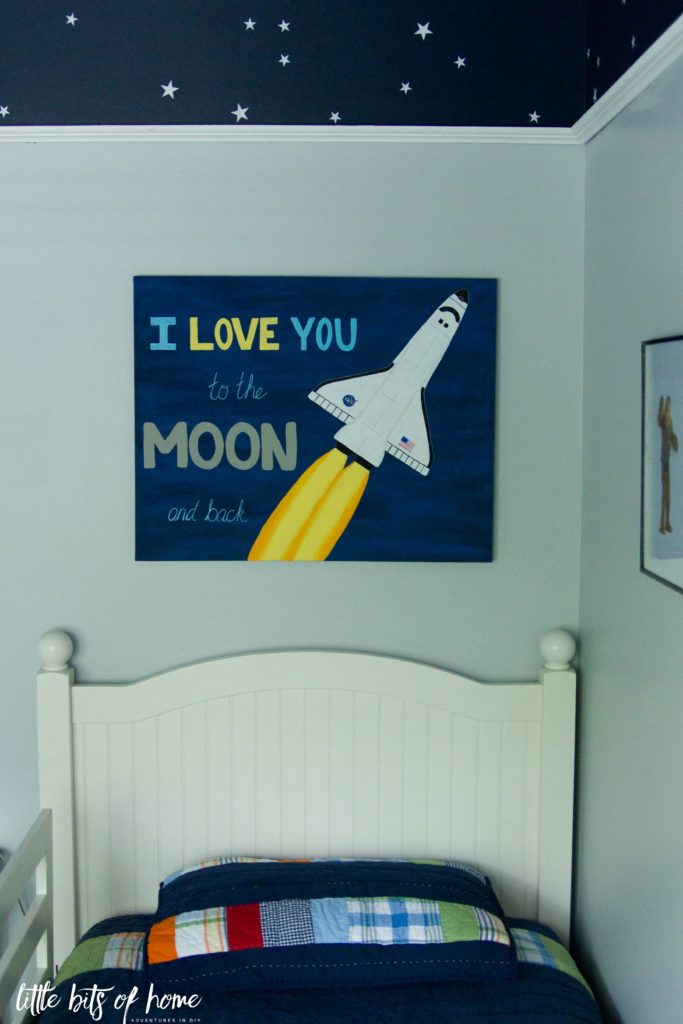 Jeremy and Little Man built the Millennium Falcon Lego set together to use in his room. We were going to hang it from the ceiling, but it was too fragile, so we used it on the nightstand instead. That ended up being a happy change of plans, because Little Man loves to play with it! Fun fact– I gave Jeremy that Lego set back when we were dating!

Little Man's room feels so much bigger with the new furniture arrangement! He loves having tons of room to spread out. He especially loves having a rug to play on now that we have the space! I found this rug at Rugs USA for such a great price! I almost purchased this one, but decided to go with something with less pattern and more texture. It goes perfectly in here!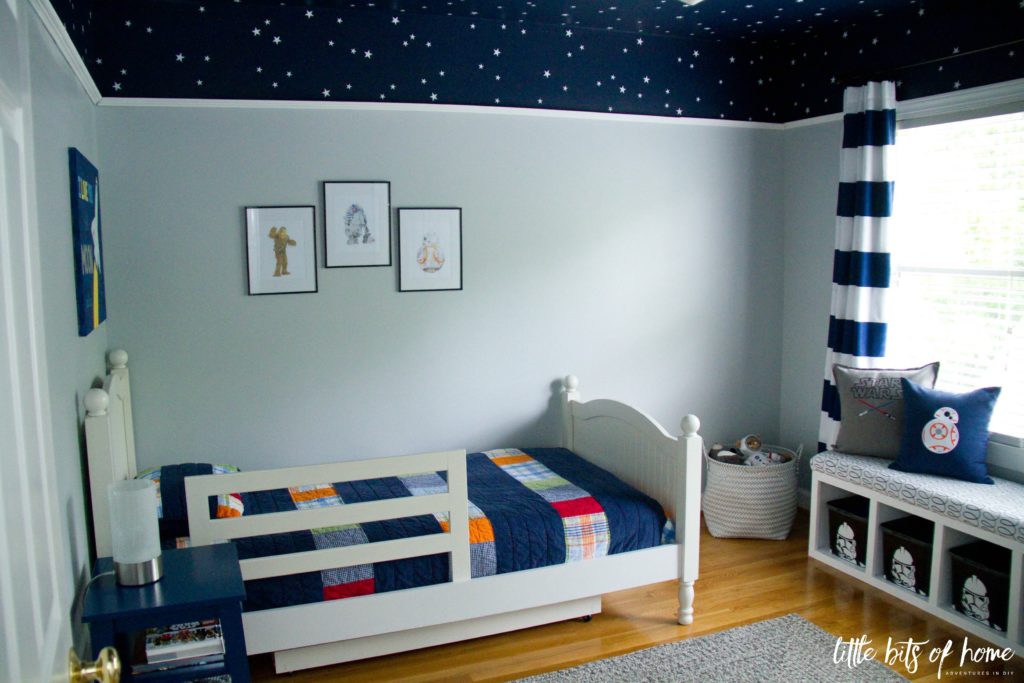 We found this R2D2 stuffed animal at At Home and couldn't resist surprising Little Man with him. 🙂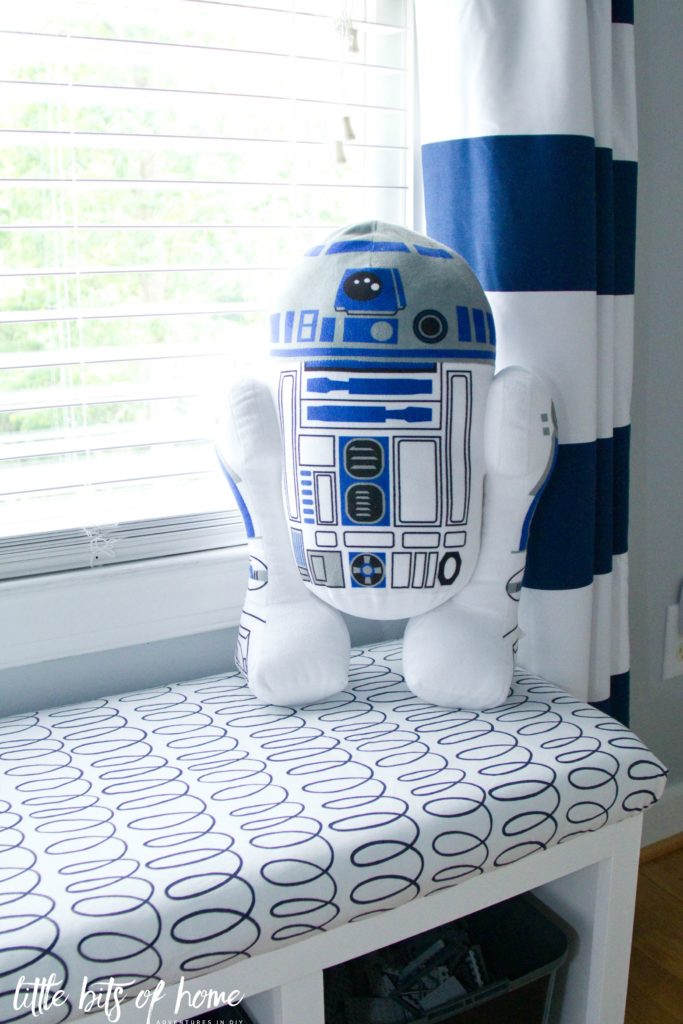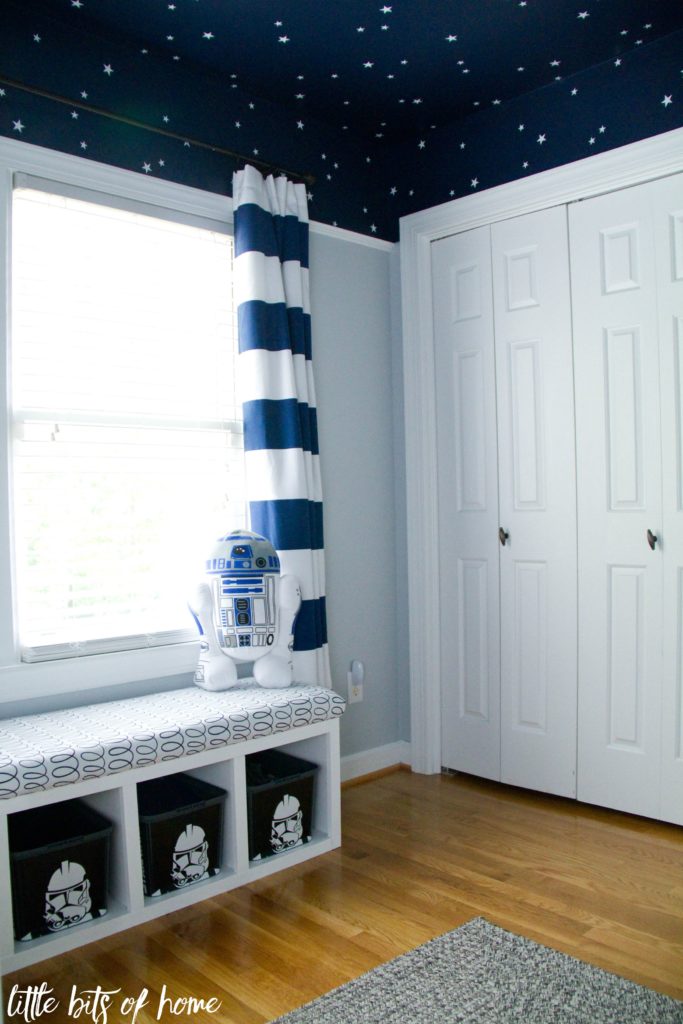 Ready for the before and after?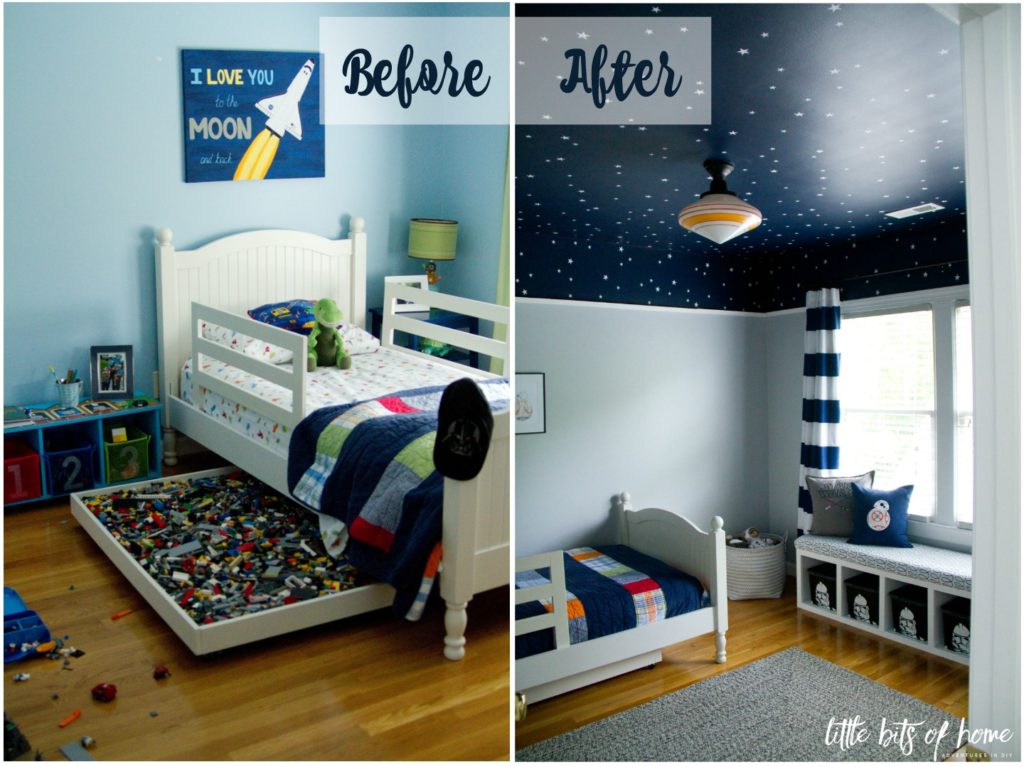 Little Man LOVES his new room! We had him sleep in Little Girlie's room over a weekend while we painted and worked on his room. We didn't tell him what we were planning and were able to keep the entire thing a surprise. He was so excited when we revealed the room to him! We even played the Star Wars theme song as we opened the door. Ha! He keeps thanking us and telling us how much he loves it. Success!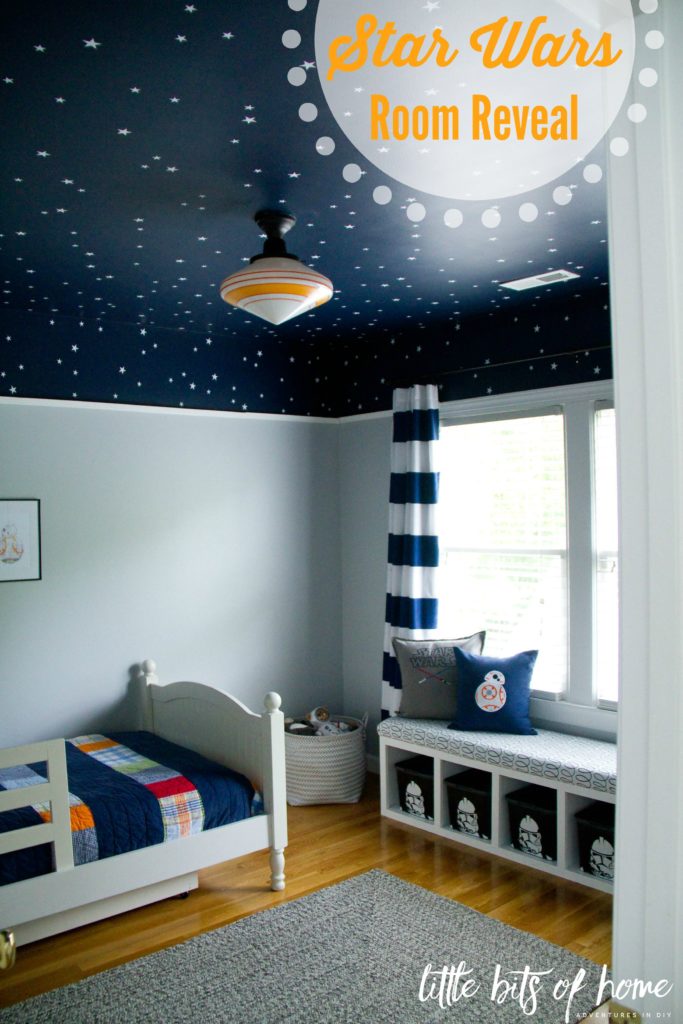 Huge, giant thanks to our awesome sponsors for this project! We couldn't have done it all without you!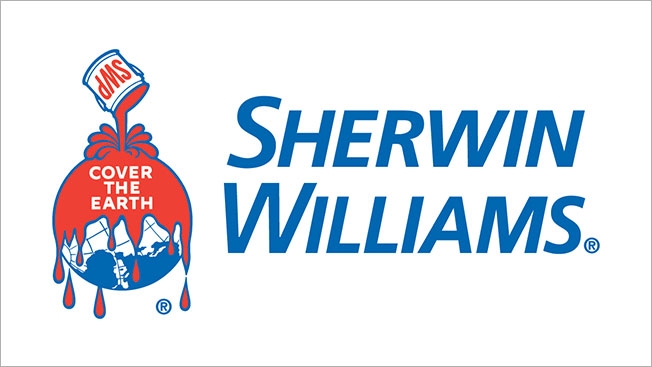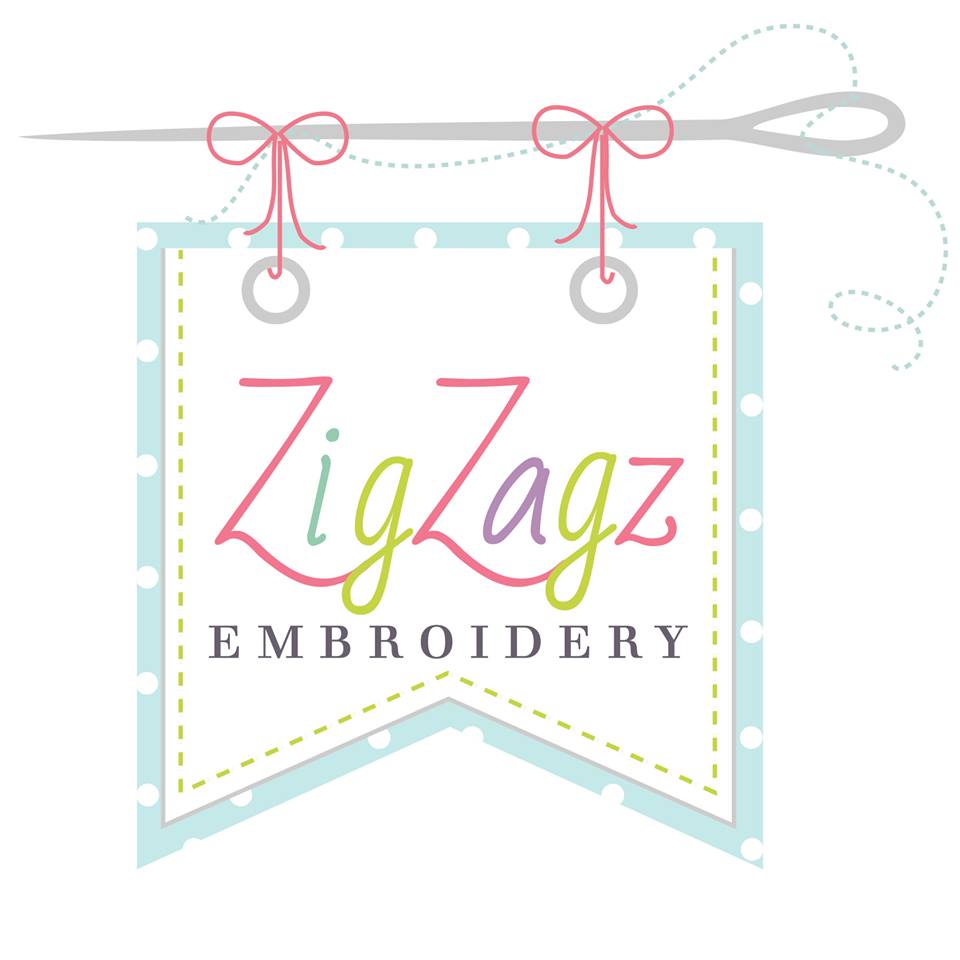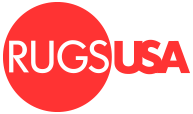 Sherwin-Williams | ZigZagz Embroidery | I Love Print | Jesabi | Rugs USA
Sources
Bedding: Pottery Barn (no longer available)
Nightstand: Target
Paint: Sherwin-Williams Naval & Gray Screen
Be sure to check out all the other awesome reveals over at Calling it Home!